Published on Tuesday, April 25, 2017
30
Reads
0
Comments
La série Canadien-Rangers était la plus serrée du premier tour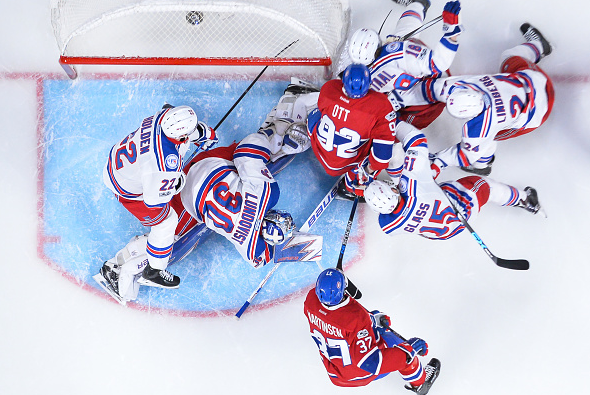 Le premier tour des séries s'est terminé dimanche soir alors que les Capitals ont éliminé les Leafs lors du match #6. On a eu le droit à des affrontements très serrés et les nouvelles statistiques qui sont sorties sur le compte Twitter de la LNH l'ont démontré. Déjà, 18 parties se sont terminées en prolongation, ce qui est un record. 66.7% des matchs ont été décidé par un petit but alors qu'il y a eu 17 victoires grâce à une remontée.
On parle souvent de petits détails qui font la différence ou de chance lorsqu'une équipe gagne une ronde de série, surtout durant ce printemps 2017. On le voit lorsqu'on additionne le temps de jeu de chaque match du premier tour. En général, les matchs de première ronde ont été à égalité ou avec un écart d'un but pendant 80.3% du temps. Parmi les plus serrées, on a eu les affrontements Sénateurs-Bruins (90.9%), Wild-Blues (89.1%) ou encore Capitals-Leafs (83.5%), qui a égalé un record de la ligue avec 5 prolongations dans la même série.
La série Canadien-Rangers est la plus serrée de toutes
Les partisans du Tricolore ne seront peut-être pas rassurés, mais l'affrontement contre les Blue Shirts aurait pu aller des deux côtés. Lors de 96.5% des minutes jouées, les matchs ont été égaux ou avec une avance d'un filet. Cette donnée n'est pas si surprenante parce que lorsqu'on regarde le nombre de buts marqués par les deux équipes au total, New York en a 14 et le Canadien 11. Elle est toutefois assez impressionnante et ça démontre bien comment les séries peuvent être exigeante alors que le droit à l'erreur est nul.
The First Round couldn't have been much closer. #StanleyCup pic.twitter.com/3XhE3jlp6n
— NHL (@NHL) April 25, 2017
Sports League Management
Start using it today
It's FREE!
Start