Published on Thursday, February 20, 2020
79
Reads
0
Comments
Top 10 Latvians in NHL History
Perhaps no time did the country of Latvia fall into the gaze of the hockey world more than when the country of just under two million people helped attain the most votes in fan voting for the 2015 NHL All-Star Game. Due the support of his fellow countrymen, Latvian Zemgus Girgensons was the runaway leader by well over 300,000 votes. With a total of 1,574,896 nods in his favor, it seemed as if the entire nation played a role in voting him into the competition. Numbers-wise, that was very nearly the case.
While it is surely wonderful to see the support that an entire country had (and still has) for one of its heroes, there may also have been a disservice involved. For Girgensons is not the only Latvian to find success in the NHL. There are at least a few that make him pale in comparison in terms of their accomplishments in the league. We would be remiss to not appreciate and acknowledge what these other hockey players have accomplished during their own NHL careers.
Some lasted longer in the league than others, but each has made an impression. One has his name etched in silver and is in the annals of NHL history for all of time. Without further adieu, THW presents to you the all-time 10 best Latvians to have played in the NHL:
#10 Kaspars Daugavins
Daugavins was and still is a stocky forward. At 5-feet-11-inches, he regularly weighed in around the 215-pound mark. A 60 point season in 61 games with the OHL's Toronto St. Michael's Majors would see him be drafted in the third round of the 2006 NHL draft by the Ottawa Senators. He would play parts of six seasons with Ottawa's former minor affiliate the Binghamton Senators before finally playing a full season of NHL hockey.
Daugavins' best NHL season came in 2011-12. He suited up for 65 games for the Sens in the regular season, and tallied five goals and six assists. Much was expected of him, but those would be the highest numbers in all categories of Daugavins' NHL career.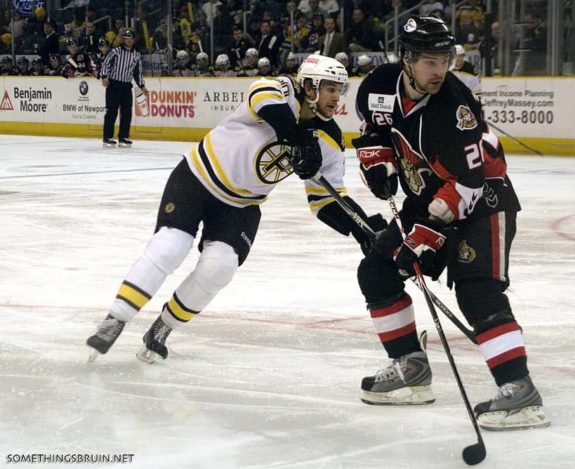 During the NHL lockout-shortened season of 2012-13, Daugavins would briefly return home to his native city of Riga, Latvia where he played for Dynamo. When the NHL eventually got underway in mid-January, he returned to the Ottawa Senators. However, after 19 games in Ottawa, the team placed him on waivers. Daugavins was claimed by the Boston Bruins where he played the final six regular games of his career. He would play in six more for the Bruins in the playoffs.
The #10 pick could go any number of ways. But considering the fact that Daugavins ranks in the top-10 for games played, goals, assists, and points by a Latvian player, he captures this bottom-most spot on our list. He has played in the KHL for the past four years, and is currently with Nizhny Novgorod Torpedo.
#9 Oscars Bartulis
Bartulis never quite caught on with the Philadelphia Flyers, but he still managed to play in 66 regular season games for them. This was namely due to the fact that the Flyers had a logjam of defenders during his five seasons playing for the organization. Though he spent most of his time in the AHL, Bartulis was part of Philly's most recent run at a Stanley Cup. He was only the third Latvian to ever play in a Cup final.
During the 2009-10 season, Bartulis' rookie year, he played 53 games for the Flyers. That same year he scored his first and only career NHL goal. More importantly, Bartulis served as the team's sixth, sometimes seventh, defenseman. Bartulis was one of nine defenders for the Flyers that year. He still managed to play the fifth-most games out of all of them.
The Flyers would lose to the Chicago Blackhawks in the Final in six games. Bartulis played in seven of Philadelphia's 23 playoff games during their try for the Cup. Bartulis would play 13 more games the following year but that would be the end of his time in the NHL. He has since played in the KHL since the 2012-13 NHL season. His trip to the Final and his role as a young Flyers "D" place him at #9 on our list.
#8 Raitis Ivanans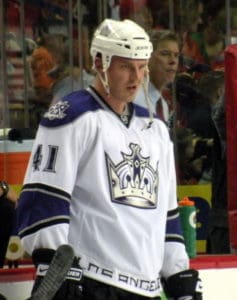 It would be remiss to discard Ivanans' accomplishments as a Latvian in the NHL because of his role as an enforcer. Some likely take issue that he is listed at #8, or that he is even on this list at all. Contrary to that thought, Ivanans has done more for Latvians in the NHL than most. His 282 NHL games currently rank sixth most all-time by a Latvian player, and were only recently surpassed by Zemgus Girgensons. Were it not for a devastating concussion suffered from a fight against Steve MacIntyre, Ivanans likely would have played 80 to 100 additional games in the NHL, if not more.
At 6-feet-4, 240 pounds, Ivanans was a giant and was underrated as to how strong and powerful he truly was in the NHL. His 569 career penalty minutes are second-most in NHL history by a Latvian player. The bulk of his career was spent playing for the Los Angeles Kings, but he also had stops in Montreal and Calgary.
More than his fisticuffs, Ivanans had longevity. Few enforcers of the mid-2000s lasted as long as he did and saw as much action. Ivanans played four straight seasons of over 60 games. Ultimately, that is what places him—and deservedly so—on this list. Ivanans' finest season was 2007-08 for the Kings when he appeared in 73 games, scored six goals and added two assists.
#7 Helmut Balderis
Balderis is the only Soviet player from his generation to have played in the NHL. At a time when most players have already retired, Balderis came to the league as a 37-year-old rookie. To this day he still holds the NHL record of oldest player (36) ever drafted by an NHL team. When the "Iron Curtain" began to fall and Soviet players were allowed to come to North America to play, the Minnesota North Stars drafted Balderis with the 238th overall pick of the 1989 NHL draft. Balderis also has the record of oldest player (37) to score his first NHL goal.
The reason why Balderis only made it is high as #7 on this list is because we are looking at solely his accomplishments in the NHL. Were it extended beyond that, he likely could have been top overall. In Soviet League totals, Balderis scored 333 goals and 247 assists for 580 points in 462 games. An entire book could easily be written on what Balderis accomplished in the prime of his career.
But sticking just to his time in the NHL, there are more accomplished Latvians to have played in the league. Still, his three goals (two coming on the power play) and six assists in 26 games with Minnesota are nothing to be kicked aside. Rather, it is entirely praiseworthy. He accomplished those numbers at a late age. More importantly, Balderis finally brought Soviet hockey of the early 1970s to the NHL and left its mark.
#6 Peter Skudra
Skudra has the honor of being the second-best goaltender to come out of Latvia (more on the first shortly). By all accounts, he was a decent goalie too. Skudra spent the bulk of his career playing for the Pittsburgh Penguins. That time was spent mainly as Tom Barrasso's backup, but he did play a career-high 37 games during the 1998-99 season with the Pens.
After his time in Pittsburgh, Skudra signed as a free agent with the Boston Bruins in Oct. 2000. Three days later, he was claimed off of waivers by the Buffalo Sabres. Skudra's playing career in Buffalo lasted all of one minute in one game. Before you knew it, the Bruins would re-claim Skudra from the Sabres the following month. It was an odd case for Skudra indeed.
After a tumultuous season, things settled down for Skudra as he signed as a free agent with the Vancouver Canucks in November 2001. He would serve primarily as Dan Cloutier's backup, but played 23 games in back-to-back seasons. Skudra's final NHL season was 2002-03.
In total, this Latvian netminder played 146 NHL games. He has a winning record to his credit of 51 wins, 47 losses and a combination of 20 ties or overtime losses. Skudra also had six career shutouts and a decent 2.73 goals against. His .894 save percentage is nothing write home about, but, for his generation, it was a fairly solid number.
#5 Zemgus Girgensons
To today's NHL fan, Girgeonsons is the player who comes to mind when thinking of Latvians in the NHL. Taken 14th overall in the 2012 draft by Buffalo, no Latvian was ever selected higher. Girgensons has made some longevity out of his career. Earlier this current 2017-18 season he played in his 300th NHL game. Girgensons' first game was played during the 2013-14 season. He, Rasmus Ristolainen, and Johan Larsson are currently the longest tenured Sabres on the team.
While there are some more accomplished players on this list, Girgensons is still young. He is also still a first-rounder. There is definitely more that he needs to prove.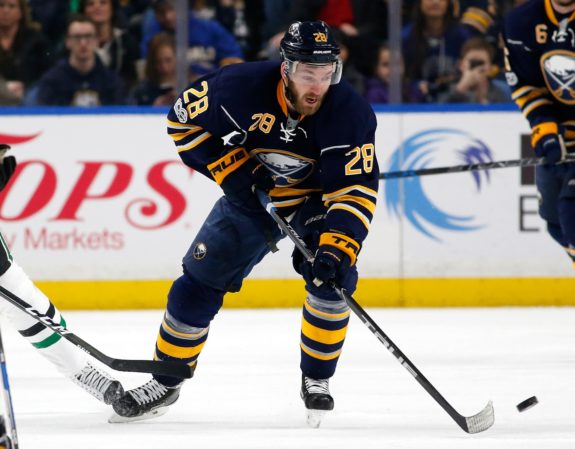 Girgensons' top season thus far was an injury-maligned 2014-15 season. In 61 games played he scored career highs of 15 goals, 15 assists, and 30 points. If he can keep moving forward and have a career as long as the remaining players on this list, a Stanley Cup could still be in his future. That is likely not going to happen in Buffalo. Should a trade take shape, Girgensons adds a nice tone to any team.
Whatever success he generates in his years ahead, his homeland will continue to be ecstatic.
#4 Sergei Zholtok
Zholtok was a highly talented forward who sadly passed away after collapsing in the locker room while playing for HK Riga 2000—he suffered from cardiac arrhythmia and passed away due to heart failure. This is especially sad because not only was Zholtok a most-skillful forward, but he was well-liked and thought of as a very kind person.
On the ice, he scored 111 goals and 147 assists in 588 NHL games. One of Zholtok's more exciting years in the league came during the unexpected playoff run of the 2002-03 Minnesota Wild. In only their third year of existence, the Wild vaulted themselves into the semifinals of the Stanley Cup playoffs that year. With a defense-first mentality on the team led by coach Jacques Lemaire, Zholtok still finished fifth overall on the team in scoring that year with 16 goals and 26 assists for 42 points in 78 games. He appeared in all 18 Wild playoff games and scored another two goals and 11 assists in the postseason.
Zholtok was originally drafted in the third round of the 1992 NHL draft by the Boston Bruins. He would play for "Beantown", and then the Ottawa Senators, Montreal Canadiens, Edmonton Oilers, Wild, and Nashville Predators. Zholtok's best NHL season was arguably 1999-00 with Montreal when he scored a career-high 26 goals in only 68 games.
#3 Karlis Skrastins
Regardless of nationality, Skrastins should be considered one of the most underrated defensemen of all time. Like Zholtok, we lost Skrastins way too young as he tragically perished in the plane crash which took the lives of the Lokomotiv Yaroslavl hockey club. It seems near impossible to reconcile that such a beloved and respected teammate could be gone – particularly one whose play on the ice made him come across as indestructible.
But, let us talk about the positives of Skrastins career. From 2000 until 2006, he never missed a regular season game. His consecutive game streak earned him the nickname of "Ironman". That could also be applied to Skrastins physically. Even at 6-foot-1 and around the 210-pound mark, he was built like a tank. Hulking, to say the least, and nothing seemed to faze him. Skrastins routinely sacrificed his body to block pucks and he relentlessly protected his goal crease. Goaltenders and defense partners loved having him on the ice.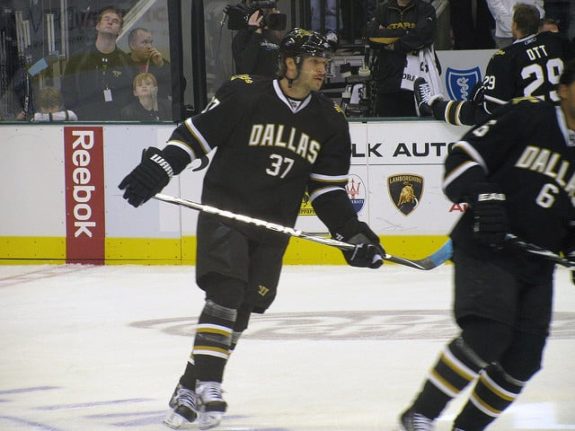 Between the Nashville Predators, Colorado Avalanche, Florida Panthers, and Dallas Stars, Skrastins played 832 regular season games. Eight seasons he played in at least 70 games. While only scoring 32 goals and 136 total points himself, it is what Skrastins did to stop goals that made him saw a valued teammate and hockey player.
For his durability and fearlessness, Skrastins earns the #3 spot on our list.
#2 Arturs Irbe
During the 1990s—when Irbe was in his prime—he was one of the finest goaltenders in the NHL. With true fluidity to his butterfly style, four times he was in the top-10 in Vezina Trophy voting for the league's best goaltender. His 13-year NHL career saw him post 218 wins in 568 games during the regular season.
More importantly, Irbe was a highly reliable cornerstone in the early years of the San Jose Sharks, when the team itself really was a basement dweller for its first few seasons. He was an inaugural member of the Sharks during the 1991-92 season. From there he would have brief stops with the Dallas Stars and the Vancouver Canucks before reestablishing himself as a top goalie in his six seasons with the Carolina Hurricanes.
Irbe was an NHL All-Star in 1994 and 1999. He led the NHL in games played by a goaltender in the 1993-94, 1999-00 and the 2000-01 seasons. Also during the 2000-01 season, Irbe led the league in shots against (1,947) and saves (1,767).
It was Irbe's 2001-02 season that proved to be the most meaningful of his NHL career. In his fourth season in Carolina, he backstopped the 'Canes to a most improbable run to the Stanley Cup finals. Splitting the regular season duties with Tom Barrasso initially and then Kevin Weekes, Irbe was absolutely remarkable in the playoffs and became the team's star netminder. Though Carolina would lose to the Detroit Red Wings in five games, Irbe stood on his head throughout the postseason. A 1.67 goals-against and a .938 SV% in 18 playoff games is proof enough of that. He became only the second Latvian to contend for a Stanley Cup in the final.
#1 Sandis Ozolinsh
Similar to Irbe, Ozolinsh was an early sensation for the Sharks. During the 1993-94 NHL season—still technically his rookie year after playing 37 games in 1992-93—he scored 26 goals and 38 assists for 64 points as a defenseman. That right there saw him voted into the All-Star game, finish fifth overall in voting for the Calder Trophy as the league's rookie of the year, and finish ninth in Norris Trophy voting for top defenseman. That was only the beginning.
During the 1995-96 season, the Sharks traded Ozolinsh to the Colorado Avalanche in exchange for Owen Nolan. The Avalanche had landed their marquee defenseman which in turn landed them the Stanley Cup. In 22 playoff games that year, Ozolinsh had 19 points with five goals and 14 assists. He would remain a mainstay on the Avs blueline for four more seasons after that. In the 1996-97 campaign, he set career highs in assists with 45 and points with 68. Ozolinsh would deservedly be named a First Team All-Star and a Norris Trophy finalist.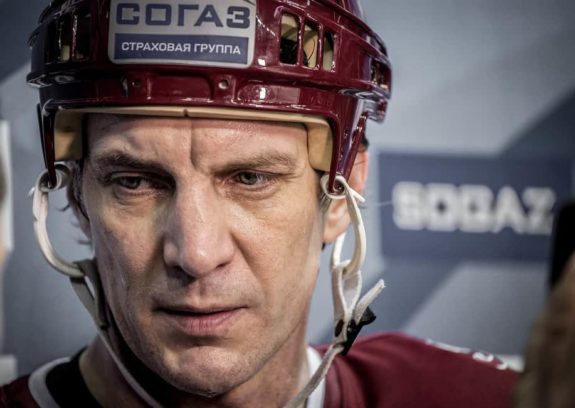 As his career progressed, Ozolinsh had stops with the Hurricanes, the Florida Panthers, the Mighty Ducks of Anaheim, the New York Rangers and a second stint with the Sharks. With Anaheim, he made his second Stanley Cup final appearance and had a goal and two assists in the seven-game series against the Devils. In an 875-game NHL career, Ozolinsh scored 167 goals, 397 assists, and 564 points. In 137 playoff games, he potted an additional 23 goals and 67 assists for 90 points.
There is no question that with his offensive production as a defenseman, his longevity of 15 NHL seasons, and his being the only Latvian player to have won the Stanley Cup, Sandis Ozolinsh rightfully sits at the top of our list.
Enjoy more great hockey history and 'Best of' posts in the THW Archives
The post Top 10 Latvians in NHL History appeared first on The Hockey Writers.
Sports League Management
Start using it today
It's FREE!
Start