Published on Wednesday, June 17, 2020
42
Reads
0
Comments
Red Wings' Draft History & Tendencies
As the Detroit Red Wings make the final tweaks to their draft board, several years' worth of scouting and strategizing will all be condensed down into a list of about 30-40 names. All of those road trips, cross-country flights, and time away from family will culminate with two action-packed nights that will determine the organization's future.
In addition, this will be Kris Draper's first year running the draft. Previously, Tyler Wright was in charge, but he's now in Edmonton with Ken Holland. As the director of amateur scouting, Draper will guide Detroit's strategy alongside Steve Yzerman.
Unfortunately for Draper, he won't have the luxury of watching end-of-year tournaments to solidify Detroit's rankings. Due to the COVID-19 pandemic, we haven't seen hockey since March.
But with the draft nearing, let's take a look at how the Red Wings have fared in recent years. Which wells did Detroit constantly return to? Which selections exceeded or fell short of draft-day expectations?
Related: Red Wings 7-Round Mock Draft
Red Wings' Draft Tendencies
Since the 2004-05 NHL Lockout, the Red Wings have drafted 107 players from various leagues and levels across the world. Eleven of those selections have been first-round picks, which is less than you'd want for a 14-year span.
The OHL leads the way with 19 Red Wings choices, making up 18 percent of Detroit's total picks. It makes sense – the OHL is right in Detroit's backyard and is easily accessible for quick trips to scout players. However, only Tyler Bertuzzi, Andreas Athanasiou, Petr Mrazek, and Shawn Matthias come to mind as successful Red Wings draft picks from the OHL. Others, including some first- and second-round picks, simply didn't pan out, but more on that later.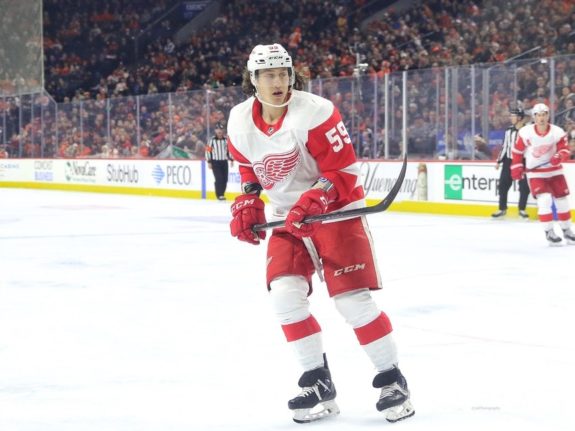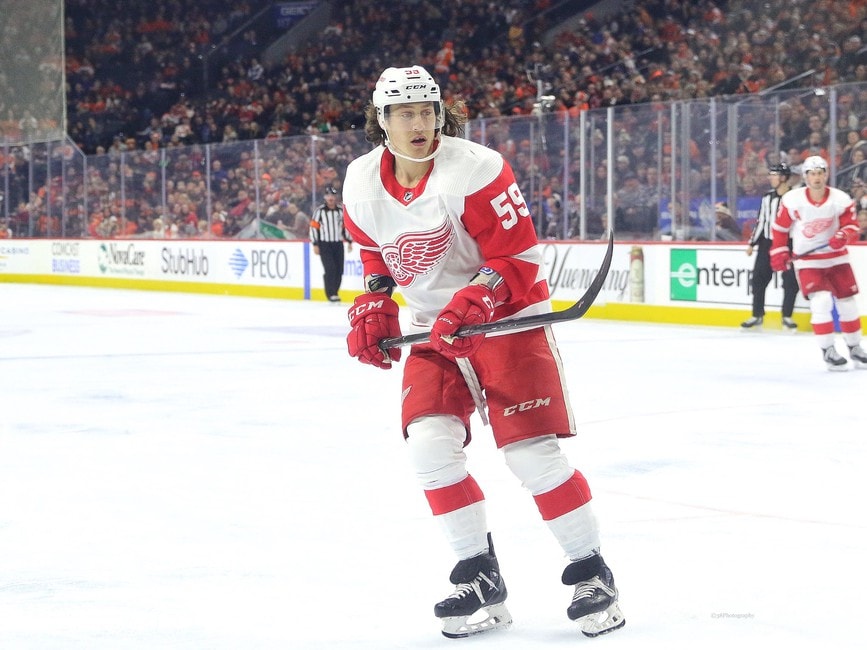 Apart from the OHL, the Red Wings tend to pull players from Sweden's various leagues, which really shouldn't surprise anyone either. Since the 2006 NHL Draft, Detroit has plucked 26 players from six different Swedish leagues, with 15 coming from the SuperElit J20 pool. Notable alumni include Gustav Nyquist and Filip Larsson. These picks tend to be in the later rounds – players who longtime Red Wings director of European scouting Hakan Andersson recommends as projects with some very strong aspects of their game.
In addition to Sweden's junior leagues, late-round selections tend to focus on developmental players from the USHL, Canadian Jr. A leagues, and U.S. high schools.
Finally, a handful of Red Wings selections never sign with the organization, with five players from the 2017 draft being the most recent examples. That's just how the draft works. Since the 2006 draft, 25 of Detroit's 107 picks (23 percent) did not sign with the team or were not offered contracts. When an organization is only allotted 50 contracts, cuts have to be made. Luckily for the Red Wings, none of those players went on to have success elsewhere in the NHL.
Related: The Grind Line: Red Wings Mock Draft Analysis
Past Draft Gems
While no Henrik Zetterbergs or Pavel Datsyuks have emerged from Detroit's draft classes since 2006, there have been a few late-round surprises.
Gustav Nyquist – No. 121 (4th Round – 2008)
Soon after the Red Wings won the 2008 Stanley Cup, they took a diminutive forward out of Sweden's SuperElit J20 league. That player turned out to be Nyquist, who quickly became a top prospect after a stellar post-draft year at the University of Maine. The next season, Nyquist exploded for 61 points in 39 games. The year after, 51 in 36.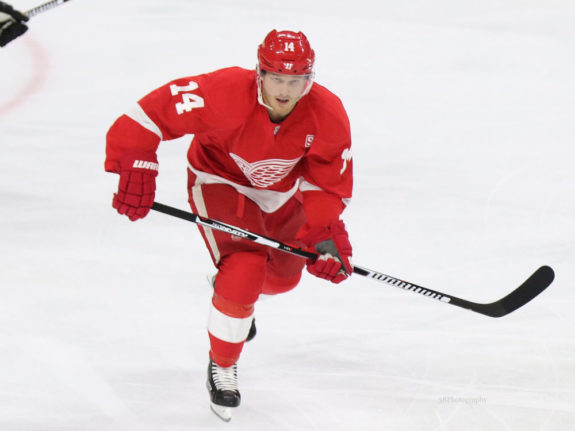 After graduating to the AHL, Nyquist tore it up for Grand Rapids and soon became one of Detroit's most dependable forwards. Though he's no longer a Red Wing, the Swede has recorded the seventh-most points among forwards taken in the 2008 draft, with the six above him all having played more games.
Petr Mrazek – No. 151 (5th Round – 2011)
Now in Carolina, Mrazek contributed way more to the Red Wings than most fifth-round picks. Detroit took a chance on the netminder following a brutal OHL playoff outing in which Mrazek walked away with a goals-against average over five. This likely contributed to his fall to the fifth round, considering his regular season was pretty solid.
Mrazek rebounded in his draft-plus-one year with a surprising bronze medal at the World Junior Championships and later led his Ottawa 67s team deep into the OHL playoffs. The following season, Mrazek stepped up his game even more, earning a couple of spot starts with the Red Wings and a Calder Cup with the Griffins that spring.
Andreas Athanasiou – No. 110 (4th Round – 2012)
Back in June 2012, the Red Wings selected Athanasiou in the fourth round. His speed was obviously a strength, but he had plenty of room to improve when it came to defense and attitude. Plus, Athanasiou's 37 points in 63 games for the high-powered London Knights looked pretty underwhelming.
The lightning-quick Athanasiou made good on Detroit's decision to draft him by becoming a point-per-game player the following year for Barrie and pumped home 49 goals the next season before turning pro with Grand Rapids.
Elmer Soderblom, Otto Kivenmaki, and Carter Gylander could join this list one day. That said, there's still a lot of development that needs to occur before they reach the NHL.
Related: The Grind Line: Red Wings Prospect Rankings
Brutal Draft Busts
For every late-round steal, there's one major draft blunder. This goes for most NHL teams, not just the Red Wings. Still, the hindsight can be nauseating.
Tom McCollum – No. 30 (1st Round – 2008)
Three rounds before the Red Wings took Nyquist in the 2008 draft, they selected goaltender Tom McCollum with their first-round pick. At the time, McCollum was highly rated; his OHL stats put him among league leaders for goals-against average and save percentage. But once McCollum reached the professional level, the wheels began to fall off.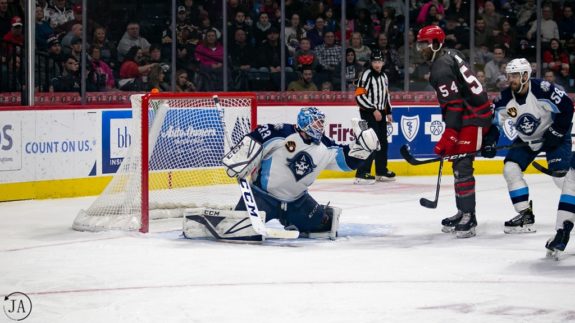 It wasn't until his fourth AHL season before McCollum recorded a save percentage higher than .900. Mrazek and Jared Coreau quickly surpassed him on the depth chart, and the Amherst, New York-native was eventually allowed to walk as a free agent without a contract offer and only three NHL games under his belt.
Players passed over: Jacob Markstrom, Jake Allen, Roman Josi, Derek Stepan
Riley Sheahan – No. 21 (1st Round – 2010)
With only one—maybe two—solid Red Wings seasons to his name, it's fair to call Riley Sheahan a bust. The 2010 first-round selection was drafted with the intention of him playing in a top-six role, not going nearly an entire season without scoring from Detroit's fourth line. Now, Sheahan is gone and looking for a new home as a pending unrestricted free agent.
Players passed over: Evgeny Kuznetsov, Charlie Coyle, Justin Faulk, Tyler Toffoli
Zach Nastasiuk – No. 48 (2nd Round – 2013)
Though there's still time for Zach Nastasiuk to turn his career around, it's not looking promising for the former 2013 second-round pick. As of now, his NHL hopes are slim to none.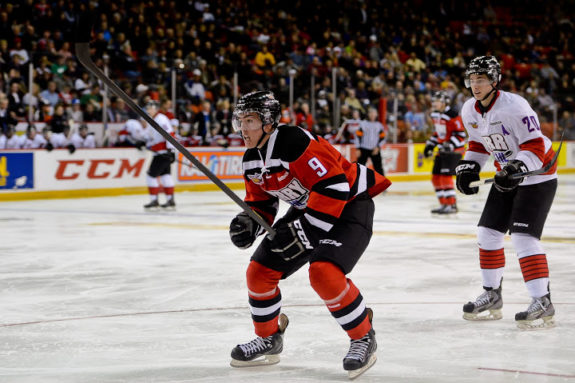 Following a 20-goal season and an impressive playoff performance, the Red Wings invested in Nastasiuk. However, the center just wasn't able to lock down a job with the Griffins and is no longer part of the organization.
Players passed over: Brett Pesce, Jake Guentzel, Pavel Buchnevich, Will Butcher
The post Red Wings' Draft History & Tendencies appeared first on The Hockey Writers.
Sports League Management
Start using it today
It's FREE!
Start