Published on Sunday, July 26, 2020
43
Reads
0
Comments
Eddie Shack's Productive Goal-den Years
The hockey world has lost an icon, and the world has lost a really great guy. Eddie Shack has passed away at the age of 83. Here is an archive piece for you to enjoy, and relive a little bit of Eddie's great career and life.
"Clear the Tracks, here comes Shack!"
---
---
By the time Eddie "The Entertainer" Shack had turned 30 years old, he had already won four Stanley Cups and participated in three NHL All-Star Games. The Cups came in 1962, 1963, 1964, and 1967 – all with the Toronto Maple Leafs – and the All-Star Game nominations mostly coincided with those years, as selections to the games of 1962, 1963 and 1964 occurred. Shack, who interestingly enough began his NHL career during the 1958-59 season with the New York Rangers, eclipsed the 20-goal mark only once during his first nine season in the league. For the 1965-66 season he finished third in Maple Leafs goal scoring with 26 tallies in 63 games.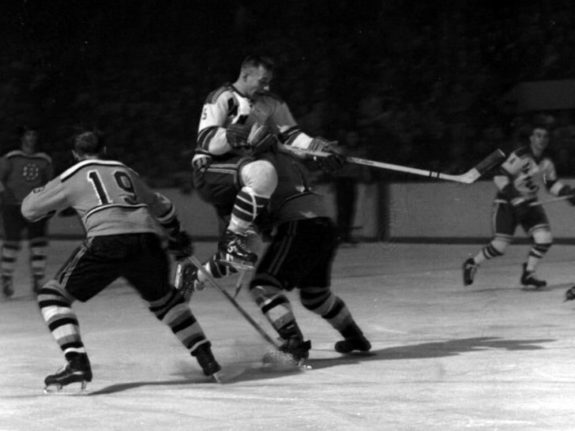 After the glory days of Toronto Stanley Cups had ceased, Shack himself aged like a fine wine. The talented forward who brought a lighter side to hockey was more productive past the age of 30 than he had been during the years he helped win championships. As NHL expansion came about starting in 1967 and then blossomed, Shack played better and better. After turning 30, Shack scored at least 20 goals on four other occasions and each with a different team.
He is forever recognized as one of the most colorful players in hockey history. Leaping through the air, pouncing upon the shoulders of opposing players, pulling off figure-skating maneuvers during games, stick-swinging fights against rivals, showering coaches in snow, stealing hats off of policemen, Shack seemingly did it all as a player on the ice. Sometimes those non-hockey antics detract overall from what his talents were as a hockey player. It is important to recognize Shack's abilities as a scorer for multiple teams, especially as his career progressed into its later stages.
We take a look back now at the golden years of "The Entertainer's" career and the numbers he was able to produce, presumably after his prime had already been reached.
From Toronto to Boston
The Maple Leafs would win their final Stanley Cup in 1967. As was typical for coach Punch Imlach's Leafs teams, they were a blend of aged veterans with a sprinkling of younger players thrown within. If anything, the Leafs of 1967 were too old. Even though that particular Cup-winning team was comprised of players like Ron Ellis, Pete Stemkowski, and Mike Walton, who were all under 25, the main core was still extremely veteran. The Leafs' Hall of Fame goaltenders Johnny Bower and Terry Sawchuk were 40 and 36 years old respectively. Allan Stanley was 40. Red Kelly was 39. George Armstrong, Tim Horton, and Marcel Pronovost were all 36.
Shack was more middle of the road, as were a number of other players. At 30 years of age, he was one of the veteran faces who ended up being moved out of Toronto so that some (slightly) younger players could take over. For the Leafs, the process didn't work – they missed the playoffs for the 1967-68 NHL season and would not have the opportunity to defend their title.
For Shack though, being moved out of Toronto did work. On May 15, 1967 the Leafs traded Shack to the Boston Bruins in exchange for Murray Oliver and cash. Oliver was only younger than Shack by nine months, but had been a productive centerman offensively throughout his career. The change in scenery ignited Shack and he responded with 23 goals and 19 assists in 70 games during his first season in Beantown. This gave Boston seven skaters with at least 20 goals on the year, and would be the second time in Shack's career that he hit the mark.
Shack and the Warm California Sun
When the NHL expanded from the "Original Six" teams to an even dozen in 1967, Shack was one of the veterans who truly benefited from there being more teams and more opportunity. This in and of itself is unique. Most of the other players who benefited from expansion were either periphery players who otherwise would not have been on an NHL roster, or they were far past their prime but managed to play on for another two to four years on rosters that were more beleaguered than the "Original Six" teams.
Not Shack however – he would have had a job whether expansion happened or not. At the very least though, his play was accentuated by having more ice time. While he may have been a third-line player with Toronto or Boston, playing for an expansion team like the Los Angeles Kings easily vaulted him to the top forward line.
Shack's 1968-69 season with the Bruins saw him drop in both games played and production. Contending with injuries, he played in only 50 games that year and scored just 11 goals and 11 assists. The Bruins themselves lost in the second round of the playoffs in six games to the eventual champions, the Montreal Canadiens. Subsequently, Shack was traded in May of 1969 along with Ross Lonsberry to the Kings in exchange for minor league winger Ken Turlik and first-round draft picks in 1971 and 1973.
In Los Angeles, Shack's stock instantly rose and he was a sensation for the team. He would led the entire team in goals during the 1969-70 season with 22 in 73 games. Shack's 34 points that year were fourth best on the team, while his 115 minutes in penalties were second most to Lonsberry's 118.
Shack Shuffles off to Buffalo
When the Buffalo Sabres and the Vancouver Canucks joined the NHL for the 1970-71 season, even more jobs became available and more opportunities for different players to step to the forefront. The inaugural head coach and general manager of the Sabres was the great George "Punch" Imlach – Shack's Cup-winning coach during all of his years with the Leafs. Imlach was a genius of an architect when it came to assembling a hockey club, and he knew that for his fledgling Sabres to be competitive that he needed to acquire proven players that were accustomed to winning. Perhaps even more importantly, Imlach needed to provide the proper supporting cast for his newly drafted superstar, Gilbert Perreault. Shack would be able to do both.
When the 1970-71 season began Shack was still with the Kings. In 11 games for Los Angeles he scored a pair of goals and a pair of assists. Shortly thereafter, Imlach pulled off a beautiful trade in which he not only acquired Shack but acquired another former player of his in Hockey Hall of Famer, Dick Duff. Imlach would trade defenseman Mike McMahon (along with future considerations) to the Kings and received both Shack and Duff in return.
This was quite the steal, especially when it came to Shack. Not only would "The Entertainer" become an immediate fan favorite of the Buffalo faithful, but he became the Sabres most productive scorer aside from Perreault. Even though he started the season in Los Angeles, Shack still finished second in Buffalo for goals scored (25) and fifth in points (42) in only 56 games – and that does not include his two goals and two assists prior to being acquired. At no other time in Shack's career did he assemble such numbers in as short of a span. Kudos to Imlach for bringing him to Buffalo, but a bigger pat on the backside for Shack by generating as many goals and points as he did, and at the age of 34.
Shack's Role in Assembling "The French Connection"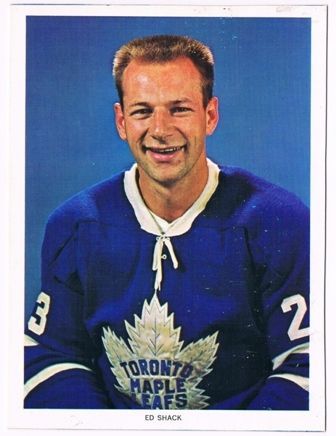 In addition to being a beloved player in the early years of the Sabres franchise, Shack was paramount in assembling one of the greatest forward lines in hockey history, although not of his own accord. As the Sabres second season began, Shack continued to put up decent numbers for Buffalo. Playing 50 games for the Sabres during the 1971-72 season saw him score 11 goals and 14 assists for 25 points.
Imlach had a bit of a predicament however. The sophomore Perreault was well on his way to becoming the greatest player in Sabres history. Imlach had also added Perreault's junior teammate, Richard Martin, who would rewrite the rookie goal scoring record that Perreault had just set the season prior. As was expected, the two Quebec-born forwards were an immediate dynamic duo, yet Imlach could not find an appropriate right-winger to place on the line with them. Steve Atkinson, Danny Lawson, Ron Anderson – none of them quite clicked with the French youngsters. Even Shack did not mix, as he was a style all of his own.
The Sabres GM sought to find a younger player who could jive with Perreault and Martin, both in terms of age and style. Imlach found a dance partner in the Pittsburgh Penguins who were willing to part with another Quebecois, Rene Robert. Not only was Robert of similar background, but he was only two years older than Perreault (three years older than Martin) and could keep the proper pace with both of Buffalo's young stars. Separately, Robert was 11 years younger than Shack.
Once again pulling of a tremendous trade for the betterment of Buffalo, Imlach shipped Shack to Pittsburgh in order to get Robert. The Sabres' "The French Connection" was officially born on Mar. 4, 1972. Finishing the season with the Penguins, Shack would score five goals and nine assists for 14 points in only 18 games – still good numbers for the aged winger.
The Penguins, a Return to the Leafs, and Retirement
Though he was 35 years old at the time (and would turn 36 during the year), Shack would assemble one of his finest seasons during the 1972-73 NHL campaign. Scoring 25 goals and 20 assists for 45 points in 74 games for the Penguins that year, Shack scored 20-plus goals for the fifth different team of his career. Only one other player (Bill Guerin) would ever accomplished the same feat. This would also be Shack's one and only full season with the Penguins.
Perhaps feeling that age had finally caught up with him, the Penguins traded Shack back to his beloved Toronto Maple Leafs during the summer of 1973. It would be true that "The Entertainer" had fallen down to earth, and could not keep up the scoring pace he had been riding since he had turned 30. Playing with the Leafs for the 1973-74 season he scored all of seven goals and 15 total points in 59 games. The Leafs would play to a 35-27-16 record that year and advanced to the postseason. Unfortunately, they would be swept in four straight games by the Boston Bruins. Shack played in all four playoff games and scored a goal. These would be the final NHL playoff games of his career.
Shack returned for one final season with Toronto in 1974-75. Playing in 26 games, he scored a pair of goals and an assist. Shack would officially retire at the end of the season at the age of 38.
A Look at the Numbers
The numbers for the later half of Eddie Shack's career are very telling. When he retired his final regular season totals were 239 goals, 226 assists and 465 points in 1,047 games. Looking at those numbers, you then need to split Shack's 17 NHL seasons nearly in half and then go from there.
Let us take his first nine seasons in the league. From the 1958-59 season with the Rangers up through the 1966-67 season with the Maple Leafs, Shack played 560 games. His age through those seasons spanned from 21 years old to 30 years old. In those 560 games Shack scored 106 goals and 113 assists for 219 points. That is an average of just under 0.39 points per game.
Then we look at his final eight seasons where he played for the Bruins, Kings, Sabres, Penguins and his second stint with the Maple Leafs. Shack's age ranged from 30 years to 38 years, and spanned the seasons of 1967-68 up through 1974-75. Within this time frame he played in 487 games. While with those five teams Shack scored 133 goals. Already that is 27 more goals than he scored in his first nine years, but in 73 less games. Shack also picked up 113 assists – exactly the same total in eight years that he previously achieved in nine, and after he had turned 30 years old. That is a total of 246 points in 487 games, or an average of just over a half a point per game (0.51).
The numbers do not lie. While most athletes see their point totals and skills deplete as they get older, Eddie Shack – the colorful character that he was as a player – defied the odds and became a better scorer as he got older. You can almost envision him thumbing his nose at statisticians from the bench. Knowing Shack, he is probably giving a guttural belly-laugh and thumbing his nose right now, if he is reading this all these years later.
The post Eddie Shack's Productive Goal-den Years appeared first on The Hockey Writers.
Sports League Management
Start using it today
It's FREE!
Start