Published on Saturday, August 22, 2020
105
Reads
0
Comments
Top 3 All-Time Red Wings Goalies
The Detroit Red Wings have had some incredible goalies don the Winged Wheel over the past 90 years. Many of these masked men rank among the top goaltenders to ever play the game, so narrowing them down to the top three isn't an easy task.
When ranking the top three Red Wings goalies of all-time, the netminders will be evaluated based on their play in Hockeytown, rather than career totals. Tenders like Dominik Hasek, Mike Vernon, and Curtis Joseph could be considered "elite" based on their entire NHL careers, but did not play enough with the Red Wings to qualify for this list.
Because the top two goalies are set in stone, we'll start the countdown with the greatest Red Wings goalie of all-time and work down from there.
#1 – Terry Sawchuk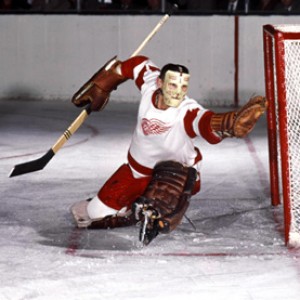 Red Wings fans were lucky enough to have one of the best NHL goalies of all time tend the hometown crease for parts of 14 seasons, including 12 as the starter. Terry Sawchuk racked up 351 wins in a Red Wings uniform – the most in franchise history.
When Sawchuk was in net, he was a dominant, lights-out force for the Red Wings. Of his 351 wins, 85 came as shutouts, which would be good enough to place Sawchuk fourth on the all-time shutout leaders list. He recorded 18 more shutouts with other teams and sits second all-time with 103 career shutouts, trailing only Martin Brodeur's 125 career clean sheets.
Once the playoffs rolled around, Sawchuk was nearly unbeatable. He won three Stanley Cups with the Red Wings (plus a fourth as a backup in 1950) including an undefeated 1952 postseason, when the Red Wings won eight of eight games and started the octopus tradition.
#2 – Chris Osgood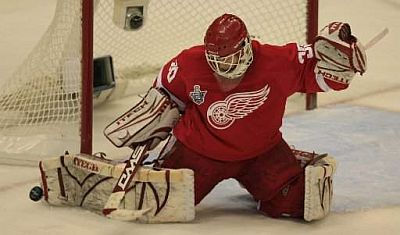 During the Red Wings' most recent dynasty, Chris Osgood was Detroit's main man in net. In 14 seasons with the Red Wings, Osgood was victorious in 317 contests. The "Wizard of Oz" also had 39 shutouts in that span.
Because the Red Wings had stacked teams during his tenure, Osgood often doesn't get the credit he deserves for his Detroit career. With Osgood between the pipes as either the full-time starter or sharing starting duties, the Red Wings won three Stanley Cups, reached the Western Conference Finals seven times, and made the playoffs each year. He even scored a goal once.
One aspect of Osgood's game that certainly does not get the attention it deserves is how the netminder transformed his game to prolong his career and adapt to the changing game. During his first tenure with the Red Wings, Osgood was an unorthodox stand-up goalie. But as the NHL changed from a clutch-and-grab game to one of speed and finesse, Osgood re-invented himself as a butterfly goalie through rigorous skating work. Because of this, "Ozzie" played six seasons after the 2004-05 lockout and won his third Stanley Cup during that time.
#3 – Harry Lumley
Who? Harry Lumley, of course!
During the 1940s, Lumley was Detroit's main (un)masked man. His Red Wings career started off ablaze when he took over starting duties as a 17-year-old and led the Red Wings to the 1945 Stanley Cup Finals. It concluded slightly more effectively, with Lumley winning the 1950 Stanley Cup.
In his six seasons as a starter, Lumley led the Red Wings to the Stanley Cup Finals four times – finally winning the Cup on his fourth attempt in 1950. If it wasn't for the up-and-coming Sawchuk, Lumley would have stuck around for the Red Wings' extraordinary 1950s teams.
He won 163 games with Detroit – fourth most in team history – and recorded 26 shutouts, good enough for third most behind Sawchuk and Osgood.
Honorable Mention
While their respective stays did not last too long, goalies like Hasek, Vernon, Normie Smith, and Glenn Hall had terrific careers in Detroit. In addition, longer-tenured netminders like Tim Cheveldae, Roger Crozier, and Jim Rutherford were able to produce respectable numbers in Hockeytown. Even Jimmy Howard (193) and Manny Legace (112) were able to crack 100 wins with the Original Six franchise.
Who are your top three Detroit Red Wings goalies of all-time? Comment below with your picks.
The post Top 3 All-Time Red Wings Goalies appeared first on The Hockey Writers.
Sports League Management
Start using it today
It's FREE!
Start