Published on Wednesday, September 2, 2020
41
Reads
0
Comments
Blue Jackets' Potential Trade Partners: Montreal Canadiens
Welcome to September. Seriously, that's what month it is?
It's crazy what a worldwide pandemic will do to your sense of time. This would be the time of season we are watching the various prospects' tournaments while gearing up for the start of training camp. Instead, we have the playoffs ongoing for some and the offseason going for everyone else.
In the month of September, we are going to look at different teams the Columbus Blue Jackets could have a match with in terms of a trade partner. There is no question the Blue Jackets are hunting for ways to be better especially up front.
But this offseason, there are several interesting situations around the league that the Blue Jackets could take advantage of. Whether it's a player who is unhappy with their current situation or a team needing to cut salary, the Blue Jackets have a lot of options to choose from.
The Montreal Canadiens
We start in this piece with the Montreal Canadiens. They had a strong showing in the Toronto bubble by overcoming the Pittsburgh Penguins before bowing out to the Philadelphia Flyers.
If there is one big thing the Canadiens learned in the bubble, it's that they might have something special in both Jesperi Kotkaniemi and Nick Suzuki. That has the makings of a formidable 1-2 punch down the middle. Each player showed flashes in the playoffs of just how good they can be. Will it be enough to push others down the depth chart?
That's where this gets interesting for the Blue Jackets. They need help down the middle. The Canadiens need help on the wing. Do we have a match here?
Enter Phillip Danault
If Kotkaniemi and Suzuki are both ready for full-time roles in the top-six, that potentially bumps Phillip Danault down to the bottom-six. Danault was basically their number-one center all season and showed very well in a two-way role.
Danault made some news recently when he said that he wasn't sure what his role would be moving forward. It sounds like he's not interested in being on the bottom-six.
Related: Danault is Canadiens' Actual Number One Center
Danault projects more as a 2C or a 3C on a Stanley Cup contender. He would be a perfect fit on the Blue Jackets given his style of play and the way the team likes to play.
There is a glaring hole at 2C on the Blue Jackets behind Pierre-Luc Dubois. Boone Jenner, Alexander Wennberg and others have tried playing in that spot but there just hasn't been any consistency. If a trade can be found here, Danault would immediately improve the forward ranks.
Many folks especially this season viewed Danault as a Selke contender. He is an excellent defender and can play in all situations. He was over 54% at the dot in 2019-20. He has excellent possession numbers as well. Per Nat Stat Trick at 5-on-5, Danault's xGF% was just under 60% which was amongst the highest on the Canadiens.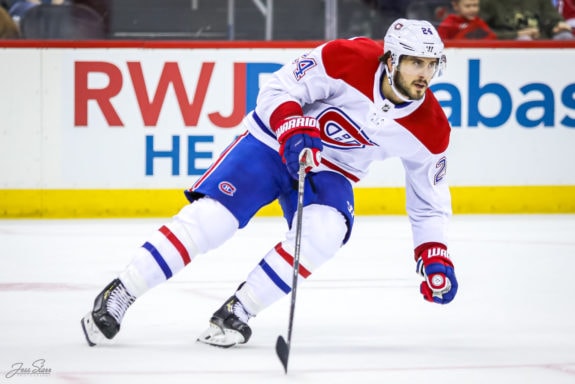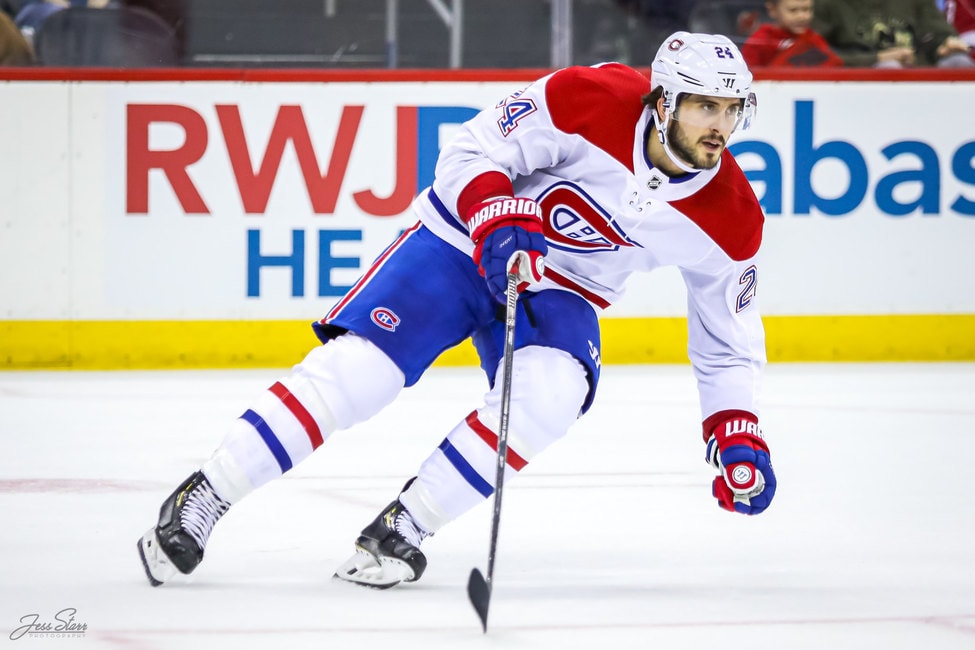 Two of the Blue Jackets' biggest weaknesses of late have been goal scoring and faceoffs. While Danault isn't an elite offensive threat, he has shown steady improvement over the last couple of seasons. His career high in goals is 13 which he's done twice including this past season. He has 100 points in his last 152 regular season games (25-75-100.)
Now What's the Price?
So we see why Danault makes for a good fit with the Blue Jackets. What would it take to get him? I wonder if Josh Anderson comes into play here.
Anderson's situation will be worth watching as the offseason unfolds. He debuted on TSN's trade bait board at number three. While things can change in a hurry, it seems likely he is heading elsewhere.
Anderson is due a new contract and is just one season away from being a UFA. He had a season to forget in 2019-20 scoring just once and missing most of the season due to a shoulder injury. He had surgery in March and was expected to be ready sometime in early September had the Blue Jackets still been in the playoffs.
This comes one season after being a 20-goal scorer. How do you place value on a player with that kind of swing? Is he closer to the 20-goal scorer or is he more like what we saw last season? And how will he look once he gets back on the ice? He plays a physical game and it will be interesting to see how he handles that coming off major surgery.
Given how the last negotiation went, there could be another difficult negotiation ahead. The Blue Jackets want Anderson. Anderson has said he'd consider staying with the Blue Jackets. But he does have arbitration rights. He could elect to take that number and then he'll go to market in 2021-22. I'm not sure the Blue Jackets want to get to that point so a trade is certainly a possibility if the two sides can't agree on a new deal.
The Canadiens need a winger like Anderson. He'd bring a physical presence along with some needed scoring depth. He'd also be a force on the penalty kill. With Max Domi's status uncertain, the Canadiens need scoring wingers. This is a match.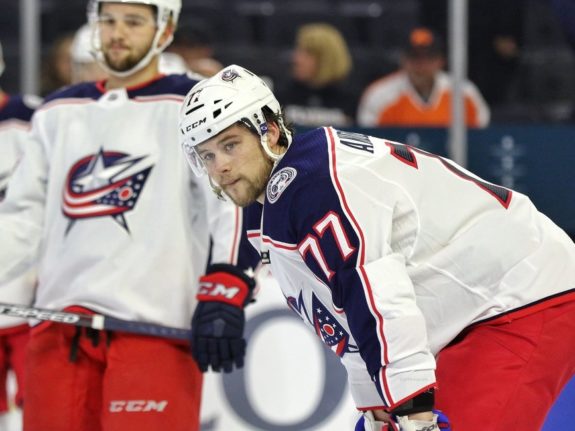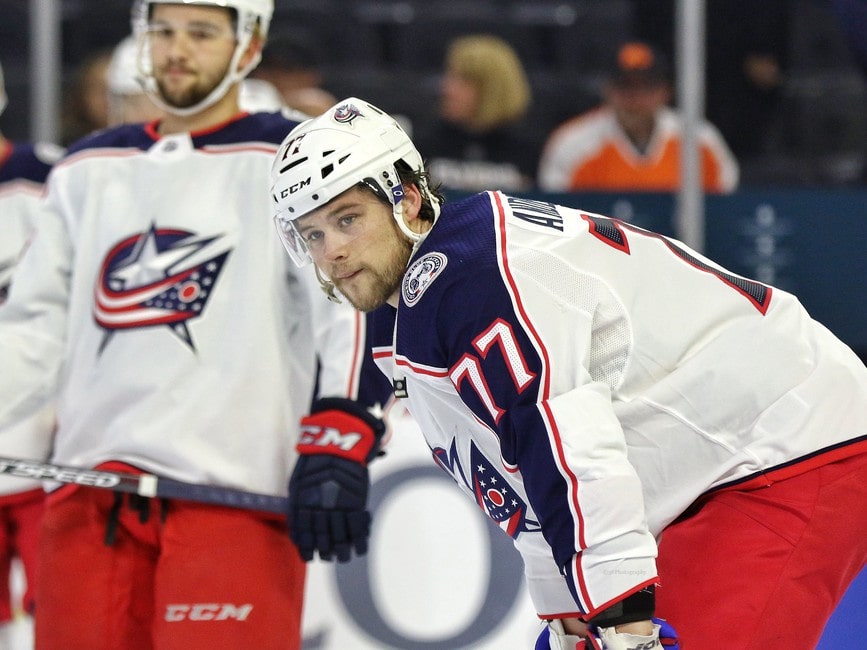 As for their contracts, Anderson as mentioned above is an RFA and Montreal would need to negotiate a new deal. Danault is one year away from UFA but has a cap hit of just over $3 million per Cap Friendly. If the Blue Jackets were interested in the 27-year old center, they'd need to make sure they could lock him up for future seasons.
Blue Jackets Need to at Least Call Begrevin
At the very least, the Blue Jackets need to inquire of GM Marc Bergevin about Danault's availability. He would improve the top-six while putting a player like Jenner back on the wing where he is more effective. That would also slot Wennberg in as a formidable 3C. This is what the top-nine could look like if a trade were to happen.
Alexandre Texier-Pierre-Luc Dubois-Oliver Bjorkstrand
Gus Nyquist-Phillip Danault-Cam Atkinson
Boone Jenner-Alexander Wennberg-Nick Foligno
Note: Liam Foudy & Emil Bemstrom could play up also.
The fit is there. But would the Canadiens be willing to move Danault? Given his recent comments, it's certainly possible. Stay tuned later on this week for our next team as a potential Blue Jackets' trade partner.
---
---
Sports League Management
Start using it today
It's FREE!
Start