Published on Sunday, May 7, 2017
64
Reads
0
Comments
Pierre-Édouard Bellemare fait un beau geste pour son coéquipier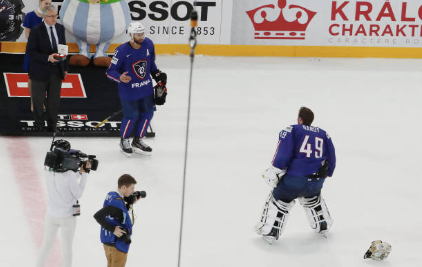 La France a réalisé tout un exploit face à la Finlande aujourd'hui : elle s'est imposée 5-1 lors de son deuxième match du championnat du monde. Le gardien, Florian Hardy, a connu une superbe partie en réalisant 41 arrêts. C'est la première fois de son histoire que la nation bleu blanc rouge s'impose contre la Finlande, qui est vice-champion du tournoi.
Antoine Roussel a marqué deux buts alors que Pierre-Édouard Bellemare a amassé une passe. Le joueur des Flyers de Philadelphie a fait un beau geste pour son gardien. Il a rejeté le cadeau d'homme du match pour le donner à Hardy.
Le match se déroulait à Paris et l'ambiance était exceptionnelle à l'intérieur du AccorHotels Arena. Avec cette première victoire, les Français peuvent espérer pour une qualification en quarts de finale. Si l'équipe réussit a faire un bon bout de chemin dans le tournoi, la popularité du hockey en France pourrait grandir.
L'atmosphère dans l'Arena 
?????? énorme ambiance ?????? #EnsemblePour2017 #WeCanBeHeroes pic.twitter.com/v7fbJGD2AO

— Équipe France Hockey (@Hockey_FRA) May 7, 2017
Le beau geste de Pierre-Édouard Bellemare 
Great moment as Pierre-Édouard Bellemare rejects the player of game award and gives it to goalie Florian Hardy (41 saves). #IIHFWorlds pic.twitter.com/ZgTnilY1Yl

— Alex Nunn (@aj_ranger) May 7, 2017
Le bel arrêt de Florian Hardy
Team France goalie Florian Hardy made an outstanding save to deny Finland's Oskar Osala in the first period. #IIHFWorlds pic.twitter.com/qlc1LFQkJO

— Marco Bombino (@marco_bombino) 7 mai 2017
Sports League Management
Start using it today
It's FREE!
Start