Published on Thursday, January 18, 2018
44
Reads
0
Comments
RM - Malkin, Crosby et Getzlaf ont atteint des plateaux statistiques impressionnants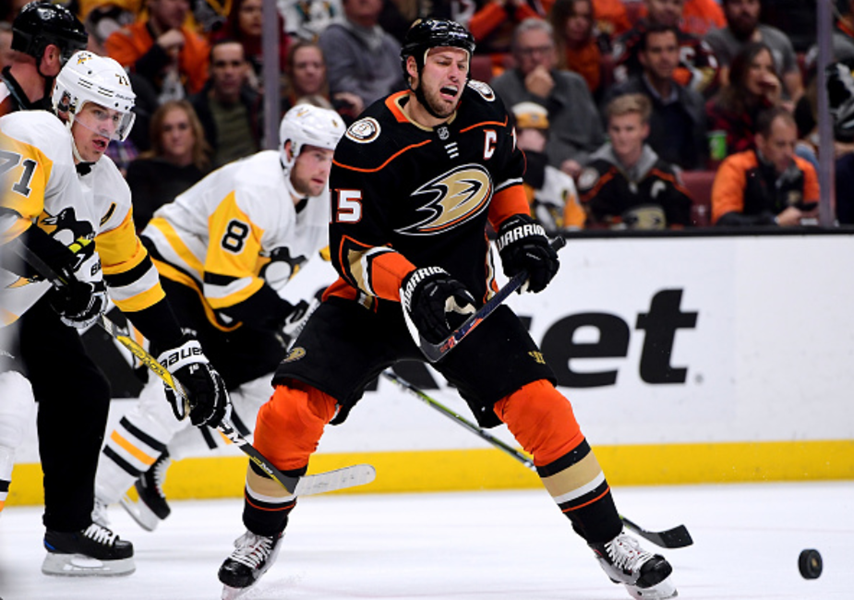 Le résumé matinal (RM) est notre chronique quotidienne du lundi au vendredi qui résume tous les événements de la veille pour s'assurer que tu n'aies rien manqué. J'en profite aussi pour plonger un peu plus en profondeur dans les gros dossiers de la ligue pour te permettre de passer le temps quand tu en as besoin. 
Heureusement qu'il y a la LHJMQ parce que la soirée de mercredi dans la LNH ne passera pas à l'histoire. Il y avait seulement deux matchs à l'horaire et l'un d'entre eux a mis en vedette un effondrement du Canadien après un bon début de match. Ça va tellement mal que Claude Julien, pour qui ce match était spécial, a plus ou moins dit aux journalistes que certains joueurs avaient abandonné même si le coach y croit encore.
L'autre match était un peu plus intéressant alors que les Ducks ont battu les Penguins 5-3, mais encore là, les quatre buts d'Anaheim en deuxième période ont sûrement envoyé quelques fervents amateurs au lit. C'est une défaite qui fait mal aux Penguins parce qu'elle ouvre la porte à New York, Philadelphie et la Caroline.
Pour ce qui est des Ducks, cette victoire n'est pas suffisante pour les replacer en séries, mais ils ne restent pas bien loin derrière (2 points de retard sur les huitièmes). Avec toutes leurs blessures en début de saison, ils seront à surveiller d'ici le mois d'avril parce qu'ils pourraient bien s'immiscer et si c'est le cas, aucune équipe ne voudra les affronter en première ronde.
Pour revenir au match Penguins-Ducks, il a permis à quelques vedettes du sport de solidifier leur place dans le livre des records de leur équipe respective. Par exemple, Ryan Getzlaf est devenu le premier Ducks à obtenir 600 mentions d'aide en carrière en obtenant une passe sur le but égalisateur de Rickard Rakell en début de deuxième. Getzlaf est seulement le 41e joueur de l'histoire à atteindre ce plateau en jouant pour une seule équipe.
Malkin's goal (assisted by Hornqvist and Hagelin) is his 20th of the season. He is now one of four players in franchise history to score 20 goals on 10 separate occasions. Wow. pic.twitter.com/jzEvAUkJVC

— Pittsburgh Penguins (@penguins) 18 janvier 2018
Chez les Penguins, Evgeni Malkin a ouvert la marque avec son 20e de la saison. C'est déjà sa 10e saison de 20 buts, ce qui lui donne une égalité au troisième rang avec Sidney Crosby dans l'histoire des Penguins. Crosby n'est pas resté bredouille puisqu'il a récolté deux passes pour continuer sa bonne forme (13 points en 5 parties). C'est sa 320e partie de plus d'un point avec les Penguins, ce qui égale Jagr au deuxième rang à ce chapitre. Il est aussi à trois points d'égaler Jaromir en tant que deuxième meilleur pointeur de l'histoire du club et son prochain but sera son 400e en carrière.
As displayed, it's kind of hard to knock Sid off the puck… pic.twitter.com/d6B3mPn96h

— NHL (@NHL) 18 janvier 2018
Au cours de la journée, les Kings sont à peu près les seuls qui ont reçu une bonne nouvelle puisque Jeff Carter a patiné sans équipemet pour la deuxième journée. Il s'était blessé contre le Canadien le 18 octobre et avec la profondeur à l'attaque de Los Angeles, on pensait que ça allait grandement ralentir leur attaque. Ils s'en sont bien tirés, mais ils vont quand même l'accueillir avec les bras ouverts puisqu'ils connaissent présentement une mauvaise séquence avec quatre défaites en temps réglementaire consécutives. Ça leur a enlevé toute leur marge de manœuvre alors qu'ils sont présentement au huitième échelon dans l'Ouest, donc ils doivent se relancer rapidement.
Leur prochain adversaire sera les Penguins, qui seront sans Matt Murray. Ce dernier est rentré à la maison parce que son père est décédé. Il sera absent pour une période indéterminée et toutes nos condoléances sont avec sa famille.
Les Blue Jackets ont réclamé Jussi Jokinen des Kings au ballottage. Il ne viendra pas sauver l'attaque de Columbus, lui qui en sera déjà à sa troisième formation cette année, mais ils ont une tonne de blessures à l'attaque et ils ont besoin d'aide de ce côté. D'ailleurs, Sonny Milano a été ajouté à la liste des blessés pour une période de 4 à 6 semaines.
Finalement, la ligue a dévoilé le chandail des Capitals pour leur match extérieur et on ne peut pas dire que la réception sur le web a été positive. Les équipes essaient souvent des choses différentes avec ces uniformes et ça ne peut pas toujours marcher, mais on le verra assurément lorsqu'il sera en action.
Via NHL, the Capitals Stadium Series jersey: pic.twitter.com/R8HHpGLxO5

— Sean Leahy (@Sean_Leahy) 17 janvier 2018
Sports League Management
Start using it today
It's FREE!
Start