Published on Tuesday, September 8, 2020
23
Reads
0
Comments
Prospects News & Rumors: Vehvilainen, Mercier, Roode & More
The Columbus Blue Jackets have loaned one of their prospects overseas, the Acadie-Bathurst Titan and Shawinigan Cataractes have each traded one of their players, and we take a look at a player who has the chance to be a solid pick when we look back on this draft for our Prospect of the Day.
Blue Jackets Loan Vehvilainen to Finland
The Blue Jackets announced that they have loaned goalie Veini Vehvilainen to JYP of the Liiga for the start of the 2020-21 season. The native of Jyvaskyla, Finland was originally drafted by Columbus in the sixth round, 173rd overall in the 2018 NHL Draft.
Vehvilainen spent this past season playing for the Cleveland Monsters of the American Hockey League (AHL) where he compiled a record of 10-18-4 to go along with a 2.76 goals-against average and a .901 save percentage.
Vehvilainen has proven that he can be a solid goaltending option for the Blue Jackets moving forward. Although they have a great goaltending duo in Joonas Korpisalo and Elvis Merzlikins, if one of them were to ever go down with an injury, I would love to see the Jackets give Vehvilianen a shot to gain some valuable NHL experience.
Titan Trade Defenseman Roode to the Sea Dogs
The Titan announced that they have traded defenseman Ben Roode to the Saint John Sea Dogs in exchange for a ninth-round pick in 2023. The native of Dartmouth, Nova Scotia was originally drafted by the Titan in the first round, 14th overall in the 2018 QMJHL Entry Draft.
Roode spent this past season playing for the Titan where he managed to collect one goal and added two assists for three points in 63 games. Over the course of his two-year QMJHL career, he has scored five points in 129 games.
Although he has yet to make much of an impact in the QMJHL on the offensive side, Roode has still made an impact when he stepped out on the ice. Standing at 6-foot-4, he has great size and is able to clear the front of his net of any danger imposed. He is good at transitioning the puck up the ice and will most likely get a bigger role with the Sea Dogs when the puck drops this upcoming season.
Cataractes Trade Defenseman Mercier to the Drakkar
The Cataractes announced that they have traded defenseman Marc-Antoine Mercier to the Baie-Comeau Drakkar in exchange for a sixth-round pick in 2022. The native of Forestville, Quebec was originally drafted by the Cataractes in the fourth round, 56th overall in the 2018 QMJHL Entry Draft.
Mercier spent this past season playing for College Lafleche Dragons of the Quebec Collegiate AAA Hockey League where he collected 3 goals and added 15 assists for 18 points in 34 games.
Although Mercier has yet to play a game in the QMJHL, he has the chance to make an impact for the Drakkar this upcoming season. At 6-foot-3, he has great size and is willing to play a physical game when called upon. He battles hard in the corners and is always willing to stick up for his teammates. It will be interesting to see how he plays this upcoming season and if he is able to make a name for himself moving forward.
Prospect of the Day- Tyler Tullio
For our Prospect of the Day, we will be taking a look at Oshawa Generals centre Tyler Tullio, who had an amazing season playing big minutes for his junior club. Currently ranked 52nd amongst North American skaters by NHL Central Scouting, he has the chance to hear his name called early come the second day of the draft.
Related: Our Free NHL Draft Guide
Tullio made his impact felt this past season with the Generals where he managed to score 27 goals and added 39 assists for 66 points in 62 games. Over his two-year Ontario Hockey League (OHL) career, he has tallied 42 goals and added 66 assists for 108 points in 122 games.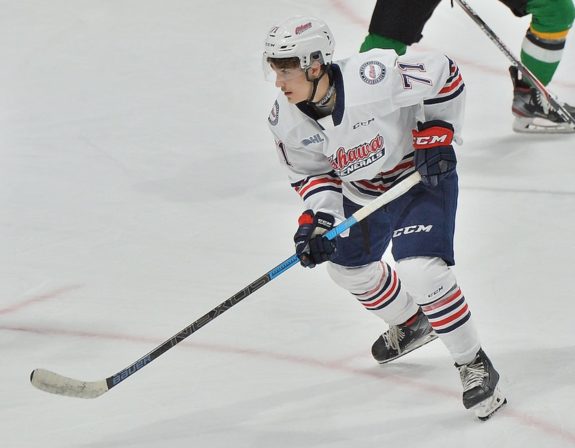 THW's own Mark Scheig has compared Tullio's game to players like Brad Marchand and Anthony Cirelli:
"In my viewings of Tullio, he has a lot of both Brad Marchand and Anthony Cirelli in him. Although he's not the biggest player, Tullio will get under your skin. He showed a willingness to hit and be physical when necessary at different points. He also has the knack of going to the right place to make something happen. His intelligence and willingness to embrace different roles stand out to me. The term ultimate team player is a bit of a cliche. But in Tullio's case, it's true. He's someone you want on your team."
Time will tell whether or not Tullio will make the NHL as an impact player, but his immense potential is undeniable. He never takes a shift off and will go to war for his teammates. The team that drafts him will have to be patient while he develops, but he could turn into a special player down the road.
---
---
The post Prospects News & Rumors: Vehvilainen, Mercier, Roode & More appeared first on The Hockey Writers.
Sports League Management
Start using it today
It's FREE!
Start