Published on Wednesday, September 9, 2020
51
Reads
0
Comments
NHL Rumors: Penguins, Golden Knights, Maple Leafs, Blackhawks, More
In today's NHL rumors rundown, there is news on Kris Letang feeling uncertain in Pittsburgh, Robin Lehner and the Vegas Golden Knights are talking deal, and the Chicago Blackhawks have tabled an offer for Corey Crawford to chew on. Finally, in Toronto, there's more detail on a power forward that is looking at the team in free agency. What would Toronto be willing to offer?
Letang Believes He'll Be Traded
According to Rob Rossi for The Athletic, Penguins defenseman Kris Letang believes he's on the trade block and has told his friends and teammates as much.
Rutherford has said publicly that he isn't looking to move his "big three" in Letang, Sidney Crosby or Evgeni Malkin, but behind the scenes, it appears he is "fishing" for what the value of Letang might be on the trade market.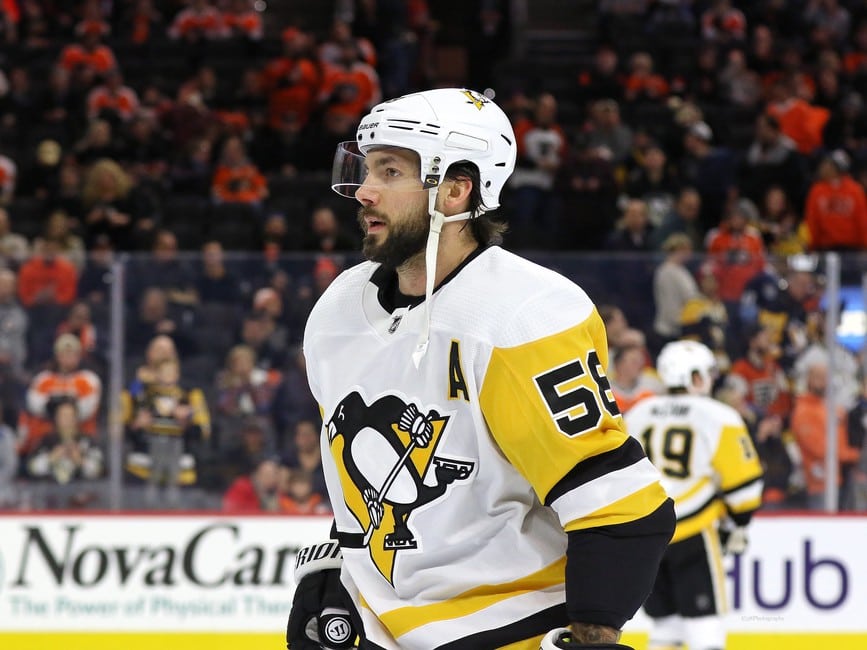 Rossi said:
Letang has told those close to him he expects a trade from the Penguins could happen during the offseason or sometime next season, multiple team sources said.

Interviews with more than a dozen team and league sources revealed that Letang, the most accomplished defenseman in Penguins history, is at a crossroads similar to the one teammate Evgeni Malkin found himself at after the 2018-19 season. While Malkin always has brushed off any indication he could be traded, Letang has taken it seriously since first learning of reports and speculation in the 2012-13 season.

Source – 'Fearing a trade, Kris Letang is at a crossroads' Rob Rossi – The Athletic – 09/08/2020
One other NHL GM said he believes Rutherford is merely "feeling out what value Letang would have" but that has gotten back to Letang who believes a move is potentially inevitable.
At $7.25 million, Letang might not be the easiest player to trade but there are few defenseman who can steadily get around 50 points per season and average 25 minutes per game.
Related: The 5 Best Agitators in the NHL
More on Wayne Simmonds Eyeing Maple Leafs
We reported yesterday that pending unrestricted free agent Wayne Simmonds is looking to find the right fit in free agency this offseason and has taken notice of Toronto's situation. The news was first broken by Pierre LeBrun of The Athletic and TSN and over the past 24 hours, the topic has gotten a ton of discussion.
Simmonds told LeBrun in an exclusive interview, "I'm open to everything, Toronto's got a great core of players and I think that's definitely a team where I could go in and make an impact right away."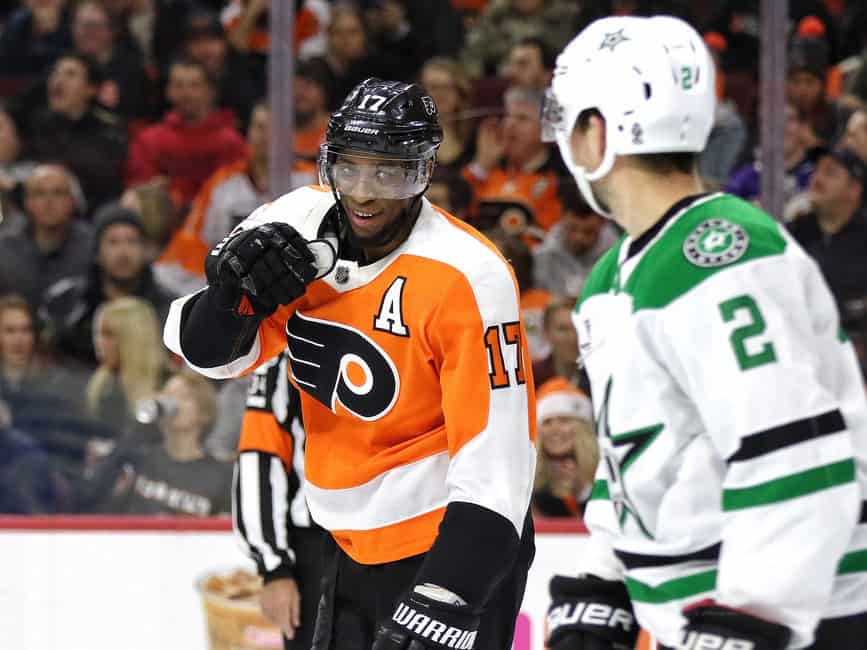 A lot of the talk is about what version of Simmonds would be signing in Toronto if this happened. One of the things that the forward said that has gotten some attention is that his whole career, "I think I've been that guy who is willing to do all the dirty work. I pride myself on doing that type of dirty work." This is exactly the type of player the Maple Leafs are looking for.
The catch here is that the player people have watched in recent years is slower, doesn't score much and has poor underlying numbers. If the Leafs were interested, it would likely be around league minimum.
Related: Blackhawks News & Rumors: Crawford, Suter & More
Golden Knights and Lehner Have Started Talking Extension
After a fourth shut out in the this year's postseason, there's no doubt Robin Lehner is at the top of his game. As expected, the Vegas Golden Knights are very interested in keeping him around and according to Jesse Granger of The Athletic, talks have already begun on a new deal.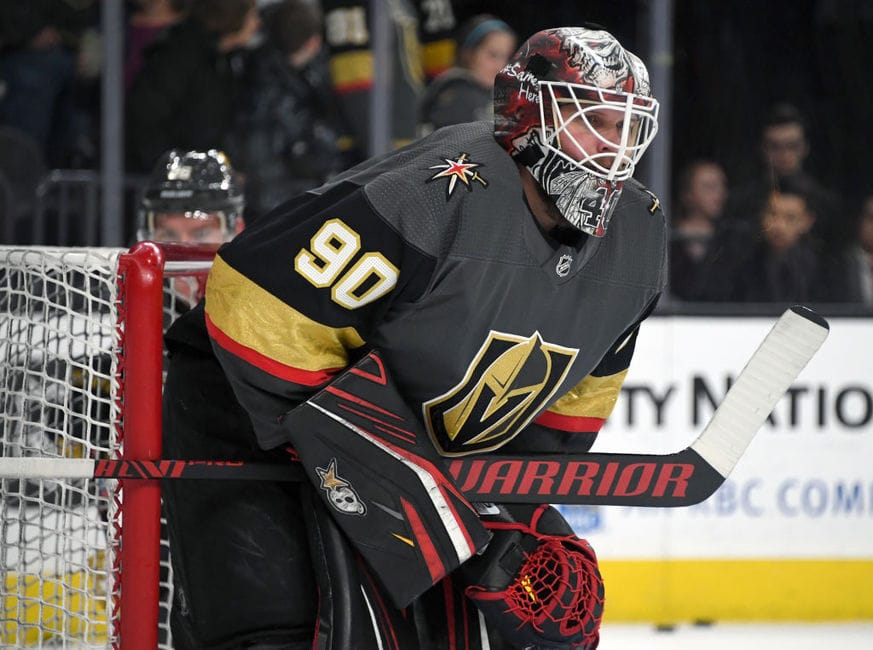 Granger notes the Golden Knights and Lehner are working on a long-term extension, though it's not clear exactly what price tag would be. Of course, that will mean tons of speculation related to fellow goaltender Marc-Andre Fleury.
Granger writes:
Nothing is finalized, and there are plenty of moving pieces involved – including the two remaining years on Marc-Andre Fleury's contract at $7 million per year – but based on everything I've heard, it appears the organization wants Lehner to remain a Golden Knight past this season.

I would expect that deal to be in the ballpark of five years at $5 million per season. It wouldn't surprise me if the average annual value is more than $5 million, which would make Lehner the 13th-highest-paid goalie in the league and I believe he's better than that. That's my read on the situation.

source – 'What I'm hearing about the Golden Knights and pending UFA Robin Lehner' – Jesse Granger – The Athletic – 09/09/2020
It will be one thing to get Lehner signed, but another to move Fleury. He's making good money, has a modified no-trade clause, and is potentially on the trade block as a netminder whose agent just finished stirring the pot over his playing time. It could mean having to buy out the remainder of his deal, which would look like:
2020-21: $2,583,333
2021-22: $3,083,333
2022-23: $2,083,333
2023-24: $2,083,333
Blackhawks Have Made Crawford an Offer
Chicago Blackhawks team insider Scott Powers of The Athletic has reported that the team and goaltender Corey Crawford are continuing to talk about a possible extension. Powers writes:
I heard Monday that contract negotiations were still ongoing. It's believed the Blackhawks offered Crawford a one-year deal worth about $3.5 million. The ball is now in Crawford's court.

source -'Powers Points: Corey Crawford and the Blackhawks' goalie draft history' – Scott Powers – The Athletic – 09/08/2020
That's a pretty big discount for Crawford to have to take but it's hard to imagine he'll get a whole lot more than that on the open market with so many good goaltenders available.
---
---
Catch up on all the latest NHL Rumors
The post NHL Rumors: Penguins, Golden Knights, Maple Leafs, Blackhawks, More appeared first on The Hockey Writers.
Sports League Management
Start using it today
It's FREE!
Start