Published on Saturday, September 12, 2020
39
Reads
0
Comments
Panthers' Best All-Time Starting Lineup Left Wing: Jonathan Huberdeau
During the remainder of the Stanley Cup Playoffs and the offseason, we're going to look into all things Florida Panthers. Yes, that includes the draft and free agency, but it will also shed a little bit of light on a franchise that doesn't get a lot of love.
One series will focus on the best players that have ever suited up for the Panthers, comprising the team's all-time unit. The series will include two wingers, a centerman, two defensemen, and a goaltender, leading into a top 10 list of the greatest Panthers of all-time.
Related: 7 Things About Roberto Luongo
Next up in the series is perhaps one of the most underrated players in the NHL and a name that does not garner the attention that his play deserves. The 2020-21 season will be his 9th with the Florida Panthers and he will only build on his status as the leading scorer in Panthers history: winger Jonathan Huberdeau.
The 2011 NHL Draft
The 2011 NHL Draft will be remembered differently depending on who you talk to. Some will remember it for the first pick that year, center Ryan Nugent-Hopkins to the Oilers (the first of a seemingly endless number of 1st overall picks).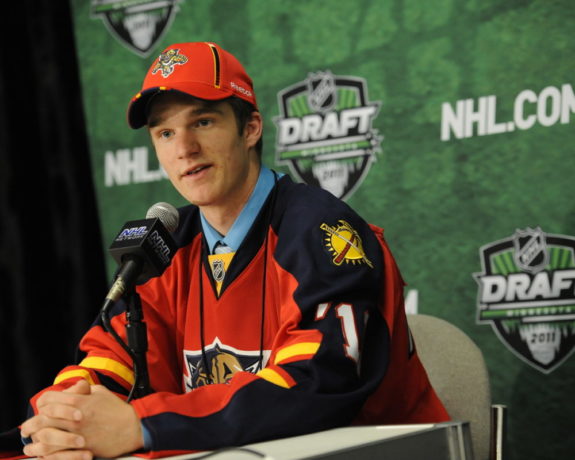 Others will remember it for impressive talents like Winnipeg center Mark Scheifele or Colorado captain Gabriel Landeskog. But what they more than likely won't wind up talking about is the 3rd pick overall that year.
Jonathan Huberdeau came in with all the potential in the world. It took him until the following season to make his debut in South Florida, but he has been delivering on that potential for nearly a decade now.
Why He's on the All-Time Team
Where to start? Huberdeau didn't start out as an instant-impact player like some of the other high picks in NHL Draft history. His 9 goals and 28 points in 69 games during 2013-14 were certainly nothing to write home about.
But beginning with a 54-point effort in 2014-15, Huberdeau slowly but surely began to find his footing in Florida. Not counting an injury-riddled 31-game season in 2016-17, he would improve upon his points totals for four seasons in a row, culminating in career-highs in goals (30), assists (62), and points (92) during the 2018-19 season. His 92 points were more than established stars like John Tavares, Alex Ovechkin, and Claude Giroux.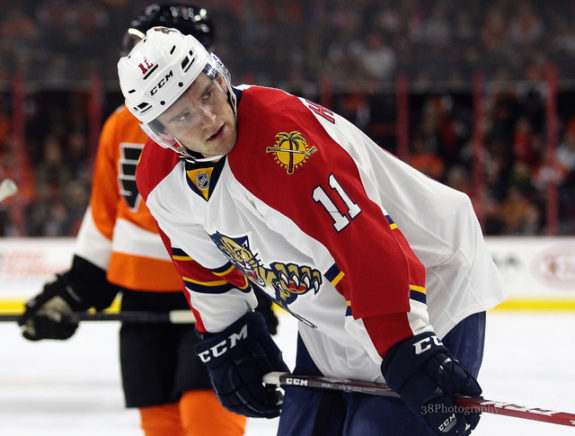 The Panthers failed to live up to expectations in 2019-20, but Huberdeau did not disappoint. In 69 games, Huberdeau picked up 55 assists and 78 points, enough to land him in the top 10 in scoring. Still, few recognize the path that Huberdeau has been on.
Huberdeau is already arguably the greatest winger in the history of the franchise. He has developed into a quiet superstar and, alongside center Aleksander Barkov, continues to put Florida in the conversation for potential playoff teams each season.
Huberdeau's Legacy in Florida
Huberdeau is far from done in South Beach, though a pending 2023 unrestricted free agency certainly leaves some questions. At just 27-years-old, Huberdeau is just starting to hit the peak of his career and the last two seasons are evidence of what his ceiling can be.
Related: Florida Panthers and the History of the Rats
Huberdeau already leads the Panthers in assists with 289 and points with 437 despite his age. With 148 goals, he sits just 40 behind current franchise-leader Olli Jokinen and his 188 career goals. With 536 games as a Panther, he should surpass Stephen Weiss and his 654 career games before his contract expires.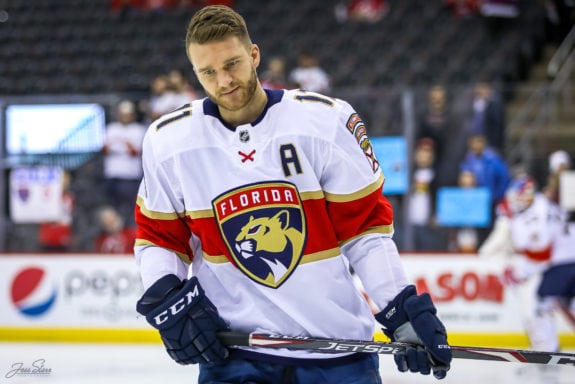 Assuming the Panthers re-sign their top winger in 2023, Huberdeau should reasonably be with the Panthers for the remainder of his career. He and Barkov have been the franchise over the last few years, the one bright spot before the world of potential that led into 2019-20.
Huberdeau continues to be one of the elite playmakers in the league, a quiet but steady superstar that is just now blossoming into the elite, all-world talent that the Panthers assumed they were getting with the 3rd overall pick back in 2011.
When his career in Florida finally comes to an end, it will likely be he and Barkov standing alone at the top of the mountain, unable to see any competition for miles and miles.
---
---
The post Panthers' Best All-Time Starting Lineup Left Wing: Jonathan Huberdeau appeared first on The Hockey Writers.
Sports League Management
Start using it today
It's FREE!
Start