Published on Wednesday, February 24, 2021
32
Reads
0
Comments
Minnesota Wild Notes: Kaprizov, Zuccarello & Rask Stepping Up Strong
Kirill Kaprizov has been one of the best forwards for the Minnesota Wild this season after finally making his NHL debut. Victor Rask has arguably just played his best string of games since he stepped on the ice for the Wild following the one-for-one trade that sent Nino Niederreiter to the Carolina Hurricanes. Mats Zuccarello is playing the level of hockey that former Wild general manager Paul Fenton envisioned when he signed him to a five-year, $30 million contract in free agency two summers ago. After an underwhelming first season and an offseason surgery that delayed his start to the season, Zuccarello looks rejuvenated.
There was no level of foreshadowing that would have predicted that Kaprizov, Rask, and Zuccarello would be on the same line. Beyond that, the more surprising element is rather the fact that their line is in the spotlight. While two games is certainly a small sample size, it is still an unexpected experiment turned successful so far.
Newly Constructed Line: Kaprizov – Rask – Zuccarello
The newly constructed line of Kaprizov, Rask, and Zuccarello has been producing results in their two games of being in existence. In Saturday's 5-1 victory over the Anaheim Ducks, the line combined for five points. Kaprizov was dominant and tallied two assists. Rask scored his fourth goal of the season. Zuccarello scored his first of the season and tallied an assist, too. Beyond the box stats, they did struggle in terms of their underlying numbers. They had a 36.36 Corsi for percentage (CF%) and a 36.87 expected goals for percentage (xGF%). They had the larger share of scoring chances with a 62.50 scoring chances for percentage (SCF%).
In Monday's tilt against the San Jose Sharks, the new line really flourished and exceeded all expectations. They combined for nine points in the game. Kaprizov was buzzing and looked really strong out there. He scored a goal and also tallied an assist. Zuccarello had a whopping four points, three of them being assists after scoring his second goal of the season. Rask — who has legitimately been strong this season — had an empty net goal and registered two assists. The line had a 63.64 CF% and a whopping 81.31 xGF% while also holding a larger share of scoring chances.
Once Marcus Johansson returns from injury, it will be interesting to see how line combinations change. I can't imagine the Wild altering this line because of how well they have played together.
Rookie Kirill Kaprizov Is a Budding Star
It was all almost six years in the making, but it was well worth the wait. The Wild are seeing a very developed Kaprizov who is much further in his development because of his delayed NHL debut. He has been excellent so far this season and has legitimately been one of the Wild's best forwards. The 23-year-old winger makes everyone around him better and flourishes in every situation.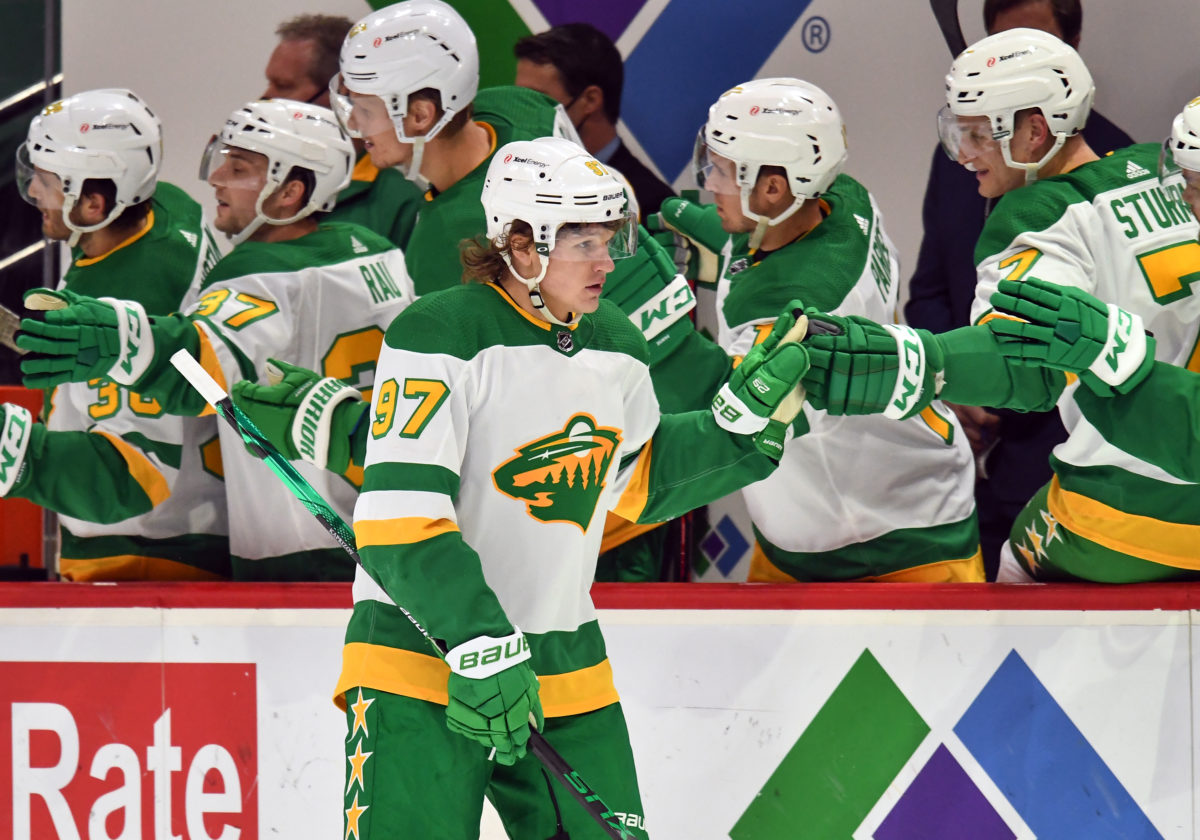 Kaprizov is definitely the favorite to win the Calder Trophy, too. The rookie winger has four goals and nine assists, for 13 points in 15 games. His six primary assists is tied for fifth league-wide. Likewise, he is tied for sixth league-wide in penalties drawn, which isn't exactly surprising given his speed and how dominant he has been this season.
He has a 59.40 CF% and a 57.65 xGF%. Likewise, he has a 62.39 SCF%. Kaprizov's on-ice goals for per hour ranks sixth among forwards in the NHL. Not only has has he increased his team's rate of scoring while he's on the ice, but he has been average defensively, too.
Mats Zuccarello's Dominant Start
Zuccarello looks like the vintage player he was with the New York Rangers. He had an offseason surgery on an injury that he had from last season, which begs the question whether that was the driving force behind his underwhelming first season with the Wild. This was the same arm he injured two seasons ago with the Dallas Stars. Since his return, he looks like a completely different player and more refreshed.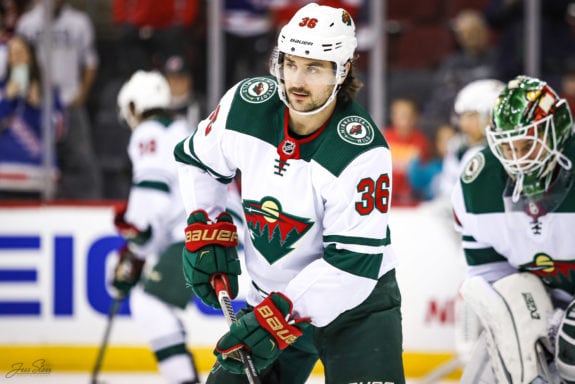 The Wild definitely missed his playmaking, vision, and shooting. According to Hockey-Viz's finishing illustrations, Zuccarello scored 14 goals on 8.1 expected goals in the 2019-20 campaign when he utilized his wrist shot. He scored 5.9 more goals than expected, which ranked first on the team. He certainly isn't known for his finishing, but he is actually an excellent shooter.
The 33-year-old winger has two goals and five assists, for seven points in four games. While his underlying numbers — 45 CF% and 49.65 xGF% — aren't necessarily strong, it could very well be due to a small sample size since he has only played four games so far this season. If these four games are an indicator of what Zuccarello's season might be like, this free-agent signing was a lot better than the reaction he garnered after his first underwhelming season despite the term of the contract.
Victor Rask Displays Potential
When the Wild acquired Victor Rask, they thought they were getting a middle-six center with some upside and real potential. This couldn't be further from the truth as the result since the trade has been a demotion to a fourth-line role on a team lacking down the middle. Fast forward to this season, he has played at a level that should cause the Wild to desire to play out the final year of his contract next season.
Rask, 27, has been a revelation this season and is reaching untapped potential. He has five goals and two assists for seven points in 13 games. He has been above-average offensively and defensively as displayed by his numbers in goals for per hour and expected goals against per hour according to Evolving-Hockey's RAPM. He has a 47.71 CF% and a 51.02 xGF%, too, which doesn't particularly stand out, albeit he has been better as of late.
If he can become a quality and consistent forward for the Wild over the course of this season, it will be a huge lift for a team that lacks center depth and has been exploited this season down the middle.
Final Thoughts
Kaprizov looks to be running away with the Calder Trophy, albeit there are several rookies that are really close to him. He has been fantastic in his rookie season so far and there looks to be no growing pains for the budding star.
The Wild needed players to step up this season and both Zuccarello and Rask have done exactly that. They both have been productive this season after an underwhelming 2019-20 campaign. The biggest question is whether they can keep it up over an entire season because this has been a small sample size so far.
It will be interesting to see if the Kaprizov, Rask and Zuccarello line can sustain this level of production. If they can, it will be a difference maker for the Wild.
(All Data Via Evolving-Hockey, Natural Stat Trick & Hockey-Reference)
---
---
The post Minnesota Wild Notes: Kaprizov, Zuccarello & Rask Stepping Up Strong appeared first on The Hockey Writers.
Sports League Management
Start using it today
It's FREE!
Start