Published on Wednesday, February 24, 2021
58
Reads
0
Comments
New York Islanders Growing Pains Not Cause for Concern
It would be easy to look at the New York Islanders' 2020-21 season so far and think they may be experiencing a setback. Salary cap issues, something the entire NHL has had to deal with and will continue to plague teams, handicapped the Islanders' ability to make some moves in the offseason. 18 games into the current campaign, a slightly different lineup coupled with inconsistent play and structural breakdowns, a first under head coach Barry Trotz, haven't quite led them astray but are creating an uncomfortable moment for fans.
However, what's important to remember, regardless of how this season turns out, is that the Islanders' have not yet "arrived." While the team is certainly on the rise, it usually takes teams a number of years for everything to line up (re Tampa Bay Lightning and Washington Capitals). The Islanders have made quite the ascension in a short period of time, but their growing pains are not a cause for concern.
Changing of the Guard
For the first time in many years, the Islanders have certified rookies in their lineup, playing a consistent role. Just looking back over the first two years of Trotz's time on Long Island, he and general manager Lou Lamoriello seemed to agree that young players need to develop before making the jump to the big club. This year, with cap issues around the league and a mix of opportunities due to injuries, the Islanders have started their youth movement, whether out of necessity or as part of a long-term plan.
Recent iterations of this team included veterans like Derick Brassard, Valtteri Filppula, and, up through and including this season, Leo Komarov. You also have to include Johnny Boychuk on that list. Though he's still around the team, it's different not having a player like that in your lineup every night and on the bench helping younger players. Andy Greene partially fills that role and has been a great mentor for Dobson, but Boychuk was different; he had been with the team through thick and thin, growing with the team and helping them get to where they are now.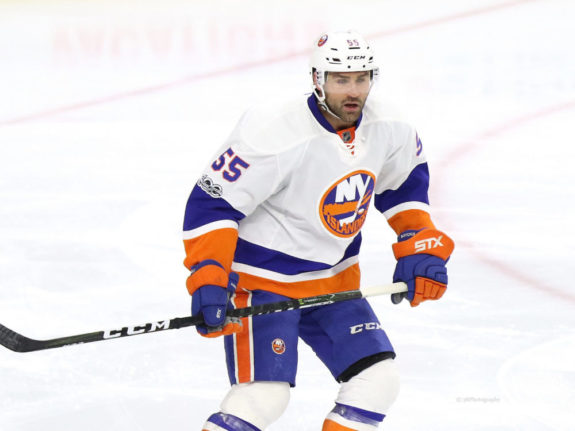 What we've seen this season, however, is Trotz and Lamoriello trusting younger and less established players like Oliver Wahlstrom and Michael Dal Colle to own full-time spots on the roster. Defenseman Noah Dobson and goaltender Ilya Sorokin knew they'd be on the roster full-time this season, but that only adds to the infusion of youth on Long Island. Kieffer Bellows also had a look this season, though he seems to need to get back in the team's good graces after a less than stellar performance in a recent game.
And that brings us back to the main premise being discussed here – the team is going to go through growing pains as they bob-and-weave through cap trouble, the appropriate time to bring in prospects, and a MassMutual East Division and Metro Division that keeps getting better every season. Even with the addition of J.G. Pageau to solidify the third line and the special teams, that unit continued to be a revolving door through much of last season and the playoffs. As Pageau and Wahlstrom settle in with one another and find a consistent third member of their line, it may be a little clunky at times.
Dobson and Sorokin will also be going through struggles this year, and that's ok. Though Dobson was with the team all last season, he's not been through the grind of a full NHL campaign, especially not one as condensed and stressful as this one. Sorokin has also started just four games so far. Each one is getting better, with a shutout in his most recent outing, and he's looked much more comfortable since his first NHL start.
The continued youth movement on Long Island is important for the team long-term. The rest of the league has gotten younger and faster, and it was vital the Islanders jump on that bandwagon, willingly or otherwise. So far, the team has had success this year, albeit with a few bumps in the road. If they can iron out the details, play consistent Isles hockey, and gain some momentum, they'll be just fine.
Want more Islanders content? Check out the Nassaumen Hockey Podcast, hosted by The Hockey Writers authors James Nichols and Jon Zella. Follow on Apple Podcasts, Spotify, and Google Podcasts!
---
---
The post New York Islanders Growing Pains Not Cause for Concern appeared first on The Hockey Writers.
Sports League Management
Start using it today
It's FREE!
Start