Published on Friday, February 26, 2021
82
Reads
0
Comments
Revisiting Departed Lightning Players From 2019-20 Team
The Tampa Bay Lightning went through an offseason of celebration. The organization had just won its first Stanley Cup since 2004, and star talents like Steven Stamkos and Victor Hedman finally were able to hoist the trophy many dream about ever since they were little kids.
With all of the fun, there still came some roster decisions that needed to be made by general manager Julien BriseBois and his staff. The Bolts were a club that was going to take a hit, especially as a result of the flat salary cap. There were players who left via free agency as well as those who were traded to another NHL squad.
With the 2020-21 season well underway, let's view how some of the departed players are doing since playing with Tampa last season.
Carter Verhaeghe
Verhaeghe is having the best 2020-21 season out of any of the departed players from the Lightning. He is having a breakout season to remember. Unfortunately for Lightning fans, it is with the state-rival Florida Panthers, but he has found a squad that has enhanced his offensive prowess.
Prior to this year, Verhaeghe only played in one NHL season, that being last year. The 25-year-old had been trying to fit in with an organization for a little while now, having had stints within the Toronto Maple Leafs and New York Islanders' systems over the years. Tampa finally gave him a shot in the league in 2019-20, and he posted decent numbers. He produced nine goals and 13 points in 52 regular-season games. He also made eight appearances on that 2020 Cup run, notching two assists in that span.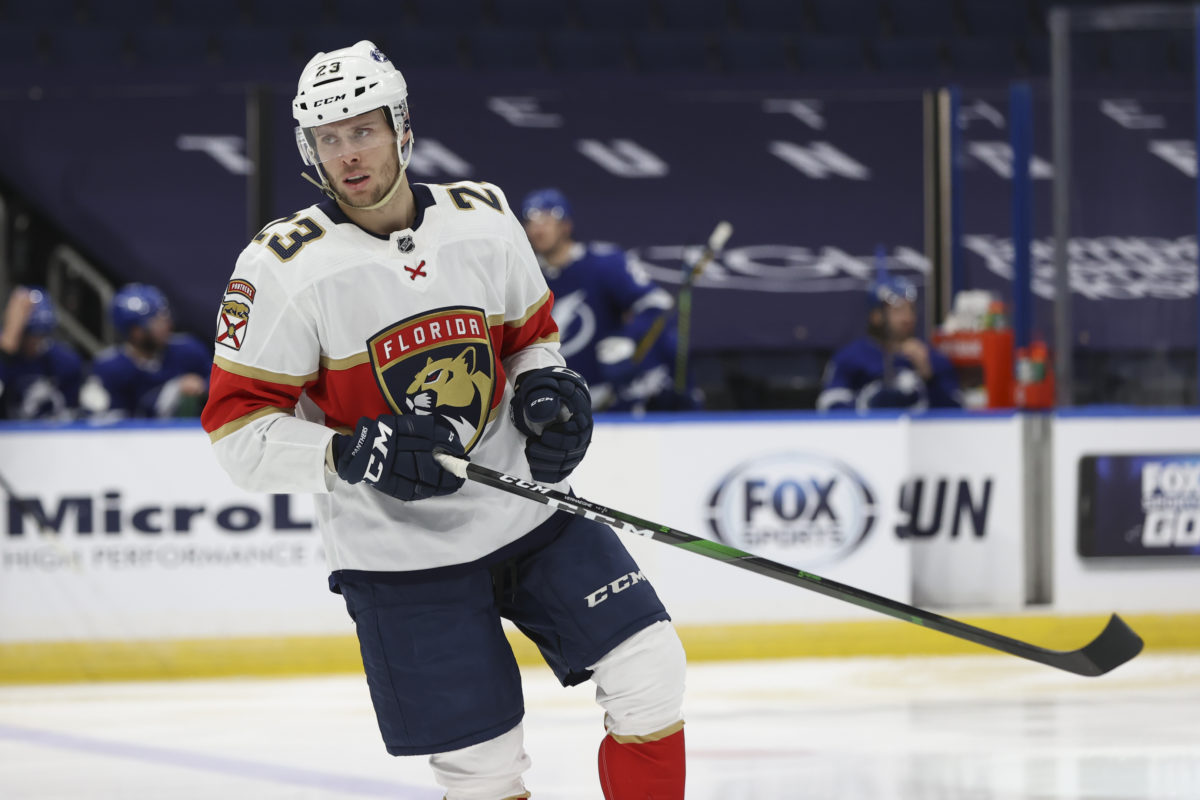 The Lightning and Verhaeghe ultimately parted ways when free agency hit back in October. It did not take long for him to find a home though with the Panthers. He was one of a few various moves Florida made in free agency and in deals. They also inked Alexander Wennberg, Anthony Duclair, Vinnie Hinostroza, and Radko Gudas to contracts; and made deals for Patric Hornqvist and Markus Nutivaara.
Things have clicked for Verhaeghe in his new surroundings in Sunrise, Florida. He has amassed seven goals and 14 points in 19 games this season. He has also burned his former state team as well on the ice, chalking up two assists against the Bolts on their match on Feb. 15 alone. It has been a small sample size though. More games will have to be played to see how much progress has been made by Carter, but he could not have really had a better start for himself in his new location.
Cedric Paquette & Braydon Coburn
Many wondered what the status would be of longtime Lightning forward Paquette. He had been with the organization since he was drafted by them in 2012, and he racked up 85 points in 377 regular-season contests (47 goals and 38 assists). His style of play fits the Lightning perfectly as a bottom-six forward, and he was a crucial piece to the puzzle when the franchise went to the Stanley Cup Final twice in both 2015 and 2020. In fact, he put up five goals and 12 points in 91 postseason matches.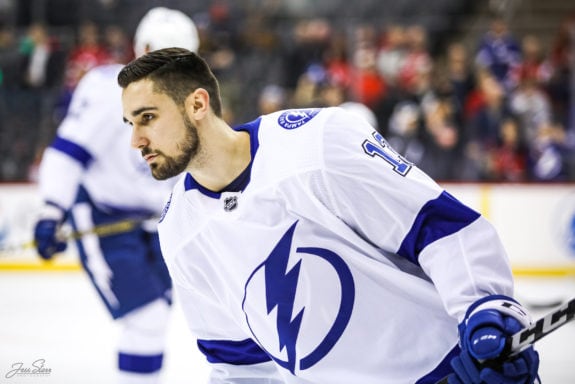 Ultimately, BriseBois felt it was necessary to move on from the 27-year-old. Tampa dealt him, along with veteran defenseman Braydon Coburn and a 2022 second-round draft pick, to the Ottawa Senators. In exchange, the Lightning received veteran winger Marian Gaborik and goalie Anders Nilsson.
Paquette since his time with the Lightning came to an end has not been as noteworthy as Verhaeghe has been so far. He suited up in nine games for the Senators before he was dealt once again, this time to the Carolina Hurricanes. The full package was Paquette and forward Alex Galchenyuk for Ryan Dzingel (who made his return to Ottawa after previously spending parts of four campaigns with them).
Paquette had one goal with Ottawa in those nine games and has one goal with the Hurricanes in his first seven contests with the club there. It is going to be a matter of finding where he fits, whether that is in Carolina or elsewhere. Maybe he will be selected by the expansion Seattle Kraken. His name was tied to them from when he was still in Tampa. Only time will tell, but it is still early to judge that he has not had an impact on a roster the way he did with the Lightning.
Coburn, the other player traded to Ottawa with Paquette, has played in nine games on the Senators as well. The 35-year-old (who turns 36 on Feb. 27) has an assist in that span of time, but he isn't in a big-time role with the club as he was in his days with the Philadelphia Flyers. His time in the NHL will soon be coming to a close, and what a long career it has been for him (over 970 regular-season games played).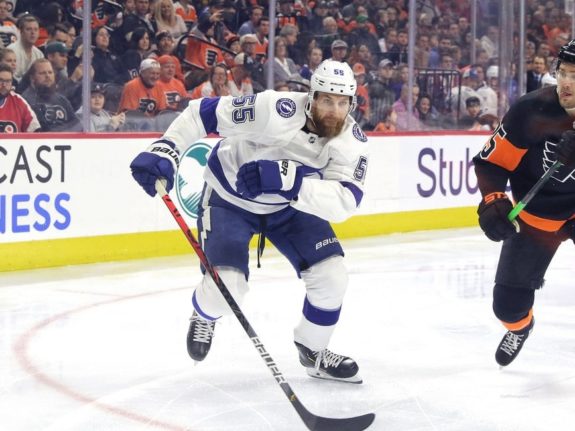 Other defenders have already taken the reins over the blueline for the Senators such as Thomas Chabot and Nikita Zaitsev. Coburn provides a valuable locker room presence based on his experience and can be a mentor to younger players in his remaining time, whether that is entirely with Ottawa or if he goes to another NHL club after his time with the Senators.
Kevin Shattenkirk & Zach Bogosian
Two other defensemen who did not return in 2020-21 for Tampa were Kevin Shattenkirk and Zach Bogosian. Shattenkirk signed a three-year contract with the Anaheim Ducks, while Bogosian inked a one-year deal in Toronto.
Shattenkirk fit his role well with the Lightning. He never had to be the main defender and carry most of the load on his back. Other teammates in Hedman, Ryan McDonagh, and Mikhail Sergachev among others were able to provide more backend stability along with some offensive firepower of their own. The Bolts don't shy away from being a team to fire from all cylinders, and the club involves their defensemen in that. That is what made Kevin a valuable member of their blue line. In his one campaign in the Bay Area, he contributed eight goals and 33 points in 70 games. In addition, he notched three goals and 15 points in 25 games in helping clinch the Cup for Tampa.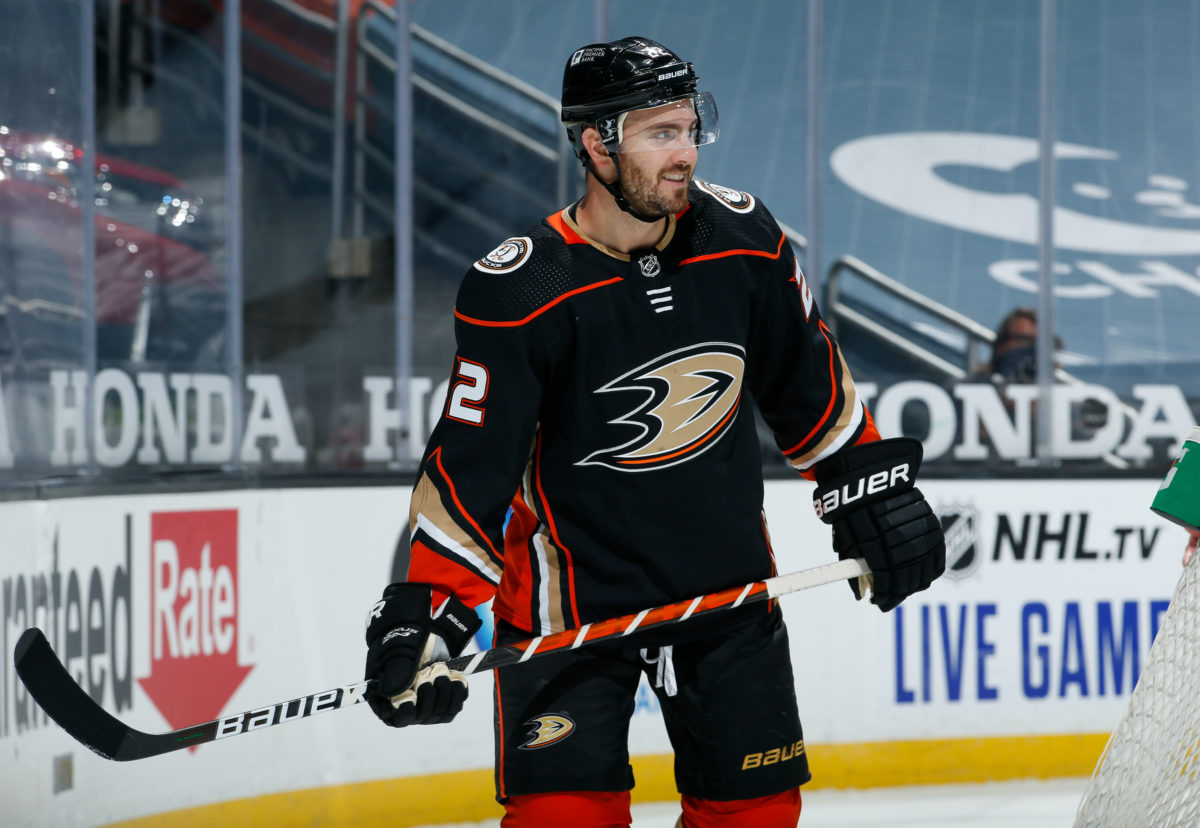 Now in California with the Ducks, Shattenkirk currently has five assists in 20 games. He joins a blue line that consists of longtime Anaheim players in Cam Fowler and Hampus Lindholm among others, so he does not have to carry a lot of the load himself there.
The Ducks are in a different position as Tampa was, being one of the bottom teams in the Western Conference standings last season. Shattenkirk in a way brings veteran leadership with a championship under his belt to a locker room that has a lot of younger players about to break into their prime. Future leaders for Anaheim include forwards Max Comtois (22), Sam Steel (23), and Trevor Zegras (19 and also made his NHL debut back on Feb. 22 against the Arizona Coyotes). They all need to know how to properly prepare and train for games. Having a veteran mentor like Kevin on and off the ice will go a long way in development for Comtois, Steel, Zegras, and other potential long-term Ducks players who could be relied upon to carry the team into their next era.
Bogosian, meanwhile, was only in Tampa for part of last season. He started the 2019-20 campaign with the Buffalo Sabres, but the organization put him on unconditional waivers so that he could be bought out of his contract. He had only played in 19 games with Buffalo, chalking up a goal and five points. He suited up in eight regular-season contests for the Lightning, accumulating two assists. He also played in 20 games in the postseason, accruing four assists. The fun fact about that Bolts playoff run is that it was Zach's first-ever postseason experience. Not many players can say they won the Cup on their first playoff run.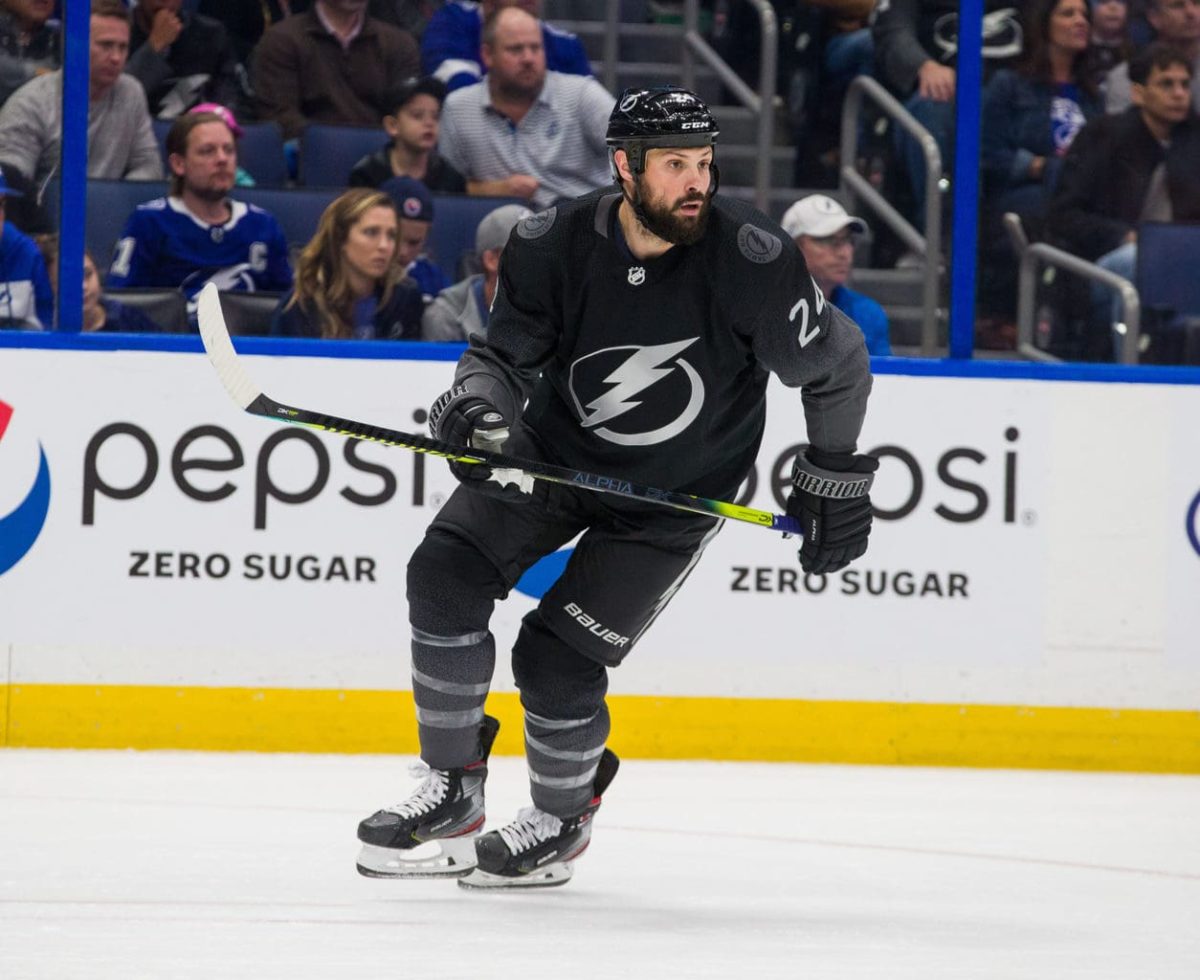 Bogosian became a free agent in the 2020 offseason and signed with the Leafs as one move in what was an overhaul of talent for the club. Other players brought in by the Original Six franchise during this time also included Joe Thornton, TJ Brodie, and Wayne Simmonds among others. In 20 games this season, Zach has two assists. He fits in as a complementary defenseman for a team. That was the case with Tampa, and it is the same in Toronto.
The 30-year-old joined blueliners in Brodie, Morgan Rielly, and Jake Muzzin to name a few, who also are capable of fulfilling their own on-ice roles with the team. He also provides a rough style of play and is not afraid to hit or even drop the gloves as he has done in the past. He is a player who will stick up for his teammates if they are wronged by an opposing player.
Tampa had to let some good talent go in their last offseason. For the most part, it is too early to determine how these players are doing in their new destinations. Verhaeghe has flourished since becoming a Panther though and Paquette is trying to find his next fit in the NHL, having already been traded twice in a few months. With the rest of the players mentioned who departed the Lightning though, more time must pass to determine how they are fitting in their new organizations.
---
---
Sports League Management
Start using it today
It's FREE!
Start