Published on Friday, January 23, 2015
29
Reads
0
Comments
Ottawa Senators: The One-And-Dones
Ottawa Senators: The One-And-Dones
With the trade deadline approaching, many teams will make trades to improve their team for a playoff drive.
The most attractive trade bait is a player with an expiring contract. Often, these rental players finish the year with their new team then sign a free agent deal with another club in the off-season.
Trade deadline deals aren't the only time that a player spends only a season with a new team. Sometimes a free agent contract turns out to be just plain awkward; think, Jarome Iginla in Pittsburgh, Mats Sundin in Vancouver, or Teemu Selanne and Paul Kariya in Colorado.
*For more of these "right player, wrong jersey" stories, check Bill Shoeninger's excellent article here. 
For their part, he Ottawa Senators have an interesting, odd, and surprising history with one-year players. In the spirit of "one-and-done" skaters, here's a look at the Ottawa Senators' all-time greatest players who played only one season in Ottawa.
Ottawa Senators Best One-Year Players

The One-and-Done Rules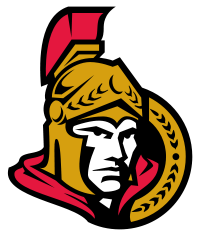 First, in order to be considered for this one-and-done list, the player must have played no more than a single season with the Sens, as per HockeyDB.com.
Second, though overall career performance is factored into the selections, more weight is given to the player's performance while wearing an Ottawa Senators jersey.
Finally, goals, assists, plus-minus, and other traditional statistics are key. But, in a couple of cases, penalty minutes, community involvement, and other factors are considered.
Honourable Mentions
Peter Bondra, right wing
(stats – 14 points in 23 games with the Sens in 2003-04. 503 goals, 892 points in 1081 career games).
Despite Bondra's amazing career, his 14 points during his tenure with the Senators wasn't enough to rank ahead of the right winger selected for this one-and-done list.
Mike Peluso, defense
(stats – 15 goals, 25 points, 318 PIMS, 24 fights in the Senators' inaugural season).
Mike Peluso's minus-35 rating sunk his chances of cracking the all-time, one-and-done Sens defense pairing. However, Peluso definitely earned a tip-of-the-cap for his 24 fights and 318 PIMS, which is the single-season record for the Senators.
Jamie Baker, centre
(stats – scored 48 points in 76 games during the Sens' first season).
A victim of the numbers game. The Nepean-native produced some offense on the historically awful 1992-93 Sens squad. The centre that out-ranked Baker scored at a point-per-game pace during his time in a Sens jersey but Baker was close.
Ottawa Senators All-Time Greatest One-and-Done Roster
Goalie – Dominik Hasek
In 2005-06, Dominik Hasek took a star turn in Ottawa. The Dominator posted 28 wins, a 2.09 goals against average, a .925 save percentage and five shutouts in 43 games. Things looked bright for the Senators.
Then, the Olympics struck.
Hasek injured his right hip adductor muscle and never suited up for the Senators again.
Senators fans will always remember the season that was, then suddenly wasn't, with Dominik Hasek between the pipes.
*Trip down video-memory lane: Hasek makes a save with his face mask
Defenseman – Tom Preissing
In 2006-07, defenseman Tom Preissing registered an impressive offensive season. Preissing compiled 38 points in 80 games and posted a whopping plus-40. The one-and-done Preissing then added seven points in 20 games as the Senators marched to the Stanley Cup finals, eventually losing to the Anaheim Ducks.
Yet, it is likely Preissing's tender moment with Sabres defenseman Brian Campbell that will be remembered.
*Trip down video-memory lane: Tom Preissing hugs Brian Campbell
Defenseman- Brad Marsh
Brad Marsh had three points, all assists, in the Ottawa Senators' inaugural season.
That's it. Three.
Clearly, the ever-popular Marsh doesn't make this one-and-done list because of his offense.
Instead, Marsh makes this one-year wonders list because of his continued importance in the Ottawa community (see video below). It doesn't hurt his cause that Marsh represented the Senators at the 1992-93 All-Star Game along with goaltender Peter Sidorkiewicz.
Though Marsh's two restaurants are now closed, Marsh's name lives on in the Ottawa area.
*Trip down video-memory lane: Brad Marsh delivers turkeys
Centre – Cory Stillman
A true rental player, Stillman was brought in (along with defenseman Mike Commodore) for his "Stanley Cup experience" as the Senators stumbled into the playoffs during the 2007-08 season.
Stillman did his part, scoring 19 points in 24 games as a one-and-done Senator. The veteran added offense and leadership during Ottawa's short playoff run, then bolted for Florida during the off-season.
*Trip down video-memory lane: Cory Stillman shows off his quick release
Right Wing – Ales Hemsky
The much-maligned Ales Hemsky wasn't enough to help the Senators reach the playoffs last season.
However, Hemsky wasn't to blame.
Playing mostly alongside Jason Spezza, Hemsky managed 17 points in 20 games, adding some needed offensive balance for the Sens and freeing Bobby Ryan to play with Clarke MacArthur and Kyle Turris on the second line.
Despite his strong play, the one-and-done Hemsky fled for the Dallas Stars along with Spezza during the off-season and is showing signs that he may be washed up.
*Trip down video-memory lane: Hemsky dazzles en route to scoring a highlight reel goal
Left Wing – Jarmo Kekalainen
Kekalainen made very little impact with the Ottawa Senators as a player (six points in 28 games in 1993-94).
But after his playing days ended, Kekalainen joined Sens management as a scout and eventually became Director of Player Personnel. He was noted for a careful eye as a scout and a wise drafter.
Now the General Manager of the Columbus Blue Jackets, Kekalainen's importance extends beyond his influence with the Senators. He is the first and only European to serve as General Manager for an NHL team.
Trip down video-memory lane: Kekalainen discusses his 2014 draft strategy 

Together, the one-and-done starting lineup of Hasek, Preissing, Marsh, Stillman, Hemsky, and Kekalainen form an oddball squad of former Senators. In one way or another, each had an impact on the Senators during their brief tenures.
What do you think, Ottawa Senators fans? Would you replace any of this lineup with another one-year Sens player? 
Sports League Management
Start using it today
It's FREE!
Start