Published on Friday, May 5, 2017
46
Reads
0
Comments
L'Allemagne crée la surprise face aux États-Unis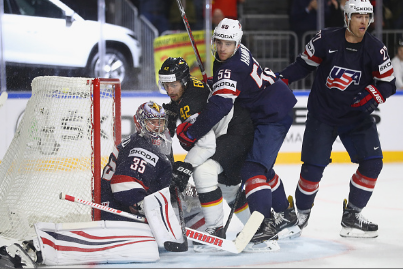 C'était aujourd'hui que le championnat du monde de hockey se mettait en branle et on a eu le droit à une grosse surprise. L'Allemagne a battu les États-Unis de Johnny Gaudreau par la marque de 2-1. L'attaquant des Coyotes Tobias Rieder a marqué pour sa nation alors que c'est Connor Murphy qui a inscrit l'unique but pour les Américains.
Thomas Greiss a été fumant dans son filet en arrêtant 42 rondelles. Jimmy Howard a été bon en réalisant 25 arrêts. C'est assez étonnant de voir que les allemands ont réussi à s'imposer avec une équipe assez moyenne. Ils ne comptent que 2 joueurs qui sont en ce moment actif dans la LNH (Greiss et Seidenberg).
Ce n'est pas le début de tournoi que les États-Unis espéraient. Ils ont une formation assez compétitive – surtout à l'attaque- avec des Johnny Gaudreau, Jack Eichel ou encore Dylan Larkin. Dans tous les cas, ils vont devoir se reprendre en main parce que le groupe compte de grosses équipes comme la Russie et la Suède.
Le but de l'Allemagne
Patrick Hager is the hero for Germany (@DEB_eV) with a late re-direction The home team beat @usahockey 2-1 at #IIHFWorlds. pic.twitter.com/SpfXVwvFti

— IIHF (@IIHFHockey) 5 mai 2017
Sports League Management
Start using it today
It's FREE!
Start