Published on Tuesday, May 16, 2017
77
Reads
0
Comments
Jared Boll était crampé au banc des punitions après le but de Perry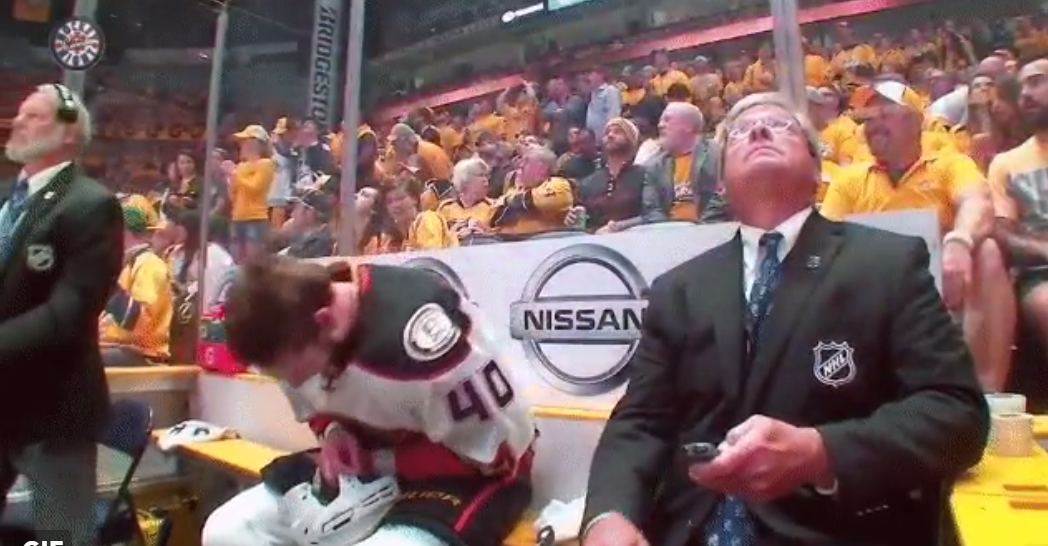 Malgré une forte domination des Prédateurs, ce sont les Ducks d'Anaheim qui se sont inscrits au pointage en premier lors du 3e match de la finale de l'Ouest. C'est Corey Perry qui a marqué ce but en avantage numérique sur une séquence assez bizarre. Les Ducks évoluaient avec un joueur en plus grâce à Jared Boll.
L'agitateur des Ducks a blessé Harry Zolnierczyk avec une grosse mise en échec légale en zone neutre. Cody McLeod n'a pas apprécié le geste et il a amorcé le combat. Cette bataille était assez longue et inspirée, mais ça a valu une punition mineure au #55 parce qu'il a été l'instigateur. Ça donnait aussi le premier avantage numérique de la soirée aux Ducks.
Jared Boll était donc au banc lorsque Perry a marqué son but chanceux et il n'a pas pu s'empêcher de rire en voyant la situation. On ne sait pas si c'est parce qu'il y avait des partisans locaux qui se moquaient de lui, qu'il appréciait la chance de son équipe ou qu'il riait  du travail de Pekka Rinne, qui se fait voler la vedette par John Gibson. Le gardien d'Anaheim a effectué 28 arrêts lors des 2 premières périodes alors que celui des Preds n'a fait face qu'à 13 tirs pendant les 40 premières minutes.
La réaction de Jared Boll
Jared Boll, who drew the instigator penalty, laughs from the penalty box. pic.twitter.com/kFxNE218KL

— Ryan Gilbert (@RGilbertSOP) 17 mai 2017
Le but de Corey Perry
Le combat entre Jared Boll et Cody McLeod
Sports League Management
Start using it today
It's FREE!
Start