Published on Thursday, July 5, 2018
86
Reads
0
Comments
Anthony Duclair atterrit à Columbus?!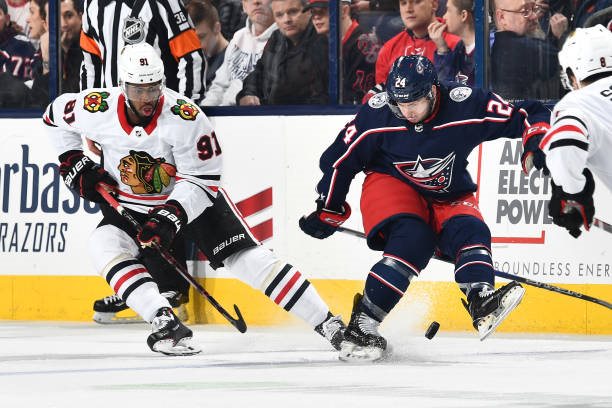 Nicolas Ganzer - Fanadiens.com
La saga à suspens n'est plus. Anthony Duclair vient de signer un contrat de 1 an à 1 volet avec les Blue Jackets de Columbus. Son salaire sera de 650?000 dollars pour la saison à venir, et au cas où Columbus voudrait le renvoyer dans la Ligue américaine, il devra passer par le ballottage :
The Athletic: Blue Jackets sign Anthony Duclair, 22, to one-year, $650,000 contract https://t.co/fPRYfSpYvn pic.twitter.com/HZI0SD65pl

— Aaron Portzline (@Aportzline) July 5, 2018
Anthony Duclair, qui n'a encore que 22 ans, jouera pour sa 4e équipe dans la LNH.
En effet, il a été repêché en 80e position (3e ronde) en 2013 par les Rangers de New York. Puis il a été échangé aux Coyotes de l'Arizona en 2015.
Après à peine 3 ans en Arizona, il change de nouveau de boutique et prend la direction de Chicago au cours de la saison passée. Il jouera 23 matchs avec les Blackhawks avant de se blesser.
Ses 8 points en 23 matchs n'auront su convaincre Chicago qui décide de ne pas lui faire d'offre qualificative.
Il était donc libre comme l'air et Colombus a décidé de lui donner une chance. Une chance qui ne coûtera vraiment pas cher à la direction des Blue Jackets?!
Pourtant, si l'on en croit le DG des Blue Jackets, Jarmo Kekalainen, il lui trouve beaucoup de talent :
«?Duclair a de la vitesse et du talent. Il cherchait une opportunité et nous avions cela pour lui. Il a un potentiel incroyable et il est encore jeune. On est vraiment excité?!?»
Excité, mais pas au point de lui offrir un long contrat et beaucoup de dollars. Si Anthony Duclair a accepté un salaire aussi peu élevé et que les Blackhawks de Chicago ont levé le nez sur ce «?potentiel incroyable?», il y a sûrement une ou plusieurs raisons à cela.
Partisans du Canadien, ne soyez pas trop triste. La ligne triple D (Domi, Duclair, Drouin) ne sera donc pas, mais si Bergevin ne lui a pas fait d'offre, c'est sûrement qu'il ne rentrait pas dans l'attitude recherchée par l'équipe.
Crédit photo : NHL.com
Sports League Management
Start using it today
It's FREE!
Start