Published on Friday, December 13, 2019
66
Reads
0
Comments
Lamar Jackson bat le record de Michael Vick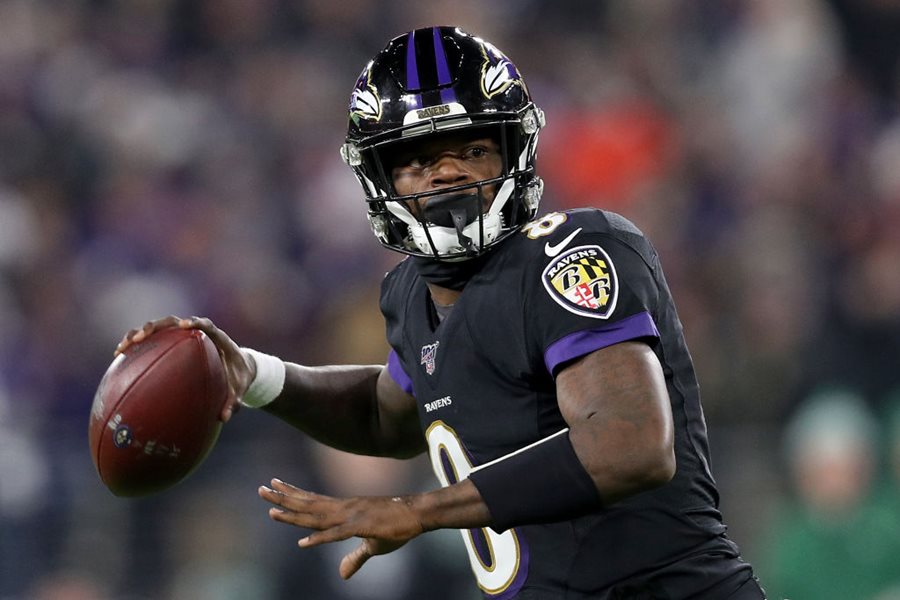 Les Ravens de Baltimore ont continué leur entreprise de domination sur la conférence américaine ce jeudi soir en l'emportant facilement face aux Jets de New York.
Lamar Jackson a notamment profité de ce match pour dépasser Michael Vick au niveau des verges gagnées à la course en une saison.
Le quart-arrière des Ravens a en effet dépassé la mythique barre des 1039 verges de Michael Vick en 2006 avec les Falcons d'Atlanta.
On this play, Lamar Jackson passed Michael Vick for the most rushing yards in a season by a QB ??

(via @NFL)pic.twitter.com/6do57XkHAZ

— SportsCenter (@SportsCenter) December 13, 2019
NEW RECORD??@Lj_era8 | #ProBowlVote pic.twitter.com/c2INLfPEkH

— Baltimore Ravens (@Ravens) December 13, 2019
Lamar Jackson est en pleine confiance cette saison et rien ne semble pouvoir l'arrêter. Ce dernier a même prouvé qu'il était aussi fort à la passe puisqu'il a lancé 5 touchdowns.
En quatrième tentative et 1 verge à parcourir dans son propre camp, le quart-arrière des Ravens n'a pas hésiter à dire à son unité spéciale de rester sur le banc de touche.
The Ravens had 4th-and-1 in their own territory.

Lamar Jackson told the punt team to stay on the sideline and then picked up 36 yards ?? (via @thecheckdown)pic.twitter.com/BvUwcjCS2u

— SportsCenter (@SportsCenter) December 13, 2019
Tom Brady n'a pas hésité à lancer un challenge à Lamar Jackson sur Twitter.
Me vs Lamar, 40 Yard Dash on natural grass but he has to wear rollerblades. Who's buying the PPV?

— Tom Brady (@TomBrady) December 13, 2019
Sports League Management
Start using it today
It's FREE!
Start