Published on Thursday, March 5, 2020
53
Reads
0
Comments
The Top Ten NHL Goalie Prospects
Drafting and developing a franchise goaltender is a very hard thing to do. It is made so difficult because there is a set learning curve at the position. Traditionally, netminders develop at a much slower pace than skaters. When the mental part of the game is factored in, it is no wonder that so many top prospects never hit the big time. With that being said, it is time to take a look at the top 10 National Hockey League goaltending prospects.
As far as criteria go, a goaltender is no longer considered a prospect if he has played more than 25 NHL games in any single season, more than 50 career NHL games or is older than age 24 as of Jan. 1, 2020. This leaves goaltenders like Alexandar Georgiev, Alex Nedeljkovic, Cal Petersen, Ilya Samsonov, Igor Shesterkin and Ilya Sorokin of the list.
10. Ukko-Pekka Luukkonen, 20, Buffalo Sabres
When you take a first glance at Luukkonen's numbers, you may wonder why he is on the list. He has just three wins with a 3.15 goals-against average (GAA), .874 save percentage (SV%) in 10 games for the Rochester Americans in the American Hockey League. Those numbers do not exactly scream top prospect.
While his numbers in the AHL leave much to be desired, he has been great for the Cincinnati Cyclones in the ECHL. In 22 games, he posted a 2.16 GAA and .916 SV% and could be on his way back down there in the near future for more playing time. At just 20-years-old, this season is more about playing and progression rather than production.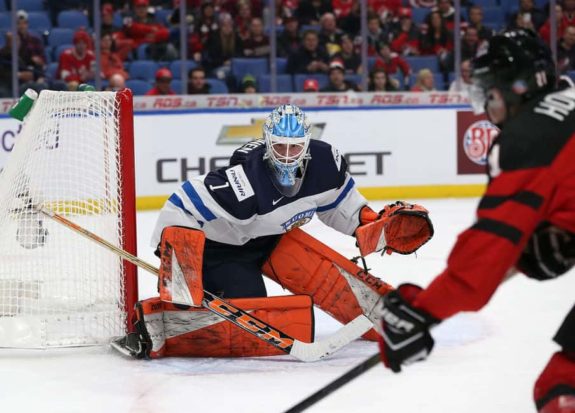 After being drafted 54th overall by the Buffalo Sabres at the 2017 Entry Draft, Luukkonen had an impressive first season in North American. During the 2018-19 season, he set the Sudbury Wolves' franchise record for most wins in a season while leading the Ontario Hockey League in wins, SV% and shutouts.
Luukkonen uses his 6-foot-4 frame to avoid traffic and see over screens. Scouting reports tout his great positioning and ability to move well from side to side. He has shown the ability to handle the puck well and make stretch passes to start the break out of his own zone.
9. Daniil Tarasov, 20, Columbus Blue Jackets
Tarasov is from Novokuznetsk, Russia, the same hometown as Sergei Bobrovsky, who had a pretty nice run for the Blue Jackets. He is part of a pretty deep organizational goaltending pipeline. The only time he's been in North American, so far, was to take part in the team's developmental camps.
The 6-foot-5 netminder was taken in by the Blue Jackets in the third round of the 2017 Entry Draft. He spent most of the 2018-19 season playing for Toros Neftekamsk of the VHL in Russia, posting a 1.71 GAA and .928 SV% in 25 games. He put up even better numbers during Neftekamsk's impressive 17-game playoff run with a 1.87 GAA and .930 SV%.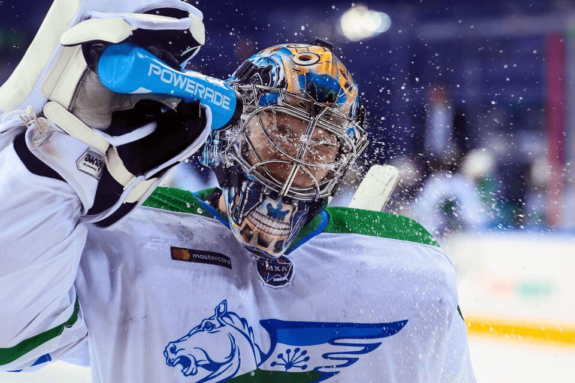 He currently playing for Assat in Liiga, Finland's professional top league, this season after signing an entry-level contract last June. In 38 games, he has a 2.76 GAA with a .898 SV%. He is one of the biggest reasons why Assat is in the thick of the playoff race with just two weeks left in the regular season.
He is fully recovered from the shin injury that cost him the entire 2016-17 season by staying healthy and playing well since returning. The Blue Jackets can take their time with Tarasov based on both his age and the depth they have at the position.
8. Michael DiPietro, 20, Vancouver Canucks
DiPietro made the jump to the professional ranks this season after a very successful OHL career. He was drafted 64th overall by the Canucks at the 2017 Entry Draft shortly after he won the Memorial Cup with the Windsor Spitfires.
Related – Canucks' Michael DiPietro and Overcoming Controversy
The following season he was named the OHL Goaltender of the Year with 29 wins and seven shutouts. He finished his career with his name all over the Spitfires' record book with the most wins, shutouts and games played in team history. His 16 career shutouts are the second-most in OHL history.
He made his NHL debut on Feb. 5, 2019 when he was recalled on an emergency basis due to injury, becoming the second-youngest goaltender to play in Canucks history. It was not a memorable night as he gave up seven goals to the San Jose Sharks on 24 shots.
He has made a nice transition to the pro game this season. In 33 games, he has 19 wins with a 2.89 GAA, .903 SV% and a shutout for the Utica Comets. He has benefitted from playing behind the second-highest scoring offense in the AHL this season.
He's a little undersized for today's goaltending standards at just 6-foot, but he makes up for the lack of height with strong positioning and fantastic athleticism. He works hard to battle through screens and has very good rebound control.
7. Veini Vehvilainen, 23, Columbus Blue Jackets
Vehvilainen is another talented young goaltender in the Blue Jackets system that currently features Joonas Korpisalo and Elvis Merzlikins at the NHL level. The talent in the pipeline certainly has eased the pain of losing Bobrovsky to free agency last July.
The 2018 sixth-round draft pick came over to North America this season after back-to-back terrific seasons with Karpat in Finland's Liiga. He finished the 2017-18 season with a 1.89 GAA and .925 SV% while being the youngest goaltender in the league. He was even better the following season with a 1.58 GAA and .933 SV% in 38 games. He won the Urpo Ylonen Trophy, the award given to Finnish Liiga's best goaltender, in back-to-back seasons.
His first season in the AHL has been very good with the Cleveland Monsters. In 31 games, he has 10 wins with a 2.73 GAA, .902 SV% and three shutouts. He is playing for one of the lowest-scoring teams in the league and has not received a ton of help. The Monsters have a minus-24 goal differential despite being in the middle of the pack in goals allowed.
Vehvilainen stays on his feet longer than most goaltenders and that prevents him from getting caught too deep in the crease very often. He prefers to play at the top of the blue paint and move back, as opposed to the other way around. He is a bit undersized at 6-foot-1, but makes up for that with solid positioning and agility.
6. Dan Vladar, 22, Boston Bruins
Bruins fans don't want to hear it, but there will be a day when they will have to find a long-term replacement for Tuukka Rask. They certainly have a viable candidate for that position in Vladar. The 22-year-old Czech Republic native is enjoying his best season yet in the AHL.
His first full season with the Providence Bruins in 2018-19 was underwhelming, to say the least. He finished the year with a 2.73 GAA and .898 SV% and dealt with consistency issues all season long while splitting time with veteran Zane McIntyre.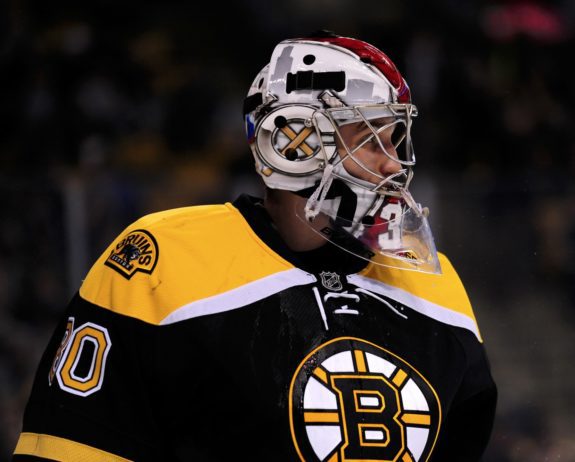 Vladar's level of play has grown by leaps and bounds in Providence during the 2019-20 season. In 22 games, he has 11 wins, three shutouts and leads the league with a .187 GAA. His .933 SV% is first among all active goaltenders. Seshterkin has a slightly better number, but he has been up in the NHL.
Vladar has a good combination of size and quick reflexes. He moves well within the crease and gets from post to post quickly. He does a very good job of taking away the lower part of the net and uses a terrific glove hand to steal goals from his opponents.
5. Cayden Primeau, 20, Montreal Canadiens
With Carey Price under contract through the 2025-26 season, the Canadiens will not be in the market for a franchise goaltender for some time. However, they have one of the best prospects in their system in Primeau, the son of former NHL forward Keith Primeau.
Related – The Rise of Another Elite Canadiens Goalie
Primeau had a short yet remarkable college career at Northeastern University. He won 19 games and helped the Huskies reach the postseason in his freshman season. He was named to the Hockey East All-Rookie team and had the lowest GAA in the conference.
He won a school-record 25 games the following season; reaching the NCAA tournament and winning the Mike Richter Award for being the voted the most outstanding goaltender in college hockey. He also posted a 1.61 GAA and .936 SV% helping the United States win a silver medal at the 2019 World Junior Championship.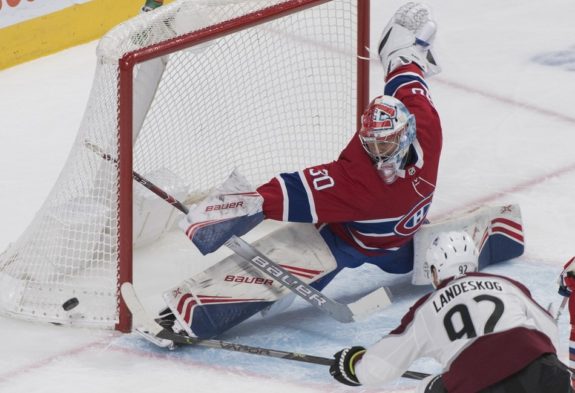 His college career ended when he signed his entry-level contract with the Canadiens in 2019. He is having a great first professional season with 15 wins and three shutouts with the Laval Rocket in the AHL. He is 10th in the league with a 2.55 GAA. He also made his NHL debut with Montreal, back in December, and gave up just five goals on 72 shots in his two starts.
Primeau has both the physical and mental makeup to be a high-end NHL starter one day. He has very good rebound control and likes to use his stick to take away the lower part of the net and break up passes. With Price firmly in place in the Montreal crease, the Canadiens can take their time bringing their prospect along.
4. Spencer Knight, 18, Florida Panthers
Knight is the youngest of all the prospects on our list and is the only goaltender to have yet to play professionally. That is just how good he is. The Panthers invested the 13th overall pick of the 2019 Entry Draft just days before they signed Bobrovsky to a huge contract. It was the earliest a goaltender had been drafted since the Dallas Stars selected Jack Campbell 11th overall in 2010.
As a 17-year-old, he helped the United States win a bronze medal at the U18 World Junior Championship with a tournament-best 1.51 GAA and .936 SV%. This past January he appeared in four World Junior Championship games and posted a very respectable .913 SV%.
Related – Spencer Knight: 2019 NHL Draft Prospect Profile
Knight's freshman season at Boston College has been a successful one. He has been the number one netminder for the majority of the season. In 31 games, he has 22 wins and five shutouts to go along with his impressive 1.97 GAA and .929 SV%.
A prototypical butterfly goalie, Knight takes away the bottom of the net well and uses his size to cover the upper half as well. He has very good rebound control for such a young netminder. Scouts love his metal makeup as well. He is always a calming presence between the pipes.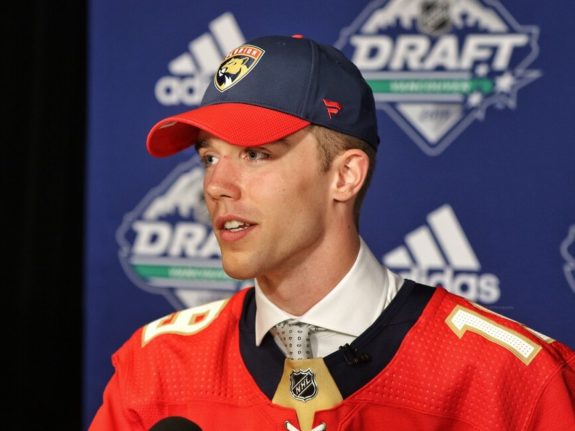 Much like the Canadiens and Primeau, the Panthers can let Knight take his time to fully develop and mature before they even think about calling up to the NHL level.
3. Jake Oettinger, 21, Dallas Stars
The Stars used their first-round pick in the 2017 NHL Draft to select Oettinger 26th overall. He was coming off a good freshman season at Boston University and was named to the Hockey East All-Rookie team. The following season he was named the 2018 Hockey East tournament's most valuable player, leading the Terriers to their ninth tournament title.
He posted his best numbers during his junior season with a 2.46 GAA and .926 SV%. Shortly after the season ended, he signed a three-year entry-level contract with the Stars. He made his professional debut by playing in six AHL games with the Texas Stars.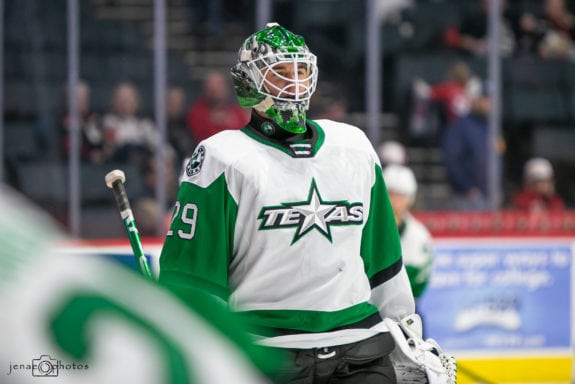 His first full season in the AHL got off to a rocky start. He was given a two-week break to work on his game after giving up at least four goals in five of his first eight starts. When he returned in early December, he started to play like the high-end prospect that he is. He has only allowed more than three goals in a game twice during this impressive run. In 34 games, he has a 2.61 GAA, .912 SV% and three shutouts.
Oettinger is extremely athletic and uses his size to his advantage. Despite being a large netminder, he moves well within the crease and has very good rebound control. He has a very calm demeanor on the ice and it takes quite a lot to get him rattled. With Anton Khudobin's contract expiring after this season, he will have a chance to win the job as Ben Bishop's backup next season.
2. Kaapo Kahkonen, 23, Minnesota Wild
The Wild has a pair of veterans at the NHL level in Devan Dubnyk and Alex Stalock. If general manager Bill Guerin decides to go in full rebuild mode this summer, he has his goaltender of the future waiting for him in Kahkonen.
Related – Wild Can Only Rely on Backup Stalock for So Long
The 2014 fourth-round draft pick has been great since coming over from Finland at the start of the 2018-19 season. He built up quite the resume back home before making the trip over to North America. He appeared in four games for the 2016 Finnish team that won gold at the World Junior Championship. During the 2017-18 season, he set career highs in Liiga in games and minutes played as well as shutouts.
Kahkonen's rookie season in the AHL was a successful one. He won 17 games with a 2.78 GAA, .908 SV% and six shutouts. However, he did not see any action in the Calder Cup playoffs as the Iowa Wild decided to go with veteran Andrew Hammond instead.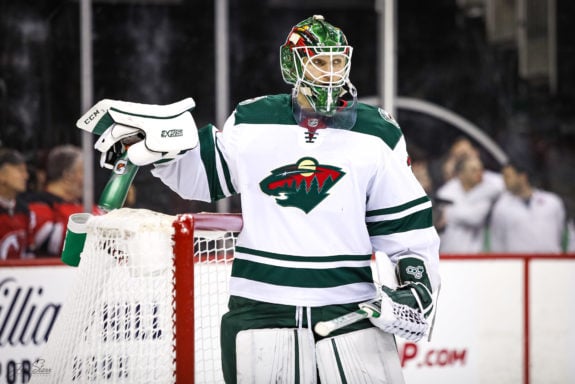 This season, he has gone from impressive rookie to one of the top AHL goaltenders. He is fourth in the league with a 2.08 GAA and .927 SV% and his 25 wins and seven shutouts are the most among all AHL netminders. His 13 career shutouts are the Iowa franchise record for the most by any goaltender.
His calm and controlled demeanor, as well as great positioning, has made the transition to the North American game a smooth one for Kahkonen. He moves from post to post fluidly and has tremendous rebound control. He got his first taste of the NHL with five starts earlier this season and it sure won't be the last we see of him at the game's highest level.
1. Connor Ingram, 22, Nashville Predators
This has been quite the calendar year for Ingram. On March 6, 2019, he was sent down to the ECHL by the Tampa Bay Lightning despite having a 2.26 GAA and .922 SV%. In June, the Lightning traded him to the Nashville Predators for mere peanuts; a seventh-round pick in the 2021 NHL Draft.
Even though the Lightning is set for the foreseeable future with Andrei Vasilevskiy in goal, they may regret trading away Ingram for pennies on the dollar. The young netminder is coming into his own this season in the Predators organization.
Ingram has been splitting the net for the Milwaukee Admirals with veteran Troy Grosenick and they are a big part why they have the most points in the AHL. In 31 starts, he has 19 wins to go along with a 1.98 GAA and .931 SV%. Ingram represented the Admirals at the AHL All-Star Classic this past January.
It is hard to find technical flaws in Ingram's game. He has fantastic positioning in the crease and moves laterally with ease. His progression over the past three seasons has been persistent and he might be the most NHL-ready goalie on this list. With Pekka Rinne looking every bit of 37-years-old these days and Juuse Saros having a sub-par season, Ingram could challenge for an NHL roster spot sooner rather than later.
Catch up on all the latest NHL Goalie News
The post The Top Ten NHL Goalie Prospects appeared first on The Hockey Writers.
Sports League Management
Start using it today
It's FREE!
Start