Published on Tuesday, May 5, 2020
35
Reads
0
Comments
Mark Messier – NHL Legend and 6 Time Stanley Cup Winner
Mark Messier did it all in a career that spanned 25 NHL seasons over four decades. He's the only player in NHL history to captain two different professional teams to championships; he won five Stanley Cups with the Edmonton Oilers and one with the New York Rangers—all in a span of ten years. Simply remarkable.
The 15-time All-Star power forward is third on the all-time point scoring list with 1,887 points, trailing only Wayne Gretzky and Jaromir Jagr. He played in 1,756 regular season games, behind only Gordie Howe's 1,767. And he holds the record for most NHL regular season and playoff season games played at 1,992.
Messier was nicknamed "the Moose" for his determination, aggression, and strength. He had power, playmaking skill, and a goal-scorer's finesse. He was a fierce competitor whose intense leadership in the dressing room was as important as the goals he scored on the ice. In 1994, he earned a new moniker, "The Messiah" for leading the end of the Rangers' 54-year Stanley Cup drought.
NHL Awards
Over the course of his 25-year tenure with the Edmonton Oilers, New York Rangers and Vancouver Canucks, Messier finished with top three career marks in several categories and won several awards:
Second on the all-time career lists for playoff points (295) and regular season games played (1,756)
Third for regular season points (1887)
Two-time Hart Trophy winner as the league's most valuable player (1990 and 1992)
Conn Smythe Trophy winner as the most valuable player during the playoffs (1984)
Two-time Lester B. Pearson (now named the Ted Lindsay Award) Award winner (1989-90) and 1991-92) as most valuable player as chosen by the NHL Players' Association.
He's one of a handful of players who was inducted into the Hockey Hall of Fame in his first year of eligibility (2007). Two years later, he was inducted into Canada's Sports Hall of Fame. A decade later, on Jan. 27, 2017, he was named one of the '100 Greatest NHL Players' in history. Most recently, Messier was named an Officer of the Order of Canada for his "contributions to hockey as an outstanding player and captain, and for his leadership in encouraging children to take up the sport."
Mark Messier – The WHA
At only 15 years old, Messier began playing in the Alberta Junior Hockey League. He amassed 140 points in 111 games. He brought a physical snarl to every shift and was a leader in the locker room as well, often addressing the team.
At 16, Messier already weighed close to 200 pounds and his talent was so obvious that he skipped major junior and college hockey altogether.
His days in the WHA laid the foundation for his career. With some help from his father's connections, at the age of 17, Messier signed a five-game tryout contract with the Indianapolis Racers. He went scoreless and was released, but was then signed as a free agent by the Cincinnati Stingers. There he played on a line with Robbie Ftorek, one of the league's dynamic goal scorers. He also played with Mike Gartner, Paul Stewart, and Barry Melrose. In 47 games, he scored once and had ten assists – not bad for a 17-year-old.
"Mess played with us in my second year in Cincinnati," said goaltender, Mike Liut. "He was 17 years old. It wasn't fair for him. He was just a young colt that was running around. You really didn't have a great sense of what the potential was — but then again, it's very difficult at 17 for a player to show you the greatness that Mess ultimately played to."
He has the distinction of being the last former World Hockey Association (WHA) player to be active in professional hockey, and the last active player who had played in the NHL in the 1970s.
NHL Draft Day 1979
The Oiler's first pick that year was Kevin Lowe (21st overall). Their next pick was Messier. He was selected in the third round (48th overall) by his hometown Edmonton Oilers in the 1979 NHL Entry Draft.
The Edmonton Oilers
Messier played 851 games for the Oilers. It took a bit to find his role, but he became a quintessential power forward and emotional leader.
Stanley Cup #1
In just his third season, Messier scored 50 goals for Oilers' high-powered offense and was selected to the 1984 All-Star team. In the playoffs, the Oilers swept the Winnipeg Jets (three games to none), defeated the Calgary Flames (four games to three), swept the Minnesota North Stars (four games to none) and then took down the defending champion New York Islanders (four games to one).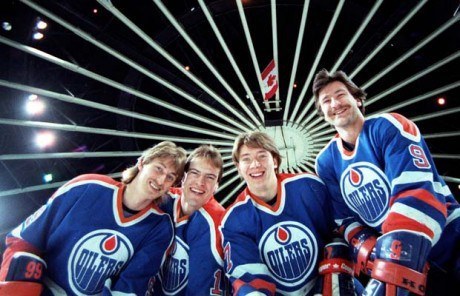 In a move that sparked the team, the left winger switched to playing as a center for the playoffs. He scored on a dazzling end-to-end rush completing a comeback by Edmonton. The Oilers won their first Cup and Messier was named playoff MVP for his determined leadership and 26-point performance (8 goals, 18 assists).
The Islanders were a dynasty, having won four consecutive Stanley Cups and returning to the Final for a fifth straight year.
"We beat them 1-0 in the first game, then they took it us in the second game. Then we get home for Game 3 and it's close and they still won't let go [until Messier's awesome end-to-end rush for a goal to break it open]. We were finally able to break their spirit. We finally imposed our speed, talent and enthusiasm and fresh legs against an old, battered team but it was so hard." – Mark Messier
Extra Elbows
Messier blurred the lines of legal play, often leading with elbows, boarding helpless players, and, at times, head-hunting. His mean streak was unpredictable and made players be aware of him every time he was on the ice. Though not normal, this type of behavior was far too prevalent in the game back then. Scott Stevens, Chris Chelios, Chris Pronger and other concussion-inducing players would be considered very dirty by today's standards.
Messier's ferociousness went unpunished many times. However, on one occasion, he went overboard in a game against the Calgary Flames in 1984 and was suspended for sucker-punching Jamie Macoun of the Calgary Flames and breaking his cheekbone.
Stanley Cup #2
In 1985, the Oilers swept through the Los Angeles Kings (three games to none), swept the Winnipeg Jets (four games to none), defeated the Chicago Blackhawks (four games to two) and easily got by the Mike Keenan-coached Philadelphia Flyers (four games to one) to win their second Stanley Cup. They lost only three games along the way. Messier lit the lamp 12 times and added 13 assists for 25 points in 18 playoff games.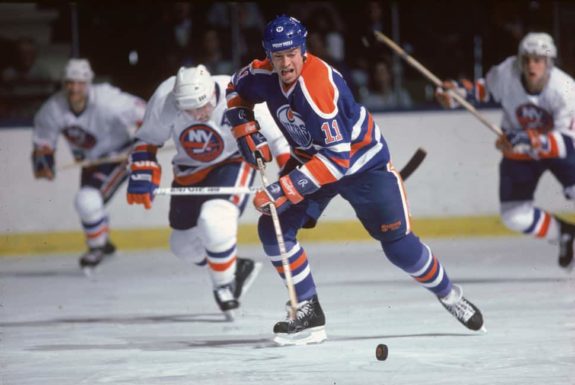 This team is widely considered the best of the Oiler teams as chosen by fans. "All of us loved being at the rink. We loved playing and we loved practicing. I think from Messier, to (Glenn) Anderson, to (Paul) Coffey, to Kevin Lowe, to Kurri, we showed up for practice. We practiced hard," said Gretzky.
Stanley Cup #3
In 1987, the Oilers defeated the Los Angeles Kings (four games to one), swept the Winnipeg Jets (four games to none), defeated the Detroit Red Wings (four games to one) and took a full seven games to take down the Philadelphia Flyers (four games to three) to win the Stanley Cup.
It was a grudge match from the 1985 Stanley Cup Final with the Flyers. "Unless we win the Stanley Cup, the season will be another failure," said Messier. He wound up carrying the team, scoring 12 goals and adding 16 assists for 28 points in 21 playoff games.
Stanley Cup #4
In 1988, the Oilers defeated the Winnipeg Jets (four games to one), swept the Calgary Flames (four games to none), got by the Detroit Red Wings (four games to one) and blanked the Boston Bruins (four games to none) to win their fourth Stanley Cup. Messier scored 11 goals and added 23 assists for 34 points in 19 playoff games.
In 1988, Messier took the Oilers' captaincy vacated by Gretzky.
Stanley Cup #5
After losing to Gretzky's Los Angeles Kings in the 1988-89 Semifinals, the Oilers bounced back and won the Cup in 1989-90. They eked by the Winnipeg Jets (four games to three), blanked the Los Angeles Kings (four games to none), defeated the Chicago Blackhawks (four games to two) and took down the Boston Bruins (four games to one) to win their fifth Stanley Cup. It was probably the most impressive of the Oilers' Cup wins as it came without the Great One. Messier scored nine goals and added 22 assists for 31 points in 22 playoff games.
It capped an incredible run of five Cups in seven years–1984, 1985, 1987, 1988 and 1990.
After the 1991 season, Messier was upset that the team let Adam Graves go and complained that management was unwilling to keep top players on the team. He demanded a trade during the Canada Cup.
He got his wish on Oct. 4, 1991, when he was traded to the New York Rangers for Bernie Nicholls, Louie DeBrusk, and Steven Rice.
Mark Messier – New York Rangers
Messier made an immediate impact with the Rangers. In his first season, he guided the team to the best record in the NHL and won the Hart Trophy. The Rangers fell in six games in the second round of the playoffs to the eventual Cup-winning Pittsburgh Penguins.
The Rangers missed the playoffs in 1992–93. It was the first time in Messier's career that he did not play in the postseason. It was a disappointing season for the Blue Shirts – everything that could go wrong, went wrong. Injuries to key players piled up. They lost their last seven games to end the season, and won only once in their last 12 games. At the time, they became the first team since the 1947-48 Montreal Canadiens to miss the playoffs after finishing atop the league the previous regular season.
Messier had a strong 91-point season, leading the team, but was a scapegoat for a season that was filled with turmoil, especially since he openly criticized head coach Roger Neilson. Teammate Adam Graves insisted the criticism for Messier was undeserved and was convinced his teammates' actions set the stage for the following season.
"I think we all grew. Regardless of the outcome of that year, it takes great leadership in good times and in bad times," said Graves. "And sometimes it takes good leadership to stand up for what you believe in, even when it's not the most popular thing. And I think that's a good indication with Mark. It might not have been the most popular stance, but it was in his heart and he believed it."
The Magical 1993-94 NHL Season
In 1993-94, Mike Keenan took over as head coach and the team bounced back, finishing first overall in the regular season. Messier's Rangers swept the Islanders in four games, defeated the Washington Capitals in five games, then squared off against the nearby rivals, the New Jersey Devils.
The Messier Guarantee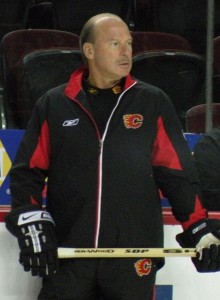 Facing elimination, down three games to two, Mark Messier boldly guaranteed a Game 6 win to the frenzied New York media. It became comparable to Joe Namath's brash Super Bowl guarantee in 1968 and Babe Ruth's called home run shot in the 1932 World Series.
Messier followed up on his promise by scoring a natural hat trick in the third period to help the Rangers come from behind to defeat the Devils 4-2. The victory at Brendan Byrne Arena in East Rutherford, New Jersey forced a deciding seventh game in Madison Square Garden.
In Game 7, the Rangers won a double overtime thriller, 2-1, when Stephane Matteau put a shot past Devils' goalie, Marty Brodeur.
Stanley Cup #6
Messier scored the game-winning goal in the seventh game as the Rangers defeated the Vancouver Canucks at Madison Square Garden. It was the Rangers first Stanley Cup in 54 years. Messier finished the postseason with 12 goals (four of them game winners) and 18 assists for 30 points in 23 playoff games.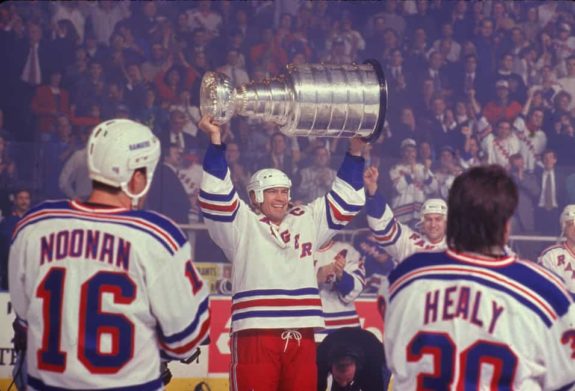 Like a little boy overcome with excitement, Messier jumped for joy as the game ended. Teammates mobbed one another, the crowd was delirious and ticker tape fell around them. Days later, New York City's mayor, Rudi Giuliani, dubbed Messier "Mr. June" during the ticker-tape parade. This playing off New York Yankees' nickname for postseason hero, Reggie Jackson; "Mr. October".
The Rest with the Rangers
At 35 years old, Mark Messier put up 99 points in 1995-96. The following year, former Oilers teammate, Wayne Gretzky joined the Rangers. They had a good season but were eliminated in the Conference Finals by the Philadelphia Flyers and their "Legion of Doom." Messier wanted to finish out his career with the Rangers, but a contract dispute led to Rangers' General Manager Neil Smith refusal to sign him.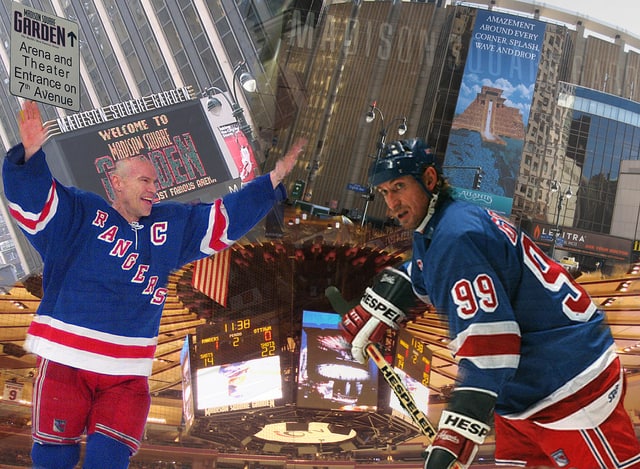 The Canucks
Even at 36 years old, Messier was a sought-after free agent and inked a five-year, $30 million deal with the Vancouver Canucks. His introductory press conference on July 28, 1997, was a euphoric moment in Vancouver as fans and media alike dreamed of success and him bringing a Stanley Cup to their city just as he had done in New York City.
It never happened. Instead of becoming a Cup contender, the Canucks fell off a cliff. Messier's time in Vancouver was anything but a smooth one. And in hindsight, the writing was probably on the wall with his handwritten contract.
It started with Trevor Linden relinquishing the captaincy to Messier, thought of as the greatest leader in pro sports, in the offseason–a move that angered many Canuck fans. Messier had also demanded to wear his usual No. 11, a number that was unofficially retired in 1974 when original Canuck, Wayne Maki, died unexpectedly. While it cannot be directly traced to Messier, much of the blame for canning the Canucks President and General Manager Pat Quinn and coach Tom Renney is linked to him. He was also influential in hiring new coach and acting general manager Mike Keenan and retooling the team's lineup.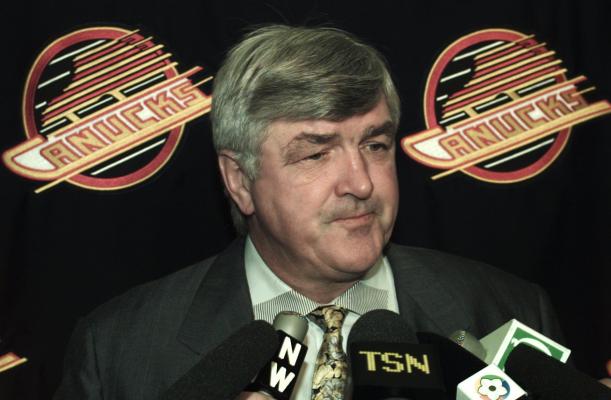 To make matters worse, on the ice, Messier was a shadow of his former self. His tenaciousness and toughness gave way to perimeter play. One example of this can be seen with his penalty minute totals–58, 33 and 30 while in Vancouver, compared to 122 and 88 in his previous two years with the Rangers. At the time, penalties were often an indicator of desire.
Mark Messier never made the playoffs with the Canucks. His 60-point effort in 1997-98 was his worst mark in a full year since his first NHL season. His next two seasons were hampered by injuries. He tallied 158 points over his three years, well below expectations for his salary. The Canucks bought out Messier's contract in 2000. Several years after the fact, in 2012, Messier took the team to court and wrestled another $6 million from the team due to a clause in his contract that would compensate him if the value of the franchise increased over the life of his contract, which expired in 2002. He cashed in again.
In his short time with the Canucks, Messier was the personification of everything that was wrong with it. There is no love lost between Canuck fans and the Moose.
When asked in hindsight, if there was anything he wishes he had done differently during his time in Vancouver, he said, "I would not have accepted the captaincy from Trevor."
The Rangers Part Two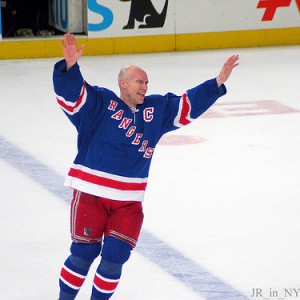 Messier then returned to the Rangers, with former Oilers' President and General Manager running the show. Brian Leetch personally gave Messier the 'C'. He played four seasons on Broadway, not once leading the team to the playoffs.
On June 30, 2003, Mark Messier's rights were traded to the San Jose Sharks for a fourth-round draft pick, which ironically turned out to be future-Rangers' captain Ryan Callahan. The Sharks held his rights for just a few hours as soon he re-signed with the Rangers as a free agent.
Life After Retirement
After the 2004-05 lockout year, in the summer of 2005, Messier decided to retire. The following year, Messier had his No. 11 retired by the New York Rangers during an emotional ceremony on Jan. 12, 2006. Most of the 1994 Stanley Cup team was there to celebrate the honor. His number was retired by the Oilers a year later, on Feb. 27, 2007.
From 2009-13 Messier was a special assistant to the Sather, the Rangers President, as well as an advisor for the Oilers in 2014.
Messier coached Canada to a silver medal at the 2010 Spengler Cup in Davos, Switzerland, and was Canada's general manager at the 2010 World Hockey Championship in Germany (Canada lost in the quarterfinals).
Representing Canada
Messier represented his country several times. He only played with Canada once outside North America, winning the silver medal at the 1989 World Ice Hockey Championships in Sweden. He was an integral member of three consecutive Canada Cups championships (1984, 1997 and 1991) and won silver at the 1996 World Cup of Hockey.
Philanthropic Work
Messier has been involved in charitable work in both Canada and the United States. He's helped raise money for medical centers, the Tomorrows Children's Fund and the New York Police & Fire Widows' & Children's Benefit Fund to name a few. His dedication to worthy causes is one factor he has an award named after him.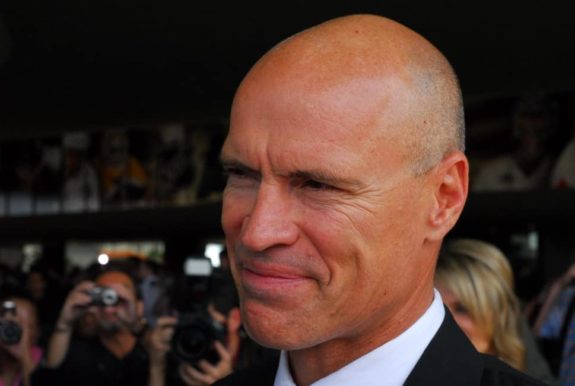 Born Jan. 8, 1961 in Edmonton, Alberta. Messier has an older brother and two sisters. One of them, Mary-Kay, works for Bauer Hockey. In 2012, Bauer Hockey and Hockey Canada helped launch The First Shift initiative, a program to encourage kids between the ages of six and ten to start playing hockey.
The Mark Messier Leadership Award
The NHL created the Mark Messier Leadership Award, which is presented annually to the player "who exemplifies great leadership qualities to his team, on and off the ice during the regular season." Some of the winners include Sidney Crosby, Shane Doan, Jonathan Toews, Shea Weber and Nick Foligno.
Messier's Legacy
Mark Messier is one of the most complete players of his generation and one of the greatest players to ever play hockey. He and his Oiler teammates, Gretzky and Jari Kurri, were three of only ten players to top 600 goals.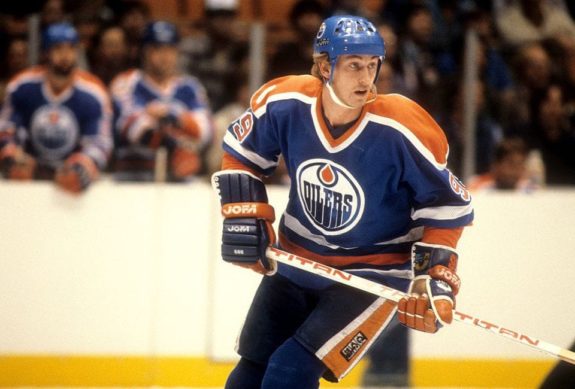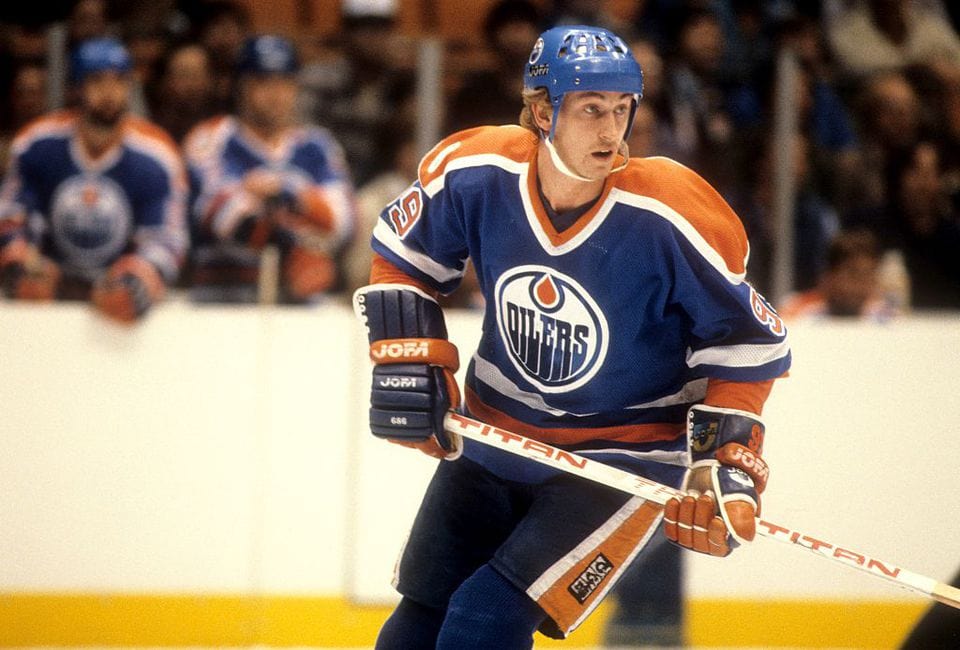 He ranks second in games played (1756), eighth in goals (694), third in assists (1193), and third in points (1887) in NHL history. His 109 playoff goals, 186 playoff assists and 295 playoff points are second all-time.
Mark Messier in Their Words
"His work ethic and his desire and his commitment to the team probably only paralleled to that of Gordie Howe. He was big, strong, tough — and yet — had a great deal of finesse." – Wayne Gretzky, Messier's teammate in Edmonton and New York

"He has to go down as one of the best all-time leaders in any professional sport." – John Muckler, former Oilers coach

"He was fundamentally a very good team-builder. I can't say enough about Mark Messier." – Mike Keenan, Messier's former coach in New York and Vancouver

"Like a lot of the great generals in wartime history, that's the best way to describe him." Kevin Lowe, Messier's teammate in Edmonton and New York

"He brought something to New York that Rod [Gilbert] and I never could. When they won in 1994, we felt we won." – Ed Giacomin, former Ranger

"His personality is so big it was a perfect marriage for New York. He came here and hockey players aren't normally that big; the game's fairly small here. Mark transcended hockey." – Mike Richter, Messier's teammate in New York
* originally published in Dec. 2017
The post Mark Messier – NHL Legend and 6 Time Stanley Cup Winner appeared first on The Hockey Writers.
Sports League Management
Start using it today
It's FREE!
Start