Published on Wednesday, June 17, 2020
46
Reads
0
Comments
Bruce McNall: His Rise and Fall
On Aug. 9, 1988, the hockey world changed forever. The Edmonton Oilers traded the Great One, Wayne Gretzky, along with Marty McSorley and Mike Krushelnyski, to the Los Angeles Kings in exchange for Jimmy Carson, Martin Gelinas, $15 million in cash, and the Kings' first-round draft picks in 1989, 1991 and 1993. Behind all of this madness was young 38-year-old Hollywood movie producer and Kings owner Bruce McNall.
Growing up in Arcadia, California, McNall had interest in collecting ancient coins and artifacts. He claimed to be a child prodigy, starting college at 16 and attending Oxford. He was able to turn his childhood hobby and expertise into his first fortune. McNall had a gift of convincing wealthy people to buy ancient coins.
The McNall Rise
McNall now had a fortune that he made in the ancient coin collecting business. He soon ventured into horse racing and then into the movie business. As a producer, McNall was responsible for producing movies like War Games and the cult classic Weekend at Bernie's in 1989. Now, with his wealth and celebrity status rising, McNall had his sights set on owning a sports franchise.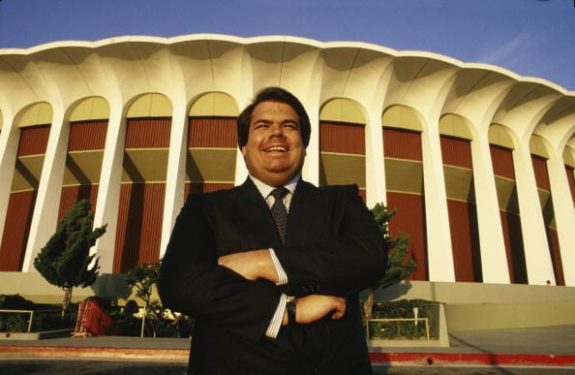 The young, charismatic McNall was now hanging around the Great Western Forum, soon becoming a celebrity in Los Angeles. During this time the Kings were owned by the late Dr. Jerry Buss. In 1979, Buss purchased the Kings, the Lakers and the Forum from Toronto radio mogul Jack Kent Cooke. Hockey, at the time, was an extremely tough sell in Southern California. Buss had no interest in hockey either. Regardless, McNall wanted a piece of the action. In 1986, he bought 25% stake in the franchise. The next year, McNall bought 24% more of the Kings, making him the largest shareholder of the team. Then, in 1988, he became the owner outright.
Everything soon started to take off for McNall. He now was living his dream to own a sports franchise in his hometown. Through the peak of his wealth, he now owned a rare copy of a Honus Wagner baseball card. He also was part owner of the Toronto Argonauts of the Canadian Football League with his friend, the late great comedian John Candy. Bruce McNall was on top of the world. With his wealth and fame aside, he is remembered more for being the owner that lured the Great One, Wayne Gretzky, out of Canada, and is remembered for making hockey cool in Southern California.
Before the Gretzky deal was all said and done, McNall decided to change the Kings colors and uniforms from the old Laker colors which the players hated, to black, white and silver. There was new excitement about the team. Young players like Luc Robitaille, Bernie Nicholls and Steve Duchesne, who were unknowns in L.A., were going to be celebrities in their own right.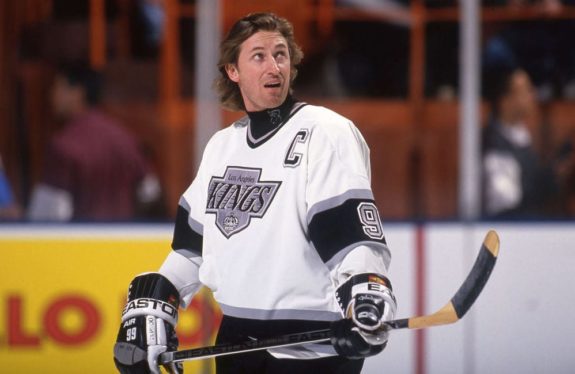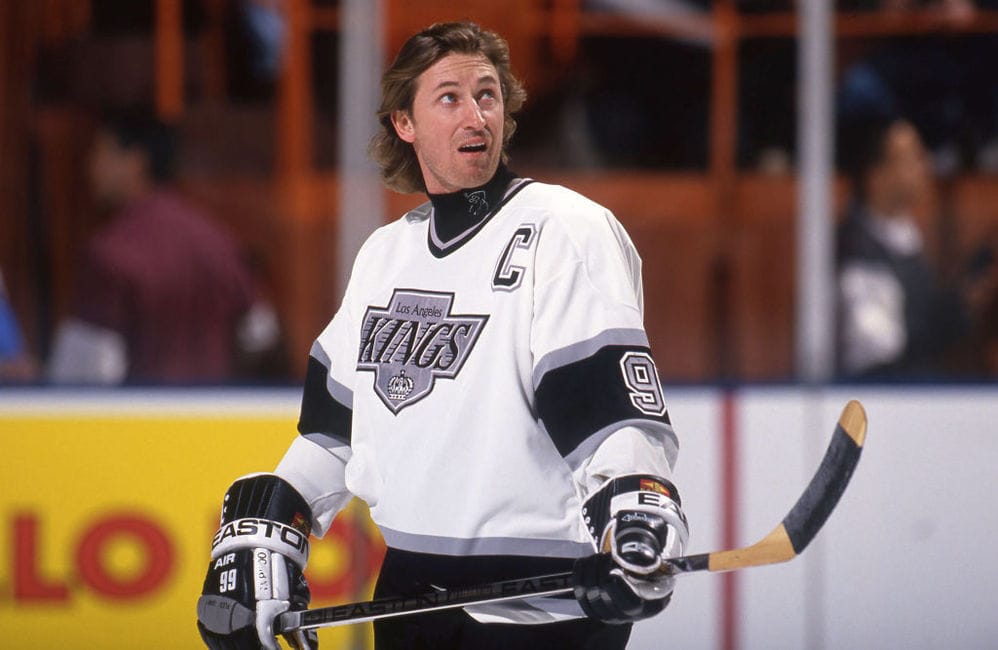 Buying Gretzky from the Oilers changed the popularity of hockey in L.A. almost overnight. Gretzky became a superstar in a city where stars are made. Suddenly, celebrities were flocking to games. On any given night, celebrities like Kurt Russell, Goldie Hawn and Sylvester Stallone would be on hand at the Forum cheering on the Kings. McNall was never one to shy away from the limelight, being a fixture at some of L.A.'s hottest spots in the 1980s and 1990s. He had pictures up of him at the famous Palm Steakhouse in Hollywood. He was known to fly celebrities with him on his private jets to away games during the Kings 1993 Stanley Cup Final run.
Growth of the NHL Game
Everything was going so well for the Kings and Bruce McNall that he was named to the NHL's Board of Governors in 1992 at just 41 years old. Chicago Blackhawks owner Bill Wirtz decided to step down as chairman, making McNall the new chairman. Right away in his new position, he had ideas in getting the NHL a major TV contract. In his mind, McNall felt he could compete with the NBA and the NFL.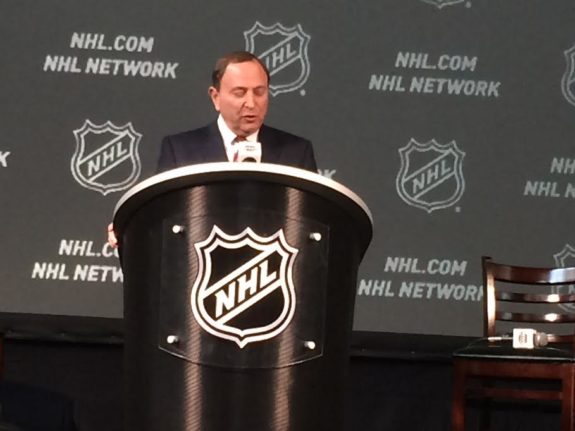 One of his first orders of business as chairman was to find the NHL's first Commissioner. The NHL wanted to secure a major TV deal and expand the league into new markets. The league needed an executive who shared that vision. McNall looked to the NBA in filling this role. He admired what then-Commissioner David Stern of the NBA did with his league. Stern met with McNall and recommended a young, up-and-coming NBA executive by the name of Gary Bettman. Bettman was Commissioner soon after.
When McNall became an owner, he was the first owner to set up preseason games, in non-traditional hockey markets. He scheduled games in cities like Las Vegas, Dallas, Phoenix, Miami and Tampa Bay. With the success of these games played in non-traditional hockey markets, McNall and company set their sites on the sunbelt states.
As McNall's legend grew in Hollywood and in hockey, he was also able to convince Walt Disney's CEO, Michael Eisner, that another NHL franchise could survive in Southern California. The Anaheim Mighty Ducks were born – Disney now had a hockey team! The bill for Disney was $50 million – $25 million of which went into McNall's pocket due to the new franchise being in the Kings backyard. All that money was then used to pay off loans that he owed banks. More problems were right around the corner.
The Fall of Bruce McNall
With this impressive resume, one would think Bruce McNall would end up in the Hockey Hall of Fame as a builder. Unfortunately, Bruce got into some trouble with the law. He defaulted on a $90 million loan and Bank of America threatened to force the Kings into bankruptcy if the team was not sold. The team had some tough years after that, and Gretzky was eventually traded to the St. Louis Blues.
McNall's $200 million empire that he built through bank fraud crumbled. His days of driving fast cars and flying around in private jets were over. The glitz and glamour of the Hollywood lifestyle were long gone. In 1994, McNall pleaded guilty to two counts of bank fraud and single counts of conspiracy and wire fraud. McNall spent 70 months in jail and still owes the banks. On top of this, McNall admitted to smuggling ancient artifacts into the United States. His claim that he attended Oxford was not true either. McNall was released from prison in 2001.
The friends that he had before he went to prison were his friends still after he got out. Wayne Gretzky, Luc Robitaille, and Rob Blake all remained close to McNall and would visit him in prison. His remaining friends maintained their loyalty to him, too. Gretzky would not allow the Kings to retire his sweater unless his friend Bruce McNall was at the game.
McNall's Impact on Hockey
Even with Bruce McNall's legal issues, it is impossible to ignore the impact that he had on the NHL and the game of hockey. Before he became an NHL owner, the only team in the United States that was west of St. Louis were the Kings. Now, the league has teams in cities that were once considered non-hockey markets. Talented young players are coming from Texas, Florida, Arizona, Tennessee, and California. McNall's influence on the game made hockey no longer a regional sport in the United States.
I'm not saying that McNall should be in the Hockey Hall of Fame one way or the other. One thing I do know is, the NHL and hockey would not look the way it does today without Bruce McNall's involvement in the sport and his contributions to the game.
* originally published in June 2018
The post Bruce McNall: His Rise and Fall appeared first on The Hockey Writers.
Sports League Management
Start using it today
It's FREE!
Start