Published on Thursday, June 18, 2020
51
Reads
0
Comments
1999: The Worst NHL Draft Class Ever?
Before the 1999 NHL Draft took place in Boston, MA on June 26, many believed it was to have a deep amount of talent to choose from – a treasure trove of sorts. European players especially were considered to predominate the early selections, and they had prospective NHL suitors salivating over their supposed skill sets.
How could a team go wrong? The Sedin twins – Henrik and Daniel – were right at the top of the charts. Czech-born players Patrik Stefan and Pavel Brendl were guaranteed to be "can't misses", or so everyone thought. These were the talents expected to go one, two, three, four – and they did.
Even if a team could not nab one of those four heralded picks, it was widely felt that general managers could still snag a top-notch talent.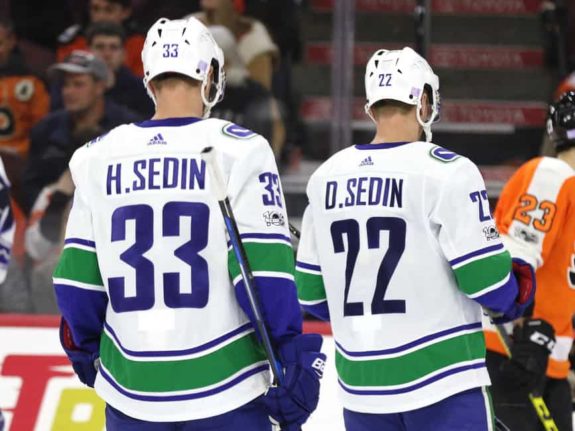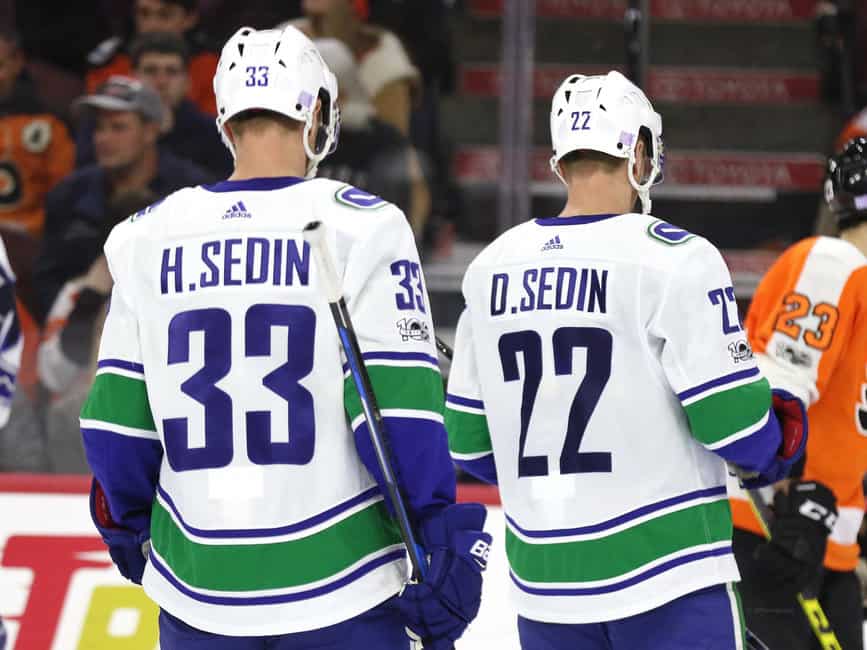 Unfortunately, it did not pan out that way. Twenty years after it took place, retrospect tells us that the 1999 NHL Entry Draft came nowhere close to being a draft where you couldn't miss. GMs missed early and missed often.
Twenty-eight players were chosen as first-round draft picks. Three of them never stepped foot into the NHL. Another nine selections never played more than 80 career games in the league. Only one saw his name inscribed on the Stanley Cup, albeit in the twilight of his career. Four of the 28 ever ended up being an All-Star.
In fact, teams arguably had better luck with their selections in the later rounds. Fairly or unfairly, the draft just did not seem to live up to all of its hype.
THW takes a look back the multiple misses of the opening round of 1999. We will also look at a few players who were far better options for their teams, but were not chosen until well after the first 28 already had their day.
The Misses
Patrik Stefan – 1st Overall, Atlanta Thrashers
The Atlanta Thrashers were not originally going to have the first overall pick. It initially belonged to the Tampa Bay Lightning, but after a bevy of trades were completed by Vancouver Canucks GM Brian Burke so that he could select the Sedins, the Thrashers ended up with the top pick.
They would use it to select Stefan.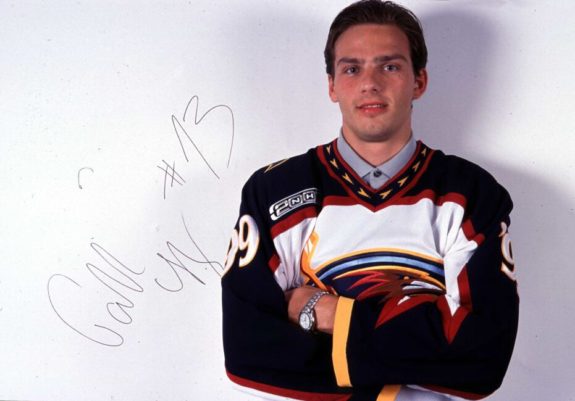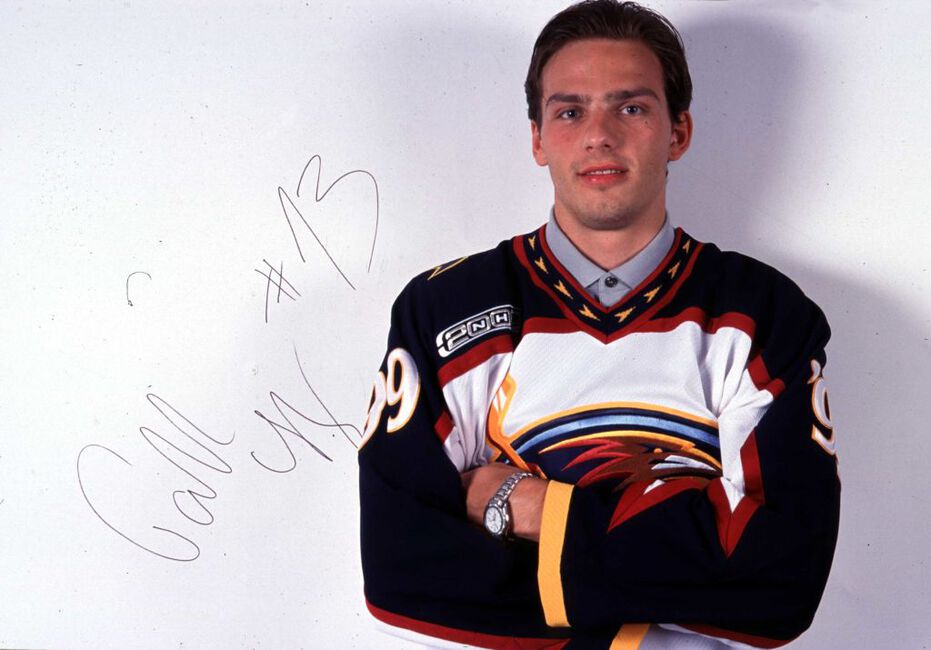 Prior to being drafted by the Thrashers, Stefan played for Sparta Praha in the Czech Republic and the Long Beach Ice Dogs of the IHL. What had NHL teams somewhat wary of selecting him was that he suffered at least two concussions while with the Ice Dogs, limiting him to just 33 games of an 82-game schedule in 1998-99.
Still, Stefan was also very much heralded heading into the draft. His former Long Beach head coach John Van Boxmeer had these estimations of him at the time:
"He is going to be a dominating, play-making center. He is a guy who looks to make the play rather than shoot himself. He'll be a guy who can get 100 assists and 20-25 goals in the NHL. He is a cross between Mike Modano and Sergei Fedorov."
As it would turn out, Stefan never scored more than 14 goals in a season. His highest assist total was 26. Ultimately Patrik Stefan's career lasted seven seasons in the NHL – six with Atlanta and one with the Dallas Stars. In 455 regular season games, he scored 64 goals and 124 assists for 188 career points. Stefan never played in an NHL playoff game.
He is most oftentimes included in discussions for "Biggest NHL Draft Busts" of all-time.
Pavel Brendl – 4th Overall, New York Rangers
At 6-foot-2 and 213 pounds, Brendl possessed very good size. Factor in that he was a goal-scoring juggernaut in the Western Hockey League (WHL) for the Calgary Hitmen during his junior career, and it made complete sense for him to be selected fourth.
In just his first season for the Hitmen (1998-99), Brendl scored an astounding 73 goals in 68 games. He would also tack on 61 assists to give him 134 points in his first season. Such a performance earned him all sorts of accolades, including the Jim Piggot Trophy as the WHL's Rookie of the Year, the Bobby Clarke Trophy for most points, and the CHL's Rookie of the Year award, too.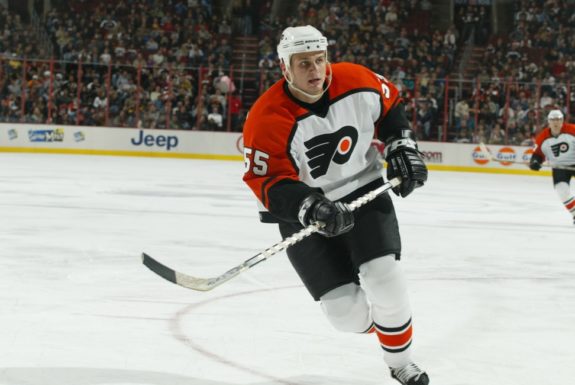 As it would turn out, Brendl never played a game for the New York Rangers. He was included in the Aug. 20, 2001 package that brought Eric Lindros to Broadway and sent the young Czech to the "City of Brotherly Love".
Brendl would make his NHL debut for the Philadelphia Flyers early in the 2001-02 season. He scored his first goal in only his fourth game, when he beat Washington Capital great Olaf Kolzig. Trouble was, Brendl would only get into eight games of action for the Flyers that entire season, plus a couple in that season's playoffs.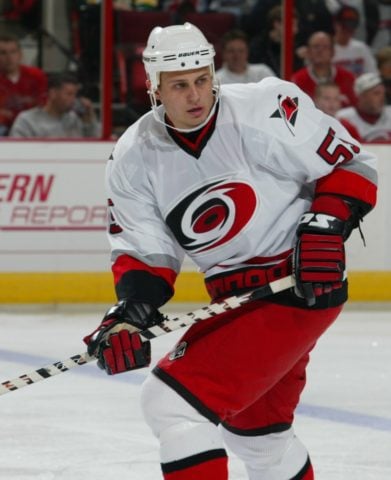 Such sparse use would be indicative of things to come. Brendl would end up playing parts of just four NHL seasons, split between the Flyers, Carolina Hurricanes, and Phoenix Coyotes. His fullest campaign came in 2002-03 when he played 50 games between Philadelphia and Carolina combined.
In the 78 career regular season games that Brendl played, he scored 11 goals and 11 assists for 22 total points. Nowhere near the representation of numbers he had put up in junior.
Interestingly enough, Brendl would have a very long professional career – just not in the NHL. After playing a mere two games for the Coyotes in 2005-06, he would go on to play 10 more pro seasons in seven different countries with 12 different teams.
Tim Connolly – 5th Overall, New York Islanders
Tim Connolly was a very good hockey player – when he played. Blessed with tremendous maneuverability, he was one of the better playmakers of his generation in the league. But anytime Connolly seemed to be on the verge of kicking it into high gear and becoming more than an above-average player, he ended up getting hurt.
As an 18-year-old, Connolly played his first NHL season on Long Island in 1999-00. He finished third on the team in scoring (14 goals, 20 assists) behind Mariusz Czerkawski and Brad Isbister. The best seemed yet to come.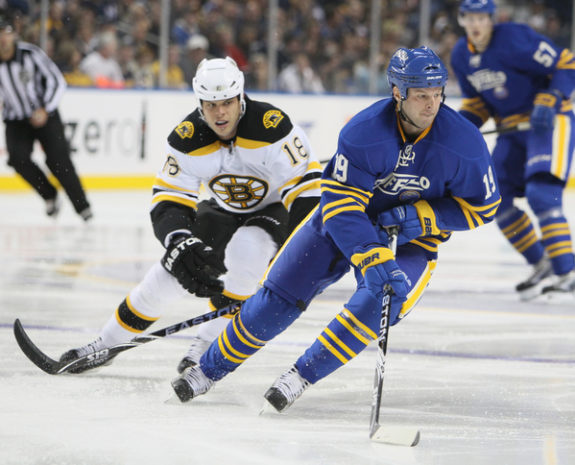 After another decent season with the Islanders in 2000-01 – this time finishing fourth for the team in scoring – Connolly ended up being the centerpiece going to Buffalo in a trade that brought Selke Trophy-winning Michael Peca to Long Island.
Connolly's first two seasons in Buffalo went uninterrupted. He finished third on the team in scoring in 2001-02, and his 35 assists were second-most behind the Sabres' leading scorer Miroslav Satan. Connolly's passing abilities now began to get noticed, as he routinely fed pucks to players like Satan, Maxim Afinogenov, and J.P. Dumont.
Unfortunately, this is where injuries began to take shape.
Connolly would miss the entire 2003-04 NHL season due to a concussion. After the league's lockout in 2004-05, he never played more than 73 games in a season. From 2005-06 through 2008-09, Connolly played seasons of 63, 2, 48 and 48 games. What is tougher to swallow is when one compares his point totals from each of those same campaigns – 55, 1, 40 and 47. Connolly's best scoring seemed to come in his most injury-plagued seasons, as he was nearly a point-per-game player.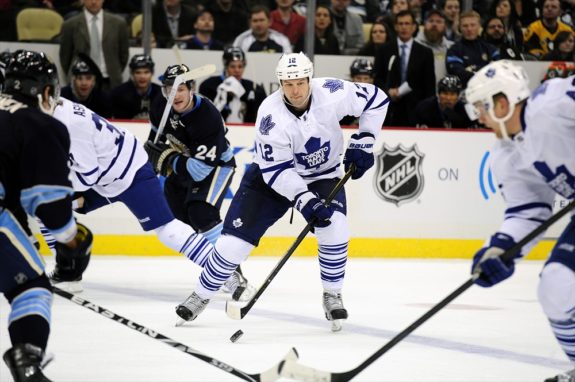 Wrapping up his NHL career with a lone season with the Toronto Maple Leafs, he played parts of 11 seasons in total. In 697 regular season games, Connolly amassed 131 goals, 300 assists and 431 points. Had he remained healthy, he may have been able to put up some of the better numbers from his draft class.
Brian Finley – 6th Overall, Nashville Predators
The Nashville Predators were participating in only their second NHL Draft when they selected goaltender Brian Finley. Sizable for a goalie at 6-foot-4 and 200 pounds, many speculated that he could become another one of the larger built goaltending stars of the decade like Olaf Kolzig, Sean Burke or Martin Brodeur. Unfortunately, Finley would not even come close.
A native of Sault Ste. Marie, Ontario, Finley played most of his junior hockey with the OHL's Barrie Colts before being traded in his final year to the Brampton Battalion. While with the Barrie Colts he led the team to the Memorial Cup Final in 2000 where they would lose 6-3 to Rimouski Océanic.
Finley also served as Canada's backup goaltender at the 1999 and 2000 World Junior Championships. He helped earn silver and bronze medals respectively for his country.
The Predators sincerely anticipated that Finley could be the backbone of their team for many years to come. What ended up happening would be a mere two-game stint in Nashville. Finley did not debut with the Predators until a lone outing in 2002-03. After the lockout occurred, he played one final game with the Predators during 2005-06 where he gave up seven goals.
Though he would end his NHL career with just two more games – those coming with the Boston Bruins in 2006-07 – Finley did have one bright spot in his professional career. The Milwaukee Admirals have been Nashville's American Hockey League affiliate since the team's inception in 1998. Finley helped backstop the team to the AHL's 2004 Calder Cup championship, splitting the goaltending duties with journeyman Wade Flaherty.
Kris Beech – 7th Overall, Washington Capitals
The Washington Capitals selected Kris Beech with a similar mindset as the Rangers did when they took Brendl. After all, Beech and Brendl were teammates together with the Calgary Hitmen. He also had good size at 6-foot-2 and 210 pounds. Oddly enough, both players ended up having very similar journeyman careers.
Beech spent a mere four games with Washington, at least initially. Debuting with the Capitals for the 2000-01 season, he actually spent the bulk of it remaining in junior with the Hitmen. Beech went pointless in the four games he played in the NHL at that point.
On July 11, 2001, the Capitals packaged Beech with seldom used players Ross Lupaschuk and Michal Sivek, and shipped them to the Pittsburgh Penguins in exchange for Jaromir Jagr and Frantisek Kucera. This trade may be what Beech is best known for from his NHL career.
In Pittsburgh he would have opportunity to shine, but he just could not produce. The season immediately following the trade, 2001-02, would be Beech's fullest in the NHL. He played 79 games, scoring 10 goals and 15 assists. Not the numbers one would hope for from such a high draft choice.
Beech toiled mostly in the minors with the AHL's Wilkes-Barre/Scranton Penguins for the next three seasons, getting just brief call-ups to the parent club of 12 and four games. The remainder of his NHL career saw Beech bounce around between the Nashville Predators, Columbus Blue Jackets, Vancouver Canucks, and return stints with both the Capitals and Penguins. In fact, during the 2007-08 season – his last in the NHL – he played for Columbus, Vancouver and Pittsburgh all in the same season.
Like Brendl, Beech finished his professional career in Europe. He played eight professional seasons overseas, which included stops among nine different teams in seven different countries.
More Misses That Followed
We will not go through them all in detail, but there were plenty of other "misses" throughout the draft. Honorable mentions in this rogues' gallery of sorts includes:
Denis Shvidki: a Ukrainian-born player selected 12th overall by the Florida Panthers. Shvidki played 76 NHL games across four seasons, scoring only 11 goals and 14 assists.
Jani Rita: the Edmonton Oilers took this Finnish player player at the 13th spot. His NHL career lasted only 66 games that were played among four seasons and two different teams. 51 of them came in the 2005-06 season split between the Oilers and the Penguins.
Scott Kelman: taken 15th by the Phoenix Coyotes, this centerman never played a game in the NHL, and played the bulk of his seven professional seasons in the ECHL after six total seasons in junior.
Barrett Heisten: The Buffalo Sabres drafted Heisten at the 20th spot. He would never play a game for Buffalo, but ultimately played a mere 10 games with the New York Rangers for his NHL career.
Luca Cereda: The Toronto Maple Leafs nabbed this Swiss center with the 24th pick. Cereda never played an NHL game, and stayed parts of three seasons in the AHL with the St. John's Maple Leafs. After that, he was back home in Switzerland for just four more pro seasons before calling it quits.
Ari Ahonen: Perhaps a victim of circumstance because the great Martin Brodeur was ahead of him in the depth charts, but Ahonen never played an NHL game. The New Jersey Devils selected the Finnish goaltender at number-27. He played five seasons for their AHL affiliate in Albany before returning to Europe.
The Diamonds – in and out of the Rough
Daniel and Henrik Sedin – 2nd and 3rd Overall, Vancouver Canucks
The 1999 NHL Draft certainly was not all bad. The Vancouver Canucks sat pretty for many years because they drafted Daniel and Henrik Sedin with the second and third selections, respectively.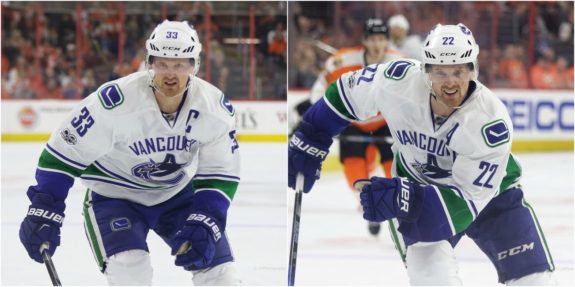 The twin brothers each played over 1,300 NHL regular season games and scored over 1,000 points. Henrik earned the Art Ross Trophy and the Hart Trophy in 2009-10, while Daniel brought home the Art Ross and the Ted Lindsay Award in 2010-11.
The Sedins are set to have their jerseys retired by the Vancouver Canucks in Feb. 2020, and it would not be far-fetched that they receive induction into the Hockey Hall of Fame at some point too.
Craig Anderson – 77th Overall, Calgary Flames
Goaltender Craig Anderson is our first diamond which was found in the rough. The Flames selected him midway through the third round of the draft. While he would never play a game for the Flames, Anderson has had a very successful NHL career that has continued 20 years after he was drafted.
Seeing stops with the Chicago Blackhawks, Florida Panthers, and Colorado Avalanche, Anderson has been his best during the nearly 10 seasons he has played with his current and most recent team, the Ottawa Senators.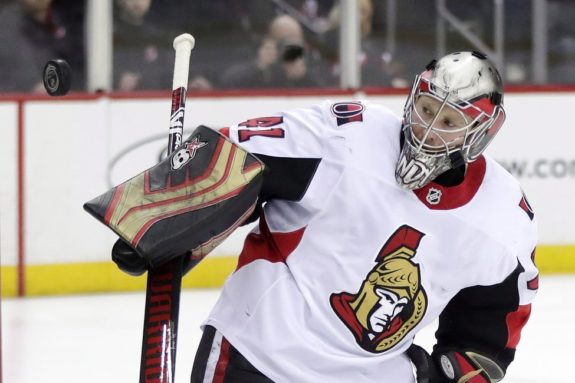 In the lockout shortened 2012-13 season, he led the entire league with an astounding .941 save percentage and a 1.69 goals against average. Anderson finished fourth in voting for the Vezina Trophy that season.
Additionally, he was the 2016-17 recipient of the Bill Masterton Trophy, which is awarded to the player regarded as having the most perseverance and dedication to hockey throughout the season.
Chris Kelly – 94th Overall, Ottawa Senators
More of a defensive-specialist, Chris Kelly's NHL career lasted 845 regular season games. His first seven and a half NHL seasons were spent with the Senators, and he hit double digits in goals in each of his full seasons with the team.
A Feb. 15, 2011 trade from the Senators to the Boston Bruins is perhaps what spotlighted Kelly as a reliable two-way player. Playing in all 25 of the Bruins playoff games that season, he helped Boston win the Stanley Cup for the first time since 1972.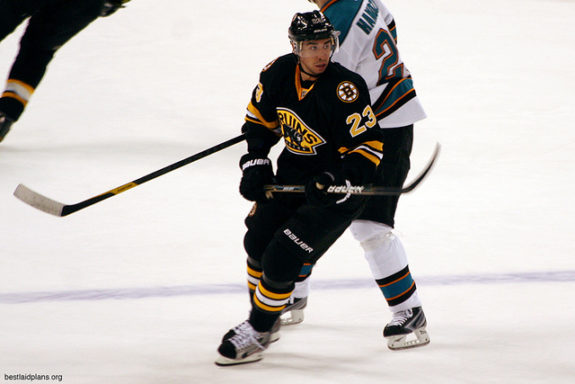 At the tail end of his hockey career, Kelly served as team captain for Canada's Men's National Team that competed at the 2018 PyeongChang Winter Olympics. There he helped lead his fellow countrymen to a bronze medal.
Kelly called it a career after the 2017-18 season after being a late addition to the Anaheim Ducks roster. His NHL longevity and Stanley Cup victory earn him a nod on our list.
Ryan Miller – 138th Overall, Buffalo Sabres
Goaltender Ryan Miller was not drafted until the fifth round in 1999, and yet he is still playing in the NHL some 20 years later. It would take him a few seasons to establish himself, but during the 2005-06 season he became the Buffalo Sabres unquestioned starter in net.
Miller spent parts of 11 seasons with the Sabres, and was their cornerstone for teams that earned a birth in the Eastern Conference Final in 2005-06 and 2006-07, and won the Presidents' Trophy in 2006-07. He was awarded the Vezina Trophy in 2009-10 as the NHL's best goaltender, after posting a record of 41-18-8 with a .929 SV% and 2.22 GAA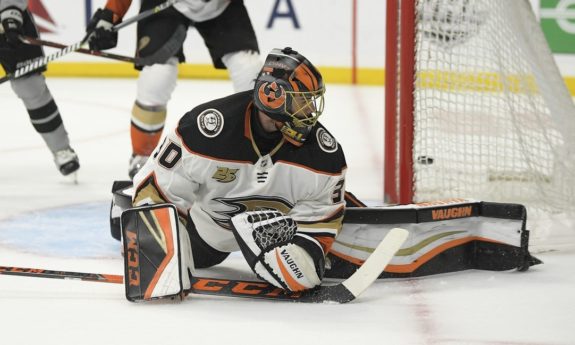 During his tenure in Buffalo, Miller was the starting goaltender for the USA Men's National Team at the 2010 Winter Olympics in Vancouver. He backstopped the USA to a silver medal, and nearly took home the gold.
After wrapping up his time in Buffalo, Miller has played in the Western Conference for the St. Louis Blues, Vancouver Canucks and Anaheim Ducks. Approaching 40 years old, Miller signed a one-year contract with the Ducks on June 20, 2019 to remain with the team for the 2019-20 NHL season.
Henrik Zetterberg – 210th Overall, Detroit Red Wings
It is almost unfathomable that a player as great as Henrik Zetterberg was not selected until the seventh round. He is the quintessential example of an NHL "diamond in the rough", but was par for the course when it came to the Detroit Red Wings finding and obtaining hidden talent later in draft rounds.
Zetterberg may very well be the all-around best player drafted in 1999. He played 15 seasons in a Red Wings uniform, and seemed to possess all of the skill in the world. In 1,082 regular season games, Zetterberg scored 337 goals, 623 assists and 960 points. He scored double digits in goals, assists and points in each of his 15 seasons.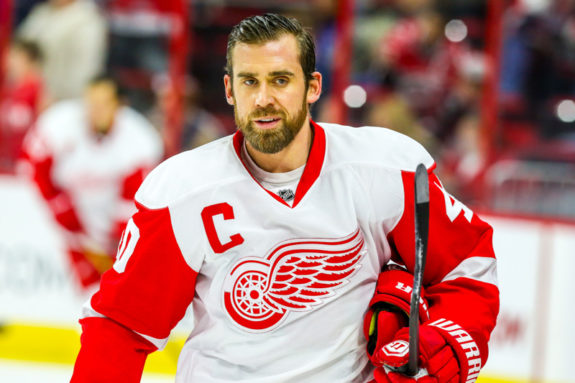 Zetterberg helped the Red Wings to a Stanley Cup victory in 2007-08. That season he led his team in goals with 43, which was also a career-high for the Swede. En route to the Cup, Zetterberg would be the recipient of the Conn Smythe Trophy as the Most Valuable Player in the playoffs. He scored 13 goals and 14 assists for 27 points in 22 games as the Red Wings hoisted Lord Stanley.
Zetterberg would ensure Detroit an opportunity to defend their title in 2008-09. Though they would lose in a second trip to the Cup Final, Zetterberg still scored better than a point per game.
His final individual accolade was being the recipient of the King Clancy Memorial Trophy in 2014-15 as the player who best exemplified leadership qualities on and off the ice, and who made a significant humanitarian contributions to his community.
Like the Sedins, Zetterberg should one day see enshrinement in the Hockey Hall of Fame.
This article was originally published in July, 2019.
The post 1999: The Worst NHL Draft Class Ever? appeared first on The Hockey Writers.
Sports League Management
Start using it today
It's FREE!
Start