Published on Wednesday, July 29, 2020
89
Reads
0
Comments
Who is the NHL's Top Goaltending Prospect?
If NHL teams collect and possess assets, then elite goalie prospects are like Vincent van Gogh paintings: They're either extremely rare or—in most cases—a knock off.
Top-notch goalie prospects are valuable because netminders develop somewhat unpredictably. As you'll see in the list below, draft slot does not always equal talent. Some of the NHL's best netminders were selected in later rounds. On the flip side, there have been plenty of first- and second-round busts over the past decade.
Related: The Best Goalies in NHL History
With that being said, the NHL's best goaltending prospects rose up through a variety of developmental paths. Some were highly touted netminders at an early age. Others took the road less traveled to become elite prospects.
To identify the NHL's top young goalies, I evaluated several netminders on an array of physical and technical attributes using a 20-80 rating scale, with 50 being average. Below are my top 10 goalie prospects, plus a few who just missed the cut.
Graduated to the NHL
Three goalies from last year's edition of this list have now established themselves in the NHL:
Thatcher Demko – Vancouver Canucks
Igor Shestyorkin – New York Rangers
Ilya Samsonov – Washington Capitals
Which netminders will be the next to graduate to the NHL?
Just Outside the Crease
These goalies were close to cracking the top 10, but ultimately fell short. Fear not, they still have bright futures ahead of them.
Michael DiPietro – Vancouver Canucks
Ukko-Pekka Luukkonen – Buffalo Sabres
Alex Nedeljkovic – Carolina Hurricanes
Jeremy Swayman – Boston Bruins
Filip Gustavsson – Ottawa Senators
10. Justus Annunen – Colorado Avalanche
Age: 20
Height: 6-foot-4
Weight: 207 pounds
2019-20 Stats:
Kärpät (Liiga): 23 GP – 1.77 GAA – .929 SV%
Finland (WJC): 6 GP – 2.57 GAA – .921 SV%
There's a lot to like about Justus Annunen. The Colorado Avalanche prospect has great lateral movement and tracks the puck well. In addition, his crease adjustments are very smooth as he's following play in close. If there's a knock on his skating, it's that he tends to overcommit and lose the crease from time to time, though he's generally economical with his movements. His rebound control could be better as well, but that's something that can be refined over time.
With Kärpät, Annunen paired with Patrik Rybar to dominate Liiga, Finland's top league. In fact, Annunen led the league in goals-against average (GAA) and save percentage (SV%). Not bad for a 20-year-old.
Annunen will return to Kärpät for the 2020-21 campaign and, after another season of development, could come to North America for the 2021-22 season.
9. Pyotr Kochetkov – Carolina Hurricanes
Age: 21
Height: 6-foot-1
Weight: 176 pounds
2019-20 Stats:
SKA St. Petersburg (KHL): 6 GP – 2.62 GAA – .887 SV%
SKA-Neva St. Petersburg (VHL): 2 GP – 1.95 GAA – .940 SV%
Vityaz Podolsk (KHL): 8 GP – 3.09 GAA – .917 SV%
Russkie Vityazi Chekhov (MHL): 2 GP – 3.50 GAA – .908 SV%
Statistically speaking, Pyotr Kochetkov's 2019-20 season was not very impressive. He bounced around between Russian teams and leagues, before finally sticking with Vityaz Podolsk, where he'll compete with returning starter Ilya Yezhov for playing time later this year when the KHL's 2020-21 season kicks off.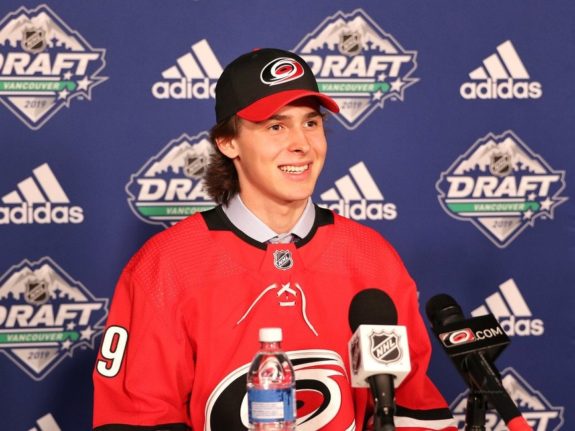 But from a technical standpoint, Kochetkov is quite talented. He uses his edges very well to adjust around the crease and burst laterally. In addition, his tracking and reflexes jumped out as above average. Kochetkov also has a wide butterfly and covers the bottom half of the net well, giving shooters little room in tight.
That said, the netminder still has room for improvement. Kochetkov tends to stretch for the puck out of his butterfly in response to a broken play rather than adjusting within his butterfly stance. This can leave him vulnerable sprawled out on the ice. I've also seen him favor the short side on a few occasions following a cross-ice pass. Nonetheless, Kochetkov has the athleticism to be an effective NHL goalie down the road – he just needs to polish a few aspects of his game.
8. Connor Ingram – Nashville Predators
Age: 23
Height: 6-foot-2
Weight: 196 pounds
2019-20 Stats:
Milwaukee Admirals (AHL): 33 GP – 1.92 GAA – .933 SV%
When watching Connor Ingram, two traits about his goaltending jump out: his cool, calm, and collected composure and his ability to get great depth on shooters. Speaking to the latter attribute, Ingram moves around the crease well and does a great job minimizing open net by cutting off the angle. Overall, he's super efficient with his movements, which makes up for his lack of explosiveness. However, Ingram's ability to track the puck through traffic is average at best.
With Pekka Rinne quickly approaching 40, it won't be long until Ingram joins Juuse Saros in Nashville. He'll likely start the 2020-21 season in the AHL since he is waivers-exempt, but could force the Predators to give him a few NHL starts with even more stellar play in the minors. Nashville should be strategic with their use of Ingram, though. He's a prime candidate to be selected by Seattle when they hold their expansion draft next summer.
7. Hugo Alnefelt – Tampa Bay Lightning
Age: 19
Height: 6-foot-3
Weight: 183 pounds
2019-20 Stats:
HV71 (SHL): 18 GP – 2.57 GAA – .905 SV%
HV71 J20 (SuperElit): 4 GP – 2.95 GAA – .903 SV%
While researching the 2019 draft, I became a huge fan of Hugo Alnefelt. Sweden's next great netminder has the potential to be an NHL starter and will likely figure into many international competitions over the next decade-plus.
Alnefelt's greatest strength is his skating. He has above-average lateral push strength and navigates the crease well. But perhaps his best skating attribute is his adjustment to play around him. Alnefelt's edgework is terrific. He makes tiny adjustments to stay square and seal off the bottom of the net effectively. Alnefelt's elite pivoting, adjusting, and edgework makes the randomness of hockey that takes place in front of him a little easier to manage.
In addition, Alnefelt gets good depth as he's tracking the puck in preparation for a shot. His rebound control is solid – his quick glove doesn't drop many pucks. My one knock on Alnefelt is that he can be somewhat complacent with his stick positioning. Otherwise, he's as technically sound as they come.
6. Dustin Wolf – Calgary Flames
Age: 19
Height: 6-foot-0
Weight: 161 pounds
2019-20 Stats:
Everett (WHL): 46 GP – 1.88 GAA – .935 SV%
It's time to give Dustin Wolf some credit. The WHL netminder had to wait until the seventh round of the 2019 NHL Draft to hear his name called. Twenty-one goalies went ahead of him. And only one ranked above him on this list.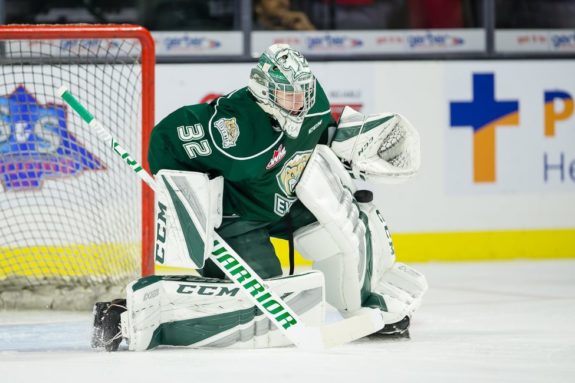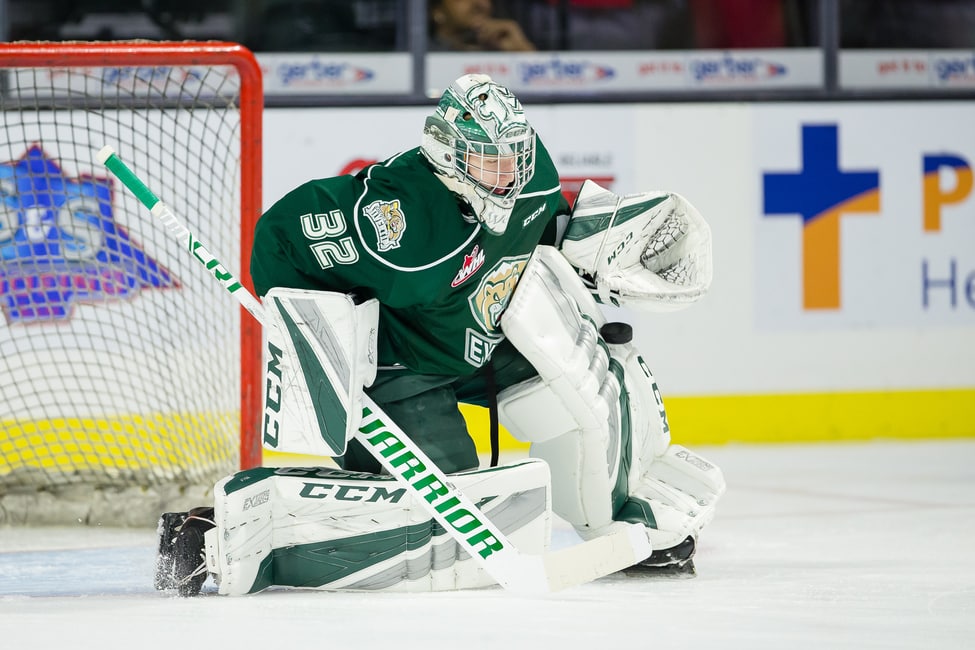 The fact is, Wolf has absolutely dominated the WHL over the past two seasons, finishing with sub-2.00 GAA both years. The pride of Tustin, California effortlessly glides around the crease and has above-average lateral push strength. Additionally, Wolf has great poise in net. He has confidence in his save selection strategies and decision-making, which are both terrific attributes of his.
To reach the next level, Wolf needs to track the puck better through traffic. He already does a good job seeing through screens and reading the play when the puck is in tight – he just needs to apply that tracking better when the puck is around the perimeter. In addition, Wolf's rebound control needs some improvement. Based on my viewings, he gives up too many juicy rebounds off his chest and far-side leg pad. However, these attributes can be addressed through practice. Wolf already has the strength, poise, and intangibles to be a successful goalie. He just needs to refine a couple things.
5. Jake Oettinger – Dallas Stars
Age: 21
Height: 6-foot-4
Weight: 212 pounds
2019-20 Stats:
Texas Stars (AHL): 38 GP – 2.57 GAA – .917 SV%
In his first full season of professional hockey, Jake Oettinger was impressive for the Texas Stars. The netminder produced respectable numbers for a below-average AHL team and has shown improvement since the start of the year.
"[Oettinger]'s more efficient with his movements and has tracked pucks better through traffic; he's using his body more to make saves through traffic and his rebound control, which was already good, is even better."

–Sean Shapiro (from 'Goalies get into a groove on Day 2 of Stars camp, but who will be No. 3?' – The Athletic – 7/14/20)
Based on my viewings, I agree with Shapiro's assessment and would add that Oettinger shows great poise in net. He generally looks confident and does a good job picking his spots to be aggressive. From a technical perspective, Oettinger has a tendency to stretch for the puck out of his butterfly when play is in close; pivoting and adjusting minimizes open space and allows the goaltender to move freely as play develops. Other than that—and average lateral movement—Oettinger looks the part of a future NHL goalie who could join the Dallas Stars sooner rather than later.
4. Cayden Primeau – Montreal Canadiens
Age: 20
Height: 6-foot-3
Weight: 198 pounds
2019-20 Stats:
Montreal (NHL): 2 GP – 2.52 GAA – .931 SV%
Laval (AHL): 33 GP – 2.45 GAA – .908 SV%
In net, Cayden Primeau plays big. And that's not just because he's 6-foot-3. Stylistically, Primeau resembles Ben Bishop. He also plays like Tuukka Rask in the sense that both stay in butterfly on the ice as long as possible, unlike other goalies who prefer to pop back up to their feet right away.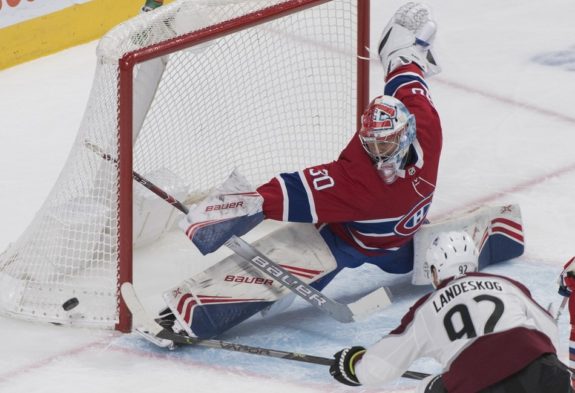 With this style, Primeau seals off the bottom of the net remarkably well and prefers to play deep in the crease. His passive approach has proven to be effective thus far, including a two-game stint with the Montreal Canadiens. In addition, Primeau tracks the puck well and displays good edgework while following the play.
However, Primeau's adjustments to broken plays are a little delayed. The netminder could also stand to be a little more aggressive with play in tight and his rebound control is average at best. That said, Primeau has the lateral push strength and reflexes needed to fix these trouble spots and become a solid NHL starter. The Canadiens are lucky that this talented goaltender fell into their lap in the seventh round of the 2017 draft.
3. Spencer Knight – Florida Panthers
Age: 19
Height: 6-foot-3
Weight: 192 pounds
2019-20 Stats:
Boston College (NCAA): 33 GP – 1.97 GAA – .931 SV%
Sergei Bobrovsky may be entrenched as the starter now, but it won't be long until the Florida Panthers have a goaltending controversy on their hands. That's how good Spencer Knight is. The netminder just wrapped up his freshman year at Boston College, where he was named to the Hockey East All-Rookie Team.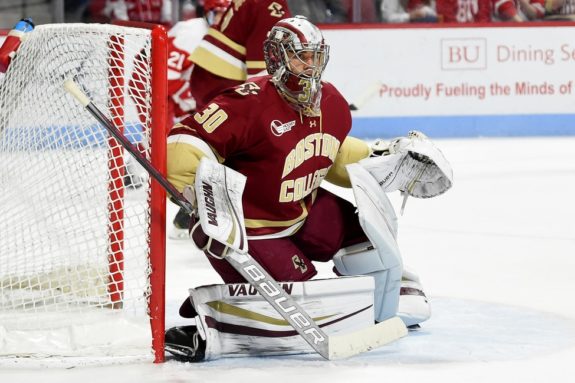 In net, Knight shows tremendous poise. His calmness stems from excellent awareness and angles. Knight always knows where he is in relation to the net and puck.
In addition, Knight has good, but not powerful lateral pushes and generally tracks the puck well. He still needs to learn to follow the puck through traffic and arrive at the shooter square in a consistent manner. But when play is in front of him, Knight knows he has the upper hand. He also covers the net well in tight.
There isn't much for Knight to improve besides tracking the puck through traffic and getting physically stronger. Florida's top goaltending prospect has a bright future in ahead of him.
2. Ilya Sorokin – New York Islanders
Age: 24
Height: 6-foot-2
Weight: 176 pounds
2019-20 Stats:
CSKA Moskva (KHL): 40 GP – 1.50 GAA – .935 SV%
New York's newest stud Russian goalie comes to North America with quite a track record. Ilya Sorokin has not recorded a GAA above 2.00 at the KHL level since the 2014-15 season. He's also a five-time KHL All-Star and owns more hardware than Home Depot:
2015-2016 KHL Goaltender of the Year
2018 Olympic Gold Medal
2019 KHL Playoffs MVP
2019 KHL Gagarin Cup Champion
3 World Championship Bronze Medals
Sorokin also has 44 shutouts in 244 KHL games. It's safe to say that the 24-year-old has accomplished quite a bit in his young professional career.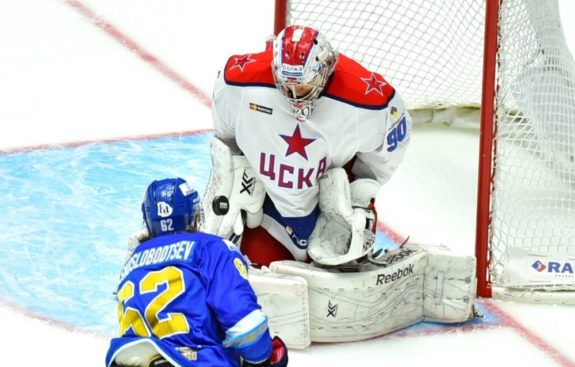 From a technical standpoint, Sorokin tracks the puck very well and does a great job of covering the bottom half of the net when play is in tight. He's able to adjust or pivot quickly and effectively in response to passes or broken plays out of his butterfly. I like Sorokin's quick twitch reflexes as well, whether that's getting more of his body in front of the puck or reacting while moving laterally. Speaking to the latter example, Sorokin generates powerful pushes to move across the crease and quickly square up to the shooter.
The one knock against Sorokin is that he can be careless with his stick at times, flailing it around as he moves to his glove side. Patient shooters will notice that this leaves his five-hole exposed. That's really the only thing you can harp on, though. Sorokin is a highly talented netminder who will likely garner Calder Trophy consideration after the 2020-21 season.
1. Yaroslav Askarov – 2020 Draft Eligible
Age: 18
Height: 6-foot-3
Weight: 176 pounds
2019-20 Stats:
SKA St. Petersburg (KHL): 1 GP – 2.00 GAA – .920 SV%
SKA-Neva St. Petersburg (VHL): 18 GP – 2.45 GAA – .920 SV%
Make no mistake, Yaroslav Askarov is the real deal. Russia's next elite goaltending prospect is projected to go in the first round of the 2020 draft and has future NHL All-Star written all over him.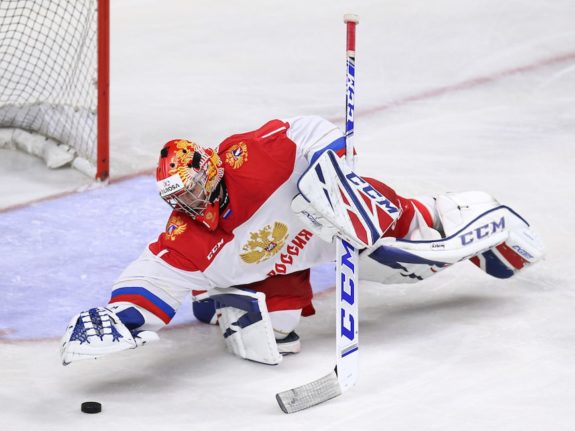 Apart from a disastrous World Junior Championship (as an underager, no less), Askarov has been lights out on the international stage for the Russians. He was also spectacular for SKA St. Petersburg in his KHL cameo, producing a few highlight-reel saves en route to a 3-2 victory.
From a technical standpoint, Askarov already displays advanced decision-making and skating for his age.
"He's a rare talent in net who can steal games. He's a long, flexible and fast athlete. He has quick-twitch reflexes in net. He has great anticipatory hockey sense and elite movement skills. He's the closest thing I've seen to Marc-Andre Fleury."

–NHL scout to The Athletic's Corey Pronman (from 'Pronman's scouting report: Why goalie Iaroslav Askarov is a top NHL prospect' – The Athletic – 6/10/20)
Expect Askarov to be an elite NHL netminder in a few years. Whichever team takes him in the first round of the upcoming draft can say with certainty that they have their blue chip goalie of the future.
Related: Yaroslav Askarov – 2020 NHL Draft Prospect Profile
Final Word
As is the case with the 10 goalies above, teams can find elite prospects in all rounds of the draft. Some have top-notch athleticism and others excel with minimal, efficient crease movement.
This year, we saw three netminders graduate to the NHL. Expect a few more to follow suit during the 2020-21 season.
Stats courtesy of EliteProspects.
The post Who is the NHL's Top Goaltending Prospect? appeared first on The Hockey Writers.
Sports League Management
Start using it today
It's FREE!
Start