Published on Friday, August 7, 2020
44
Reads
0
Comments
Penguins Need to Make These Lineup Moves to Keep Cup Hopes Alive
While a whole city and fanbase debate about the who the starting goaltender should be for the Pittsburgh Penguins, there are four other players who should be inserted into the lineup for the remainder of the qualifying round against the Montreal Canadiens if the Penguins want to avoid an early exit from the playoff bubble in Toronto.
Sam Lafferty Should Remain in Lineup
The attribute that Sam Lafferty brings to the table is speed, which fits in perfectly with the Penguins system. The 25-year-old grew up in Altoona, only two hours outside of Pittsburgh, and idolized Mario Lemieux. He made his NHL debut this season and played 50 games for the Penguins before the league pause. He was shuffled back and forth from the AHL's Wilkes-Barre Scranton Penguins this season and he started the season off strong posting five points in his first four games.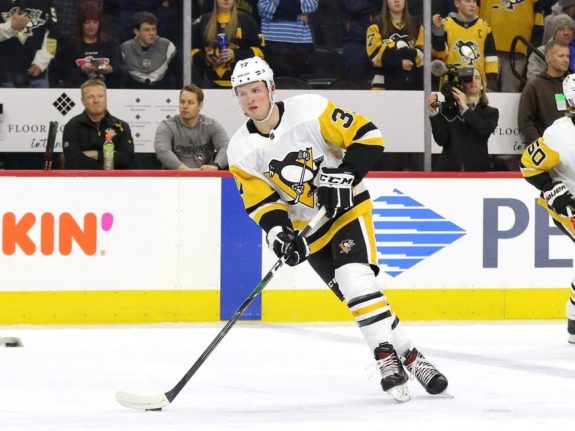 Lafferty's scoring touch dried up and he only had eight points in his next 46 games, finishing with six goals and seven assists. The rookie forward was also helpful on faceoffs, taking 236 draws and winning 49.6 percent of them. He finished his rookie season with a plus-five rating and racked up 95 hits, with 17 blocks. 
Lafferty was inserted in Game 3 centering the third line with Patrick Marleau and Patric Hornqvist, replacing Jared McCann. While only playing 7:40, he recorded four hits which led the team along with Brandon Tanev who played over 13 minutes. The Penguins would be better suited to have two scoring lines and two aggressive forechecking lines to help force Montreal into mistakes and penalties.
Evan Rodrigues Provides Center Depth
Evan Rodrigues is 27 years old and has a total of 199 NHL games under his belt. He was acquired in a trade along with Conor Sheary at the end of February to help provide forward depth to an injury-riddled Penguins club. Last season in Buffalo he posted career highs with 74 games played, scoring 9 goals and20 assists. With forwards Nick Bjugstad (back) and Dominik Simon (left shoulder) sidelined following surgeries, Rodrigues has become the team's 13th forward and can serve many roles.
Related: Pittsburgh Penguins' 10 Best Defensemen in Team History
During the team's training camp, he saw time at both right-wing and center filling in for Sidney Crosby on the top line. He also adds value as a rare right-handed center able to take faceoffs in the right circle in the defensive zone.
"I pride myself on being able to play all three positions and up and down the lineup," Rodrigues said Saturday, via video chat. "That versatility is something I bring to the table and will, hopefully, help out this team. Anything I can to, obviously, help us win games and take us to the ultimate goal of winning the Stanley Cup, I'm willing to do." (From 'Versatility has increased value for the Penguins and Evan Rodrigues' Trib Live, 07/21/2020).
Rodrigues should be inserted as the third-line center sliding Lafferty to the wing where he can be freed up for a more aggressive forechecking role. This move should send the 40-year old Marleau to the bench because at this point the Penguins need speed and aggressiveness to take the pressure to the Canadiens.
Chad Ruhwedel Can Help Solidify Defense
Chad Ruhwedel is a 30-year-old veteran defenseman who has 18 playoff games on his resume, including 12 during the Penguins 2017 Stanley Cup run.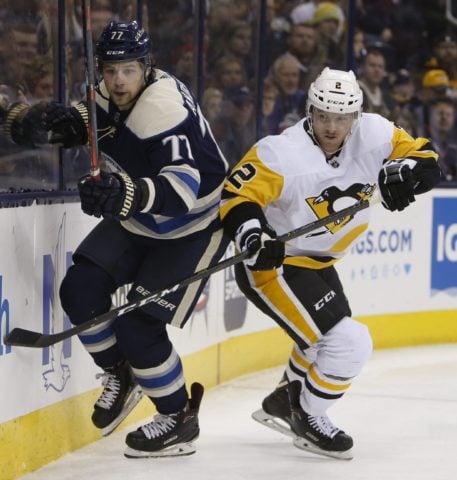 This season Ruhwedel has played in 41 games for Pittsburgh and scored two goals along with four assists and finished with a plus-four rating, but offensive numbers are not what he's there for. The veteran proved to be a dependable option on the blueline this season when the Pens' regular defensemen kept going down with various injuries. Kris Letang, Justin Schultz, John Marino, and Brian Dumoulin missed a combined 83 games. When the Penguins were in trouble on defense, Ruhwedel ended up playing 41 of the final 48 games before the pause. 
Ruhwedel should replace Jack Johnson who had a minus-three rating in Game 3. He would anchor the third defensive pairing and has the experience in big playoff games to handle the role. The best attribute about this move is eliminating the costly mistakes in the Penguins' own zone which as at times left goalie Matt Murray in too many bad situations.
Juuso Riikola Could Provide Power Play Spark
In two seasons with the Penguins, Juuso Riikola played in 73 games with 12 points (three goals, nine assists) and a plus-six rating. He does not have any NHL playoff experience. Since the start of the 2017-18 season, he has been a healthy scratch in 71 of the 144 games he's been on the roster. In an emergency, he can even play forward having appeared at left-wing earlier this season when the team was ravaged with injuries.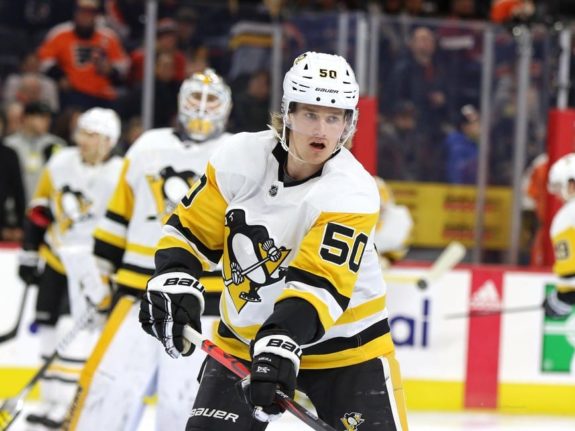 One area where Riikola seemed to stand out in his limited usage was the second power-play unit. He possesses a lethal one-timer from the point and he regularly was used on the left point because of his shot.
Riikola should join Ruhwedel on the third defense pairing, and also should see time with the second power-play unit, sending Justin Schultz to the bench, who was a minus-two in Game 3 and only has one assist in the series.
Facing elimination against an underdog opponent that is gaining confidence, the Penguins can not just show up for Game 4 and potentially Game 5 and assume they will win because they are the more talented team. These bold lineup moves would help establish the speed and hunger that the Mike Sullivan teams played with during the Cup runs in 2016 and 2017.
The post Penguins Need to Make These Lineup Moves to Keep Cup Hopes Alive appeared first on The Hockey Writers.
Sports League Management
Start using it today
It's FREE!
Start