Published on Tuesday, September 8, 2020
60
Reads
0
Comments
Spencer Knight is the Panthers' Future in Net
With the Florida Panthers out of the running for Lord Stanley's Cup, it is only natural that we take a look ahead. The NHL Entry Draft is the next major checkpoint for the Panthers, a chance to add a prospect or two that may impact the franchise for years to come.
As we wait for the draft, we take the time to look at the prospects that are already in the system. By understanding what the future looks like, it gives us a little better idea of where the Panthers may go with the 13th overall pick in the 2020 NHL Entry Draft. It may also give us a better idea of who could be making an impact in South Florida next season.
Next up in our series is the 13th overall pick from the 2019 draft, goaltender Spencer Knight.
Making His Name
Knight really burst onto the scene as a major contributor for the USA Hockey National Team Development Program. During the 2018-19 season in particular, Knight was a standout. His 2.36 goals-against average (GAA) and .913 save percentage (SV%) in 33 games helped put him on the map.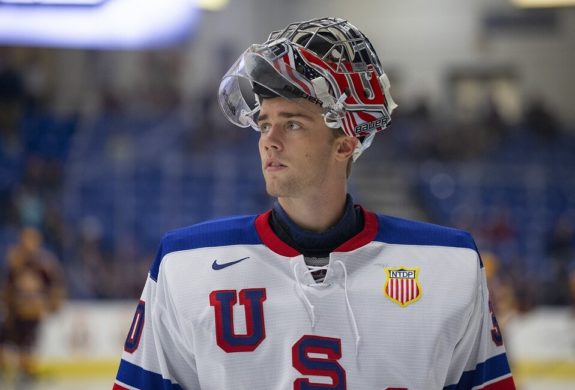 It may have been his performance during the 2019 IIHF U18 World Championships that he really made his mark. During the tournament, he posted a 1.51 GAA and .936 SV% to lead Team USA to a bronze medal.
Related: Top 10 NHL Goalie Prospects
Amidst all of Knight's on-ice accomplishments, his commitment to Boston College for 2019-20 also helped his draft stock. Because of the volatility of the goaltending position, as well as the time that it can take for prospects to develop, his rankings fluctuated. Most services had him in the late teens and early twenties. Outliers had him as high as 14th overall while another as low as 34th overall.
2019 NHL Draft
Despite entering the draft as the clear cut number one goaltender, there were many questions about just where Knight would fall. Would someone risk a high draft pick on a goaltender knowing that he may not be able to jump in for two or three years? Would he fall to the end of the first round or possibly out of it because of the question marks surrounding taking a goaltender?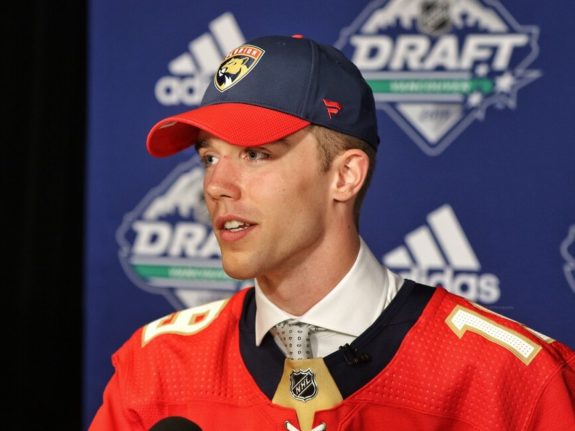 Heading into the draft, there were only a couple of certainties. One, that USNTDP center Jack Hughes would go first overall to the New Jersey Devils. The second was that Finnish power forward Kappo Kakko would be taken at number two by the New York Rangers.
The Panthers delivered something of a shocker by taking Knight with the 13th overall pick. They clearly had their eye on the future of their crease with the pick, though they would add what you could call an insurance plan later in the summer, signing big-time free agent Sergei Bobrovsky away from the Columbus Blue Jackets.
Scouting Report: Talent
Knight certain looked the part of a big-time NHL goaltender at just 18-years-old, standing 6-foot-3 and weighing in at nearly 200 pounds. That is a prototype netminder frame in today's NHL and it also leaves him a little bit of room to grow.
Knight has been known to use his size quite well, challenging shooters aggressively. He also keeps himself quite straight, taking away portions of the net when he faces down a shooter. He has been lauded for his rebound control, something that younger netminders tend to struggle with.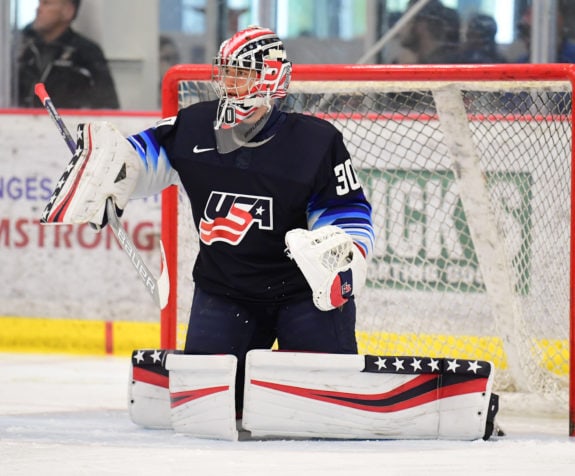 Despite the fact that he is still very young and has room for improvement, Knight is far ahead of the curve in terms of where most goaltenders are at this stage in their careers. His anticipation and ability to read the play, plus a lightning-fast glove hand, make Knight the kind of goaltender that could become a franchise cornerstone.
Scouting Report: Mental Makeup
Knight has earned comparisons to Montreal Canadiens' goaltender Carey Price and for his size, talent, and cool demeanor. He doesn't panic when there is a lot of traffic around the net, keeping himself ready to make the next save.
Having a calm, collected netminder can be a beacon for teammates and just knowing that he is back there can help them get out of holes and overcome adversity. He's also a known leader, helping to instruct the defenders that play in front of him.
The only area he has been questionable in is when he doesn't face a lot of action. Knight has trouble being focused to face the few shots he might see in a given night, although he likely won't have another squad quite as dominant as the NTDP has been in recent years.
What He's Been Doing Since the Draft?
Knight took over the starting role at Boston College as soon as he showed up on campus. Starting 33 games for the Eagles, Knight posted an impressive 1.97 GAA and .931 SV% in his freshman campaign. He topped that off with a World Junior Championship performance of 2.49 GAA and a .913 SV%.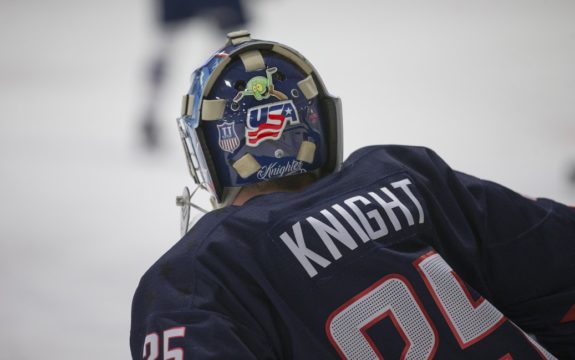 He's done nothing to slow down the hype behind him and is still projected to be a franchise-caliber goaltender for the Panthers in the future. Just how far into the future is the real question mark?
What's Next for Knight?
For the time being, Knight will continue to man the nets at Boston College while contributing to the US' international efforts. With the signing of Bobrovsky, still in his early 30s and commanding a hefty salary, there won't be a pressing need to move Knight to South Florida.
Related: Pavel Bure – A Tribute to the Russian Rocket
It should be expected that he will play at least into his junior season at Boston College and will then move on to the American League provided nothing major happens with Bobrovsky. If the latter fails to live up to expectations as he did in 2019-20, there could be an opening for Knight sooner rather than later.
---
---
The post Spencer Knight is the Panthers' Future in Net appeared first on The Hockey Writers.
Sports League Management
Start using it today
It's FREE!
Start