Published on Tuesday, September 8, 2020
49
Reads
0
Comments
Blue Jackets' All-Time Goals-Per-Game Leaders
To win in today's NHL, a team needs to score goals. And to score, they need players who can consistently put the puck past the opponents' goaltenders, game in and game out. In the 20-year history of the Columbus Blue Jackets, only seven players have averaged more than one goal every three games during their tenures with the team. Ever. Regardless of how many or how few games they played for the team.
That goals-per-game average of .333 amounts to just over 27 goals in an 82-game season. A number of Blue Jackets have scored more than 27 goals in a single season, but haven't kept up that pace throughout their time in Columbus. For example, in 2015-16, Boone Jenner netted 30 goals, but in his career (489 regular-season games over seven years, all with the Blue Jackets), he's averaged only .2311 goals per game.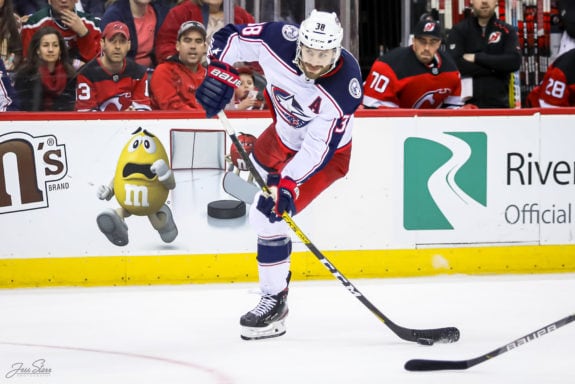 And let's keep things in perspective: averaging a goal every three is not a particularly high bar. During the 2019-20 season, more than 50 players scored at a higher rate, led by Mika Zibanejad's .719 (41 goals in 58 games) and Alex Ovechkin's .706 (48 in 68). Among them was Blue Jacket Oliver Bjorkstrand, whose abbreviated 49-game season produced 21 goals (.429), tops for the team during the season.
7. Geoff Sanderson .3372 (88 goals in 261 games)
Geoff Sanderson was acquired in the 2000 Expansion Draft from the Buffalo Sabres, the first forward selected by the Blue Jackets. He was reunited with Kevin Dineen (claimed in the Expansion Draft from the Ottawa Senators), a linemate from the early '90s Hartford Whalers. (The third member of that Whalers' group, Andrew Cassels, joined them in Columbus in 2002.)
Related: Is Blue Jacket Gavrikov Exempt From Expansion Draft?
Sanderson led the Blue Jackets' scorers in two of their first three seasons with 30 and 34 goals, respectively. He played only 42 games in the team's second season, scoring 11 goals. Prior to the arrival of Rick Nash, he was considered the "go-to" scorer for Columbus. Sanderson was sent to Vancouver in March 2004 for a third-round pick, but returned for a brief stint in 2005-06, whereupon, after two games, he was part of a five-player trade with the Coyotes.
6. Steve Heinze .3384 (22 in 65)
Steve "Heinze 57" (for his jersey number in Columbus) was one of the original Blue Jackets, claimed in the Expansion Draft from the Boston Bruins, for whom he scored 131 goals in 515 games (.2544). Despite being the second-leading goal scorer (behind the man before him on this list) for the Blue Jackets during their inaugural season, he was sent to the Buffalo Sabres for a third-round draft pick.
Heinze's time in Columbus is likely most notable for when he was slashed in the schnoz by Brad May (then of the Phoenix Coyotes), whose 20-game punishment is one of the 10 longest suspensions in NHL history.
4-T. Artemi Pananin .3438 (55 in 160)
Known as more of a playmaker than a goal scorer, Artemi Panarin still managed to put up 27 and 28 goals in his two years as a Blue Jacket. During those seasons, he led the team in assists (over 50 each year) and points (over 80). In 2017-18, his 27 goals were good for first on the team and he finished second to Atkinson's franchise record-tying 41 the following season.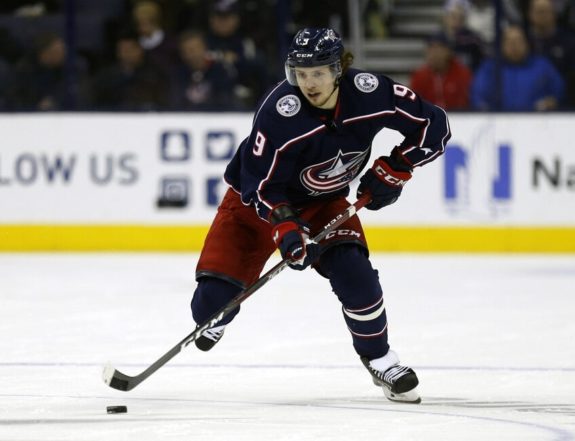 Panarin joined the Blue Jackets following a trade with the Chicago Blackhawks. Interestingly, the primary pieces of the trade were Panarin and the man with whom he's tied on this list, Brandon Saad. Panarin left Columbus as a free agent in the summer of 2019, signing a seven-year, $81.5 million contract, with an average annual value of $11.642 million. That's just about double the largest Blue Jacket contract for 2019-20. In 69 games last season, he scored 32 goals for the Rangers (.4638).
4-T. Brandon Saad .3438 (55 in 160)
Saad, a second-round draft pick of the Calgary Flames, started his professional career with the Blackhawks in 2011-12. After four years in Chicago, during which he scored 61 goals in 162 games (.3765) he was traded to the Blue Jackets in a seven-player, one-draft pick deal, with the key piece headed to Chicago being Artem Anisimov.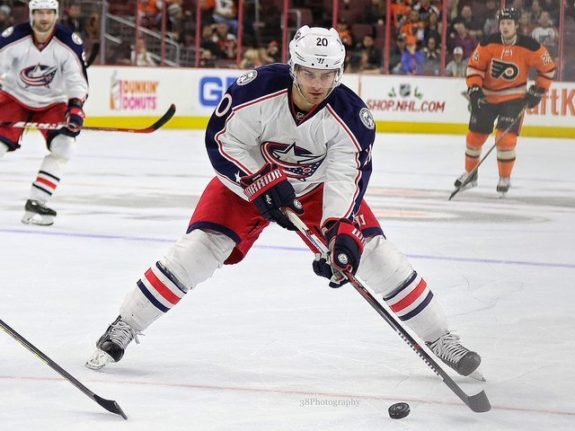 During his two seasons in Columbus, he scored at a slightly lower pace than his first stint in Chicago. In the summer of 2017, Saad was on his way back to Chicago (with Anton Forsberg and a fifth-round draft pick) in exchange for Panarin (with Tyler Motte and a sixth-round pick). Back with the Blackhawks, Saad has scored 62 goals in 220 games (.2818).
3. Cam Atkinson .3468 (198 in 571)
Atkinson's 41 goals in 2018-19 tied the team record (with Nash) for goals in a season. Among all-time Blue Jackets, he is second to Nash in goals scored, games played, and points. Next season (assuming he's still in Columbus), he'll pass Nash and become the first Blue Jacket to play on the team for 10 seasons.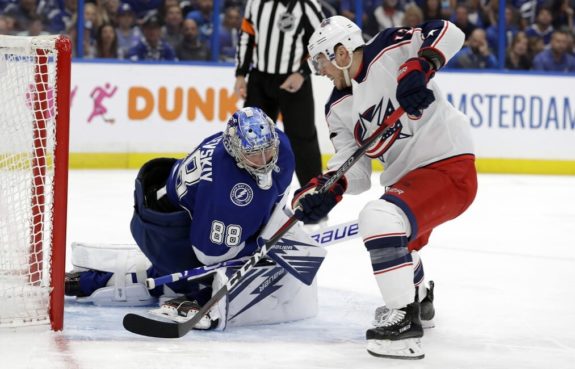 Atkinson needs 103 games in Columbus to catch Nash for the lead in games played. Even if he can continue to score at his career rate, he'll still need 208 games to pull ahead in goals scored.
2. Jeff Carter .3846 (15 in 39)
Carter's brief and unhappy stay in Columbus was bookended by years with the Philadelphia Flyers and the Los Angeles Kings. In addition to the 39 games he played for the Blue Jackets, he missed another 21 due to injury.
Related: Kings Acquire Jeff Carter From Blue Jackets
Lost in the noise of his trade from Columbus to Los Angeles was his final game as a Blue Jacket. He scored a hat trick in a 6-3 win over the San Jose Sharks on Feb. 21, 2012. It was his second hat trick for the Blue Jackets and one of only 10 games in which he scored for the team.
1. Rick Nash .4288 (269 in 674)
It's probably no surprise to Blue Jackets fans that Nash leads this list. The former No. 1 overall draft pick (2002) was the first true Blue Jackets superstar. His 41 goals in 2003-04 were tied with Jarome Iginla of the Calgary Flames for the NHL lead and the Maurice "Rocket" Richard Trophy, award to the league's leading goal scorer. Interestingly, Nash shares an NHL record with Richard – they are the only two players in the modern era to score unassisted hat tricks: three goals, each without assists. Nash accomplished the feat on March 7, 2009, against the then-hated rival Detroit Red Wings.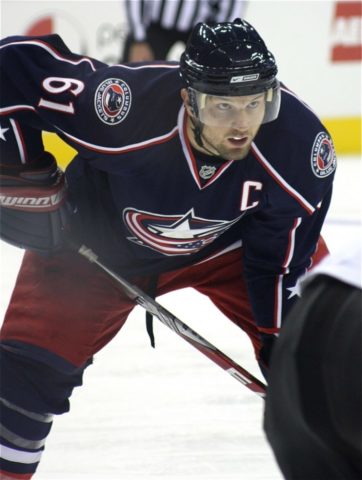 Nash's career goal-scoring average of .4123 includes six seasons with the New York Rangers and one with the Boston Bruins. He retired following the 2017-18 season due to concussion-related symptoms and later joined the front office of the Blue Jackets as Special Assistant to General Manager Jarmo Kekalainen. I suspect we'll see his No. 61 raised to the rafters of Nationwide Arena in the not too distant future.
Honorable Mention: Active Blue Jackets
Here are a number of current Blue Jackets players who didn't make the cut:
Pierre-Luc Dubois: 65 goals in 234 games (.2778)
Oliver Bjorkstrand: 65 in 246 (.2642)
Josh Anderson: 65 in 267 (.2434)
Nick Foligno: 135 in 557 (.2423)
Boone Jenner: 113 in 489 (.2311)
Zach Werenski: 58 in 300 (.1933)
Several are up-and-coming young players, who very well may make it into this group someday. Foligno and Jenner, on the other hand, are established players, who likely will fall farther off the list as their careers wind down.
---
---
The post Blue Jackets' All-Time Goals-Per-Game Leaders appeared first on The Hockey Writers.
Sports League Management
Start using it today
It's FREE!
Start