Published on Wednesday, September 9, 2020
52
Reads
0
Comments
Blackhawks News & Rumors: Crawford, Suter & More
In the Chicago Blackhawks' world, we have some exciting developments. Since the club's playoff run ended, our eyes have been focused on what is to come, including free agency, trades, and the draft. The league just released new dates to go along with those three events. We also have new contract offers, more players being loaned overseas, and a bit of offseason fun to share. Here's the latest from Chicago:
New Dates
For those that didn't see, we finally got the official dates of when the NHL Draft and free agency will commence.
You heard Frank. Make sure you keep these dates in mind because they are less than a month away! What is sure to come beforehand will certainly be a treat for fans.
Crawford Contract
We figured going into the offseason that goaltender Corey Crawford's free agency status with the Blackhawks was going to get worked through rather quickly. General manager Stan Bowman made a point of saying that the goaltending situation was at the top of their priority list and it showed. because we now have an offer on the table.
On, Sept. 8, it was reported that the Blackhawks offered Crawford a one-year, $3.5 million deal.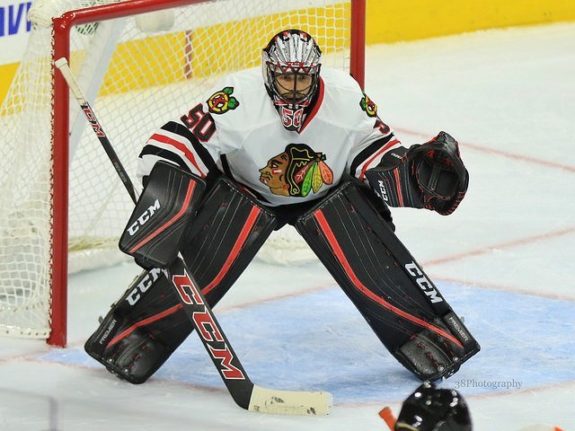 This offer looks like what most would expect Crawford to get from the team. He already got his big payday with the six-year, $36 million contract that he signed with Chicago back in 2013. So, Crawford was not going to demand a fortune. But, this is probably the best the Blackhawks could offer him with them only having $7 million in cap space right now. Now the question remains: will Crawford accept the deal?
Related: Longest Stanley Cup Droughts
Crawford mentioned in his exit interview that a short-term deal would be better for his next contract (from 'Corey Crawford wants to re-sign with Blackhawks, says salary 'not as important' as playing time', Chicago Sun-Times, 08/25/2020). One year is definitely short-term. But, the one thing that the Blackhawks are also battling is competition. There are a lot of teams right now that need goaltending, including the Colorado Avalanche and Calgary Flames.
Crawford, despite being 35 years old and having gone through some major injuries, is still a great goalie. This season, he posted a .917 save percentage with a 2.77 goals-against average. It seems like a given that teams in need of goaltending may offer more than what the Blackhawks have. However, I believe that Crawford will accept Chicago deal, anyway. It looks like we will have to wait and see.
Suter Headed Overseas
Another day, and another prospect headed across the pond. Center/left-wing Pius Suter is headed back to his home country of Switzerland. The Blackhawks announced on Sept. 8 that they have loaned Suter to the CGK Lions. This makes him the fifth player that Chicago has loaned so far.
Suter was signed by the Blackhawks as a highly coveted free agent on July 16, as Chicago beat out nine other NHL teams to sign him. The 24-year-old is known for leading the Swiss National League in goals last season, posting 30 goals, 23 assists, and 53 points in 50 games for the ZSC Lions. Bowman said that Suter is in the team's plans for next season. So, look for him to make a big impression in training camp.
Keith's Adventures
Lastly, on Sept. 3, defenseman Duncan Keith posted an update on Twitter to share what he has been up to.
It's so nice to see Keith and his son enjoying the offseason together in Canada. If you follow Duncan's social media, then you may be aware that he is a big outdoorsman. This makes his post all the more fitting!
What Next?
It looks like things are starting to get ramped up this offseason. Stay tuned for more updates on Crawford's status, the draft, trades, and more!
---
---
The post Blackhawks News & Rumors: Crawford, Suter & More appeared first on The Hockey Writers.
Sports League Management
Start using it today
It's FREE!
Start