Published on Saturday, September 12, 2020
43
Reads
0
Comments
Potential Blue Jackets' Trade Partners: Calgary Flames
Welcome to the fourth part of our Columbus Blue Jackets Trading Partners mini-series. So far we've explored three interesting Canadian teams where there could be a potential match. In case you missed those, you can read about Montreal, Toronto and Winnipeg.
Today we stay in Canada but continue to head west and visit the great province of Alberta. We will spend parts four and five in Alberta as we review both the Calgary Flames and Edmonton Oilers.
Changes Coming to Calgary?
What's going to happen in Calgary this offseason? After another early playoff exit, rumors have been rampant for a while that a big change could be coming. It seems the Flames are good enough to get to the big dance but they're not good enough to do anything once they get there.
The question here is how big will the changes be? The one thing we know for certain is that there will be some kind of changes. Even if they decide to keep the core in tact, which could still happen by the way, the Flames have a long list of free agents.
Here is their current list of free agents.
Andrew Mangiapane (RFA)
Mark Jankowski (RFA)
Oliver Kylington (RFA)
Tobias Rieder (UFA)
Zac Rinaldo (UFA)
Travis Hamonic (UFA)
Derek Forbort (UFA)
Michael Stone (UFA)
Erik Gustafsson (UFA)
T.J. Brodie (UFA)
Cam Talbot (UFA)
This is not an all-inclusive list as it doesn't count the other pending free agents in the minors. So yes, there is a lot of business to attend to for GM Brad Treliving.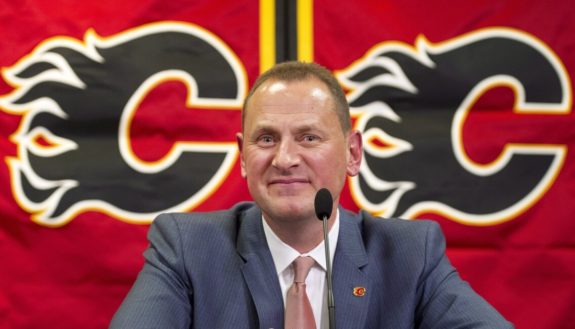 So how will the Flames proceed? All eyes will be watching them as they have some of the highest chances of an explosive trade.
The Columbus Blue Jackets will monitor this too. With Matthew Tkachuk perhaps the safest Flame, that leaves Johnny Gaudreau and Sean Monahan as the two potential targets for a bigger trade.
Johnny Gaudreau's Down Season
Let's start with Gaudreau. He will enter the 2020-21 season with two years left on his deal at $6.75 million per season. He had his worst statistical season in 2019-20 scoring just 18 goals in 70 games. He also finished with 58 points which is a 41-point drop from a season ago.
We need to consider why this sudden drop. On the surface, he did have his worst shooting percentage of his career at 8.6%. His career average is 12.1%. That suggests this could be a one-off situation and a rebound would be expected.
But let's dig into this more. All advanced stat numbers are courtesy of Nat Stat Trick. Gaudreau had the most ice time on the Flames at 5-on-5. Despite starting over 61% of the time in the offensive zone, his CF% finished just over 50% so almost break even. And his xGF% finished at 48.78%.
It was clearly a down year for Gaudreau's standards. But what was concerning was seeing the amount of inconsistency in his game. There were times you had to look at the scoresheet just to make sure he was playing.
Recall earlier in the season the Flames had a huge issue they had to deal with in former head coach Bill Peters. He resigned from the Flames at the end of November while there was an investigation into the use of a racial slur from one of his former players Akim Aliu. In came Geoff Ward to finish off the season.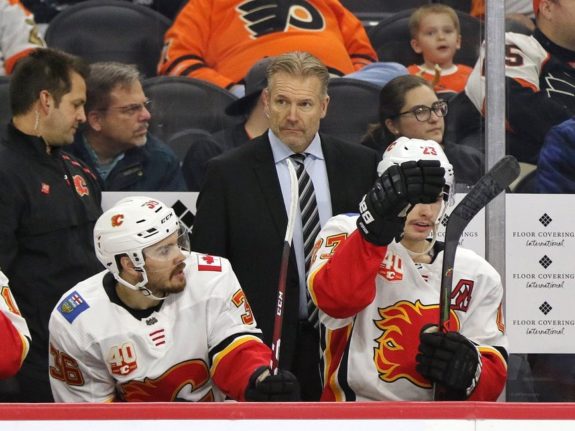 Ward was named as the interim head coach. This was also his first time as a head coach after spending time as an assistant coach with Boston, New Jersey and Calgary. A question we need to consider now is the possible effect of the system implemented by Ward on the team?
Here are Gaudreau's point totals by month this season.
October: 3-10-13 (15 games)
November: 2-6-8 (14 games)
December: 5-5-10 (13 games)
January: 3-6-9 (10 games)
February: 3-11-14 (14 games)
March: 2-2-4 (4 games)
Under Peters, Gaudreau had a line of 5-15-20 in 28 games. Under Ward, he had a line of 13-25-38 in 42 games. Ward's first game was on Nov 30. So there was some improvement under Ward but still under what we normally see from Gaudreau.
When Ward first came on, the Flames became the hottest team in hockey winning his first seven games. Even despite the winning, Ward made some adjustments to the lines. This included putting Gaudreau on the third line while Mangiapane and Dillon Dube were put in the top-six. This initially worked for Gaudreau but he still found himself well short of what's normally expected.
The question the Flames need to consider is can they get to the next level with Gaudreau on the team? With him being a UFA in two years, it's an important question to answer. Is he a part of the future plans of the Flames?
As for the Blue Jackets, they should only pursue Gaudreau if the price is right. I'm not trading Seth Jones, Zach Werenski or Pierre-Luc Dubois for him. I would expect the Flames to ask about one of these three in any deal. They need a high-end defender among other things. They also need more scoring (but who doesn't?)
The Flames are looking for now help but without Jones, Werenski or Dubois, I'm not sure the Blue Jackets have what the Flames want. Would they be interested in a Josh Anderson? Would they look at one of the goaltenders? Maybe. Talbot is a UFA and David Rittich has one more year left on his deal. Would Joonas Korpisalo being included in a deal spark any kind of talk? I'm just not feeling that.
Sean Monahan's Situation
Monahan is in a similar situation. He has three years left at $6.375 million per season. But of note, he has a modified no-trade clause that kicks in at the start of the 2020-21 season. If the Flames wanted to move him before that kicks in, this offseason would be the time to do it. Gaudreau does not have any kind of trade protection in his contract.
Monahan would be of interest to the Blue Jackets for the simple fact that he is a center would complement Pierre-Luc Dubois as a 1-2 punch down the middle.
But like Gaudreau, Monahan's production took a severe dip from 82 points to 48 points. He also started 60% of the time in the offensive zone but found himself under 50% in xGF.
The glaring thing about Monahan this season is that while his shooting percentage didn't drop off like it did for Gaudreau, the shot volume did drop. Monahan went from 211 shots to 166. He still shot 13.3%.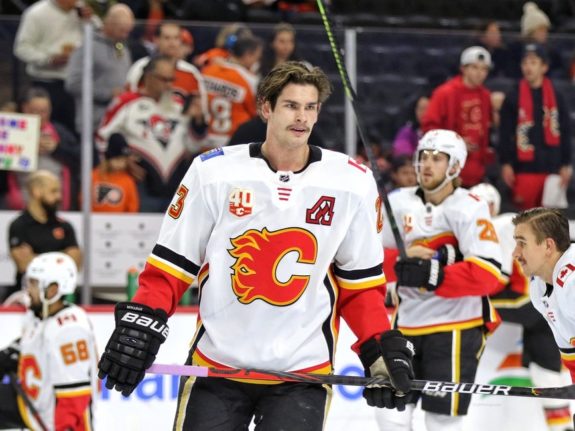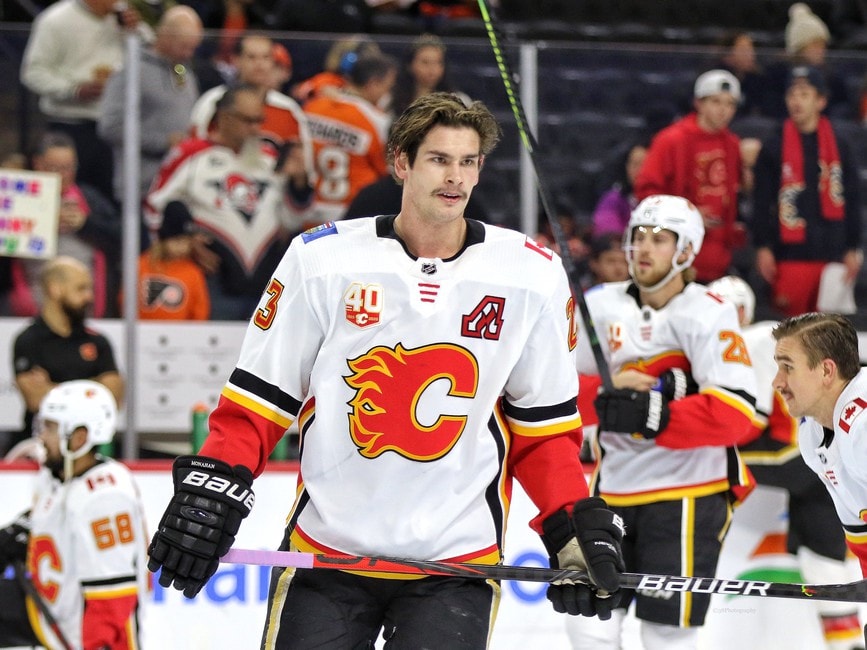 In Conclusion
Both stars had their worst offensive season to date. Both are much better than they've shown. But unless the price is reasonable, I don't see the Blue Jackets trying to do anything here. While they are good players, the price would be too much for them given what the Flames need. This isn't as much of a match as the other teams we've explored. The Blue Jackets should still inquire, but don't hold your breath on anything happening with the Flames involving these two stars. If anything, watch if the Philadelphia Flyers try to do something with Gaudreau. It would bring him closer to home after all.
Stay tuned for part five as we head north and we will tackle the Edmonton Oilers.
The post Potential Blue Jackets' Trade Partners: Calgary Flames appeared first on The Hockey Writers.
Sports League Management
Start using it today
It's FREE!
Start