Published on Saturday, September 12, 2020
52
Reads
0
Comments
Do You Know Your Jets 1.0 Trivia?
Were you a die-hard fan of the Winnipeg Jets 1.0? Think you know everything there is to know about the first incarnation of the NHL team? Let's find out. We've dug into the past to create three rounds of trivia about the great players and moments in the franchise's history.
Be sure to scroll slowly, or you'll ruin the fun for yourself!
Round 1: Easy
1) What year was Jets 1.0's first season?
A: 1980-81
B: 1982-93
C: 1979-80
D: 1978-79
Answer:
C: 1979-80. The Jets, along with the Edmonton Oilers were absorbed into the NHL along with the Edmonton Oilers, Hartford Whalers, and Quebec Nordiques in the NHL – WHA Merger in early 1979 and began play the following fall. They posted a 20-49-11 record in their inaugural campaign.
2) Who Was the Jets 1.0's All-Time Leading Scorer?
A: Thomas Steen
B: Paul MacLean
C: Keith Tkachuk
D: Dale Hawerchuk
Answer:
D: Dale Hawerchuk. The man affectionately known as "Ducky," drafted first overall in 1981, racked up 379 goals and 929 points with the Jets in 713 games nine seasons and became the face of the franchise in the process.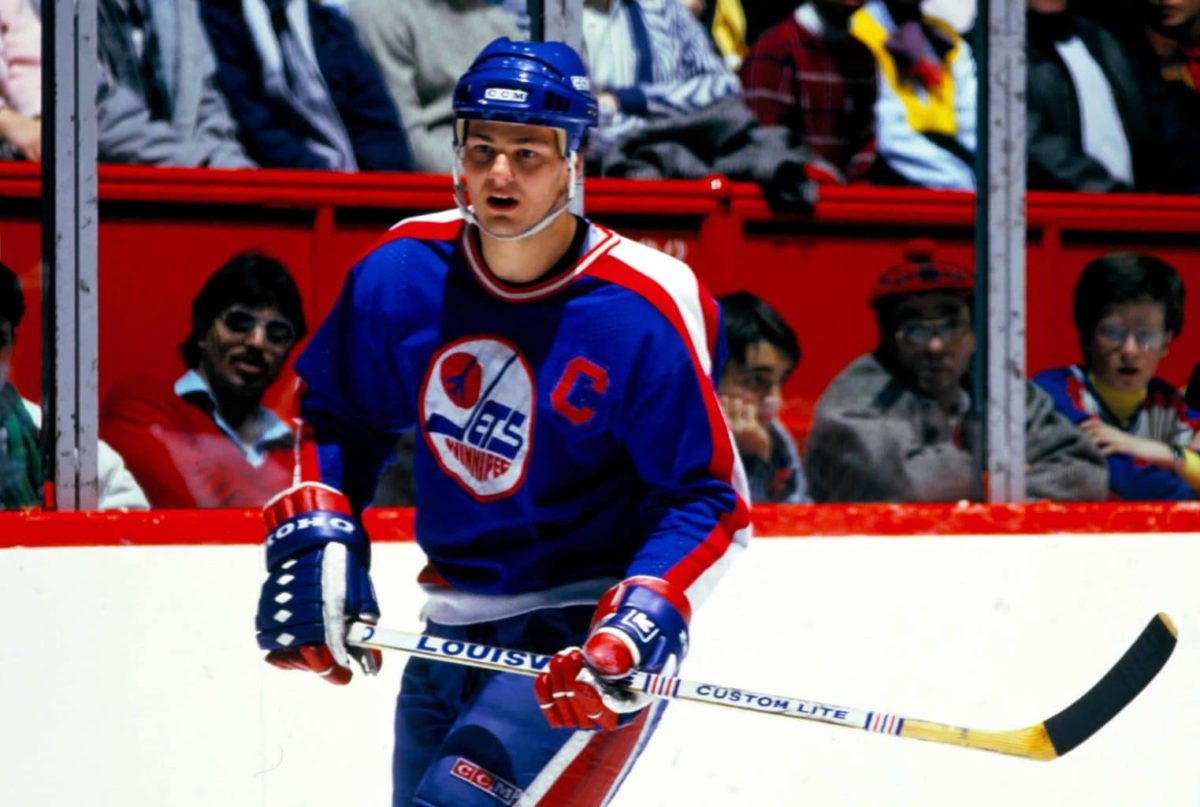 An intelligent, versatile, and extremely skilled player, Hawerchuk recorded 100-plus points in five separate campaigns, including 103 in his Calder Trophy-winning 1981-82 rookie season.
Related: Revisiting Dale Hawerchuk's Calder-Winning Rookie Season
Hawerchuk passed away from cancer in August, 2020 at the age of 57, but his name is indelibly etched in the Jets 1.0's history books and will sit at the top of their all-time points leaderboard forever.
3) How Many Goals Did Teemu Selanne Score in His 1992-93 rookie season?
A: 50
B: 76
C: 79
D: 64
Answer:
B: 76. The Finnish Flash — undoubtedly the Jets 1.0's best draft pick of all time — was dominant like no NHL rookie before him, and shattered Mike Bossy's record of 53 on his way to the Calder Trophy. It's a record that will never be broken.
Related: Teemu Selanne's Unbeatable Record
That campaign was just the beginning of Selanne's decorated, Hall of Fame career. He recorded 1457 points in 1451 games over 21 seasons, and won a Maurice "Rocket" Richard Trophy, Bill Masterson Memorial Trophy, and a Clarence S. Campbell Bowl in the process.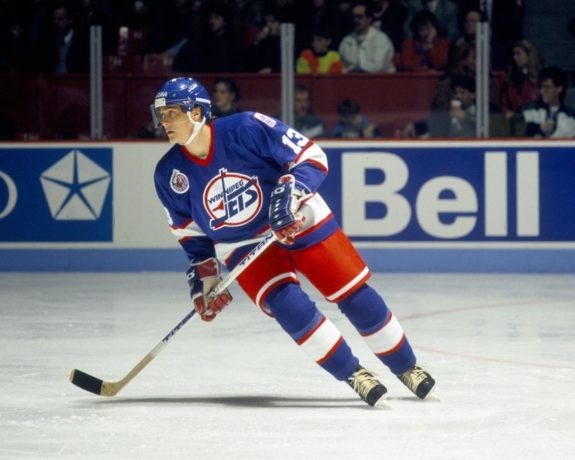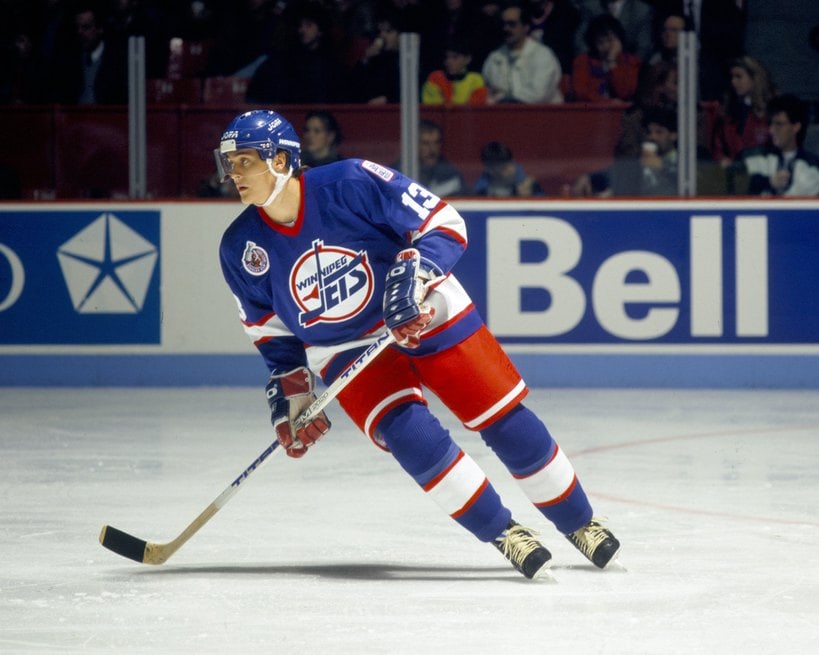 He was also 10-time All-Star, and most importantly, hoisted hockey's Holy Grail on June 6, 2007 when the Anaheim Ducks won the Stanley Cup.
4) What Was the Jets 1.0's Final Season in Winnipeg?
A: 1996-97
B: 1995-96
C: 1997-98
D: 1994-95
Answer:
B: 1995-96. A combination of a poor Canadian Dollar and economy, decrepit arena, and inability to find a local buyer were all factors in the Jets being sold in January 1996 to a group of businessmen who moved the team to Phoenix and rebranded them as the Coyotes.
5) Who Was the Last Remaining Active NHLer to Have Played for the Jets 1.0?
A: Chad Kilger
B: Shane Doan
C: Nikolai Khabibulin
D: Jason Doig
Answer:
B: Shane Doan. Chosen seventh overall by the Jets in the 1995 NHL Entry Draft, Doan played 71 games for the the Jets in their final season before spending 1469 games over 20 seasons in Glendale, becoming the Coyotes' all-time scoring leader in 2015 and captaining the squad between 2003-2017. Don retired at the end of the 2016-17 season.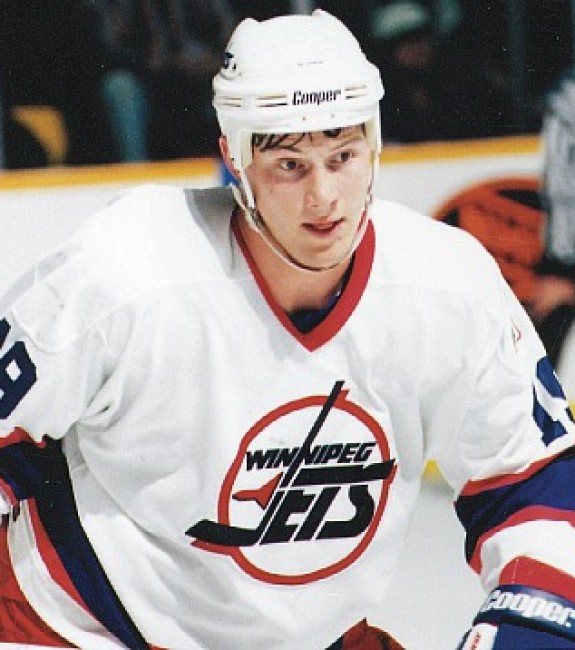 Kilger last played in 2007-08 for the Toronto Maple Leafs, Khabibulin last played in 2013-14 for the Chicago Blackhawks, and Jason Doig's last NHL stint was in 2003-04 for the Washington Capitals.
Round 2: Moderate
1) Who Is the Jets 1.0's All-Time Winningest Goalie?
A: Bob Essensa
B: Joe Daley
C: Pokey Reddick
D: Bryan Hayward
Answer:
A: Bob Essensa. He backstopped the Jets to 116 wins between 1988-1994, and is also the franchise's all-time leader in shutouts with 14.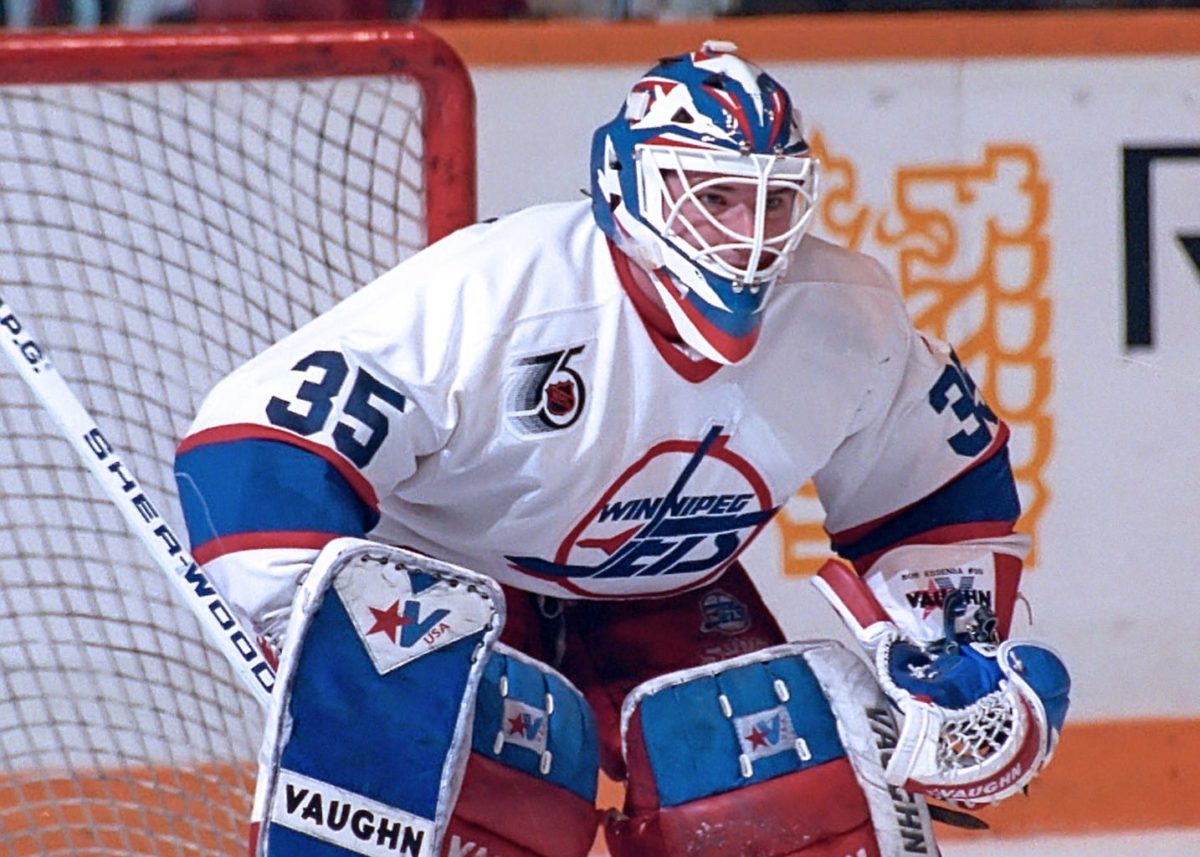 Hayward is second all-time in wins with 63, Reddick notched 41, and Joe Daley never suited up for the Jets in their NHL Days. He retired after winning the Avco Cup with the Jets in the final WHA season.
2) Who Is the Jets 1.0 Leader in All-Time Penalty Minutes?
A: Jim Kyte
B: Tie Domi
C: Laurie Boschman
D: Randy Carlyle
Answer:
C: Laurie Boschman. While all four of the players had at least 700 PIMs with the Jets and certainly didn't shy away from physicality or fisticuffs in the rough-and-tumble NHL of the 80s and 90s, Boschman spent the most time in the sin bin out of all of them, recording 1338 penalty minutes in 526 games. The most PIMs he recorded in a single Jets' campaign was 241 (in 1985-86, one of four times he had 200-plus in a season.)
Boschman was far from a no-talent goon though, despite dropping the mitts 49 times in a Jets jersey. An effective two-way centre, he actually also recorded 379 points for the team and had two 70-plus point campaigns.
3) How Many General Managers Did the Jets 1.0 Have in Their History?
A: Three
B: Four
C: Five
D: Seven
Answer:
A: Three. John Ferguson Sr. (inception to October, 1988), Mike Smith (October 1988 to January 1994), and John Paddock (January 1994 to relocation).
4) Which Jets' Captain Was Stripped of His C?
A: Kris King
B: Dave Christian
C: Keith Tkachuk
D: Lucien DeBlois
Answer:
C: Keith Tkachuk. The 1990 19th-overall pick was named captain in his sophomore season of 1992-93.
Just prior to the 1995-96 campaign, the rising star signed a lucrative offer sheet with the Chicago Blackhawks, but the Jets matched it within hours. That kept Tkachuk in Winnipeg, but did not the C on his chest, as they made Kris King captain instead.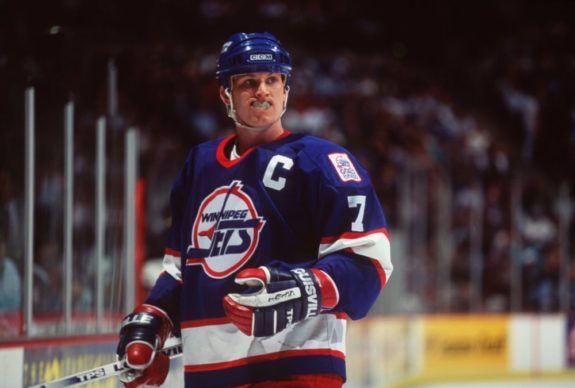 The Chicago Tribune's Robert Markus reported Tkachuk said "on numerous occasions that he would not play in Winnipeg again under any circumstances." However, the power forward took his game to another level despite the demotion, scoring 50 goals and falling two points shy of the 100-point plateau. (from 'Hawks' plan jettisoned; Tkachuk offer matched', Chicago Tribune, 10/04/95.)
Related: Winnipeg Jets' 50-Goal Scorers
5) Who Did the Jets Take With Their First-Ever Draft Pick (19th Overall, 1979?)
A: Dave Babych
B: Jimmy Mann
C: Thomas Steen
D: Andrew McBain
Answer:
B: Jimmy Mann, and he was a colossal bust.
Related: The Five Biggest First-Round Flops in Winnipeg Jets' History
The rugged right winger for the Sherbrooke Beavers of the QMJHL had shown flashes of offence for that team, but quickly found out that scoring in the NHL was far more difficult than in juniors. In his first season with the Jets, Mann managed a mere three goals and five assists in 72 games, but did lead the the NHL with 287 penalty minutes.
Mann turned out to be a pure goon made headlines for all the wrong reasons. In a game against the Pittsburgh Penguins in 1982, he sucker-punched Paul Gardner, knocking him out cold. Gardner suffered a broken jaw and a concussion as a result and the NHL suspended Mann for 10 games. He was also arrested by Winnipeg Police, and while he avoided jail time, he did end up with a criminal record for his actions as he pled guilty to assault charges.
Mann was eventually traded to the Quebec Nordiques. His career totals with the Jets: nine goals 12 assists, and 598 penalty minutes in 202 games.
Babych was chosen second overall in 1980, Steen was chosen in the fifth round the same year as Mann, and McBain was chosen eighth overall in 1983.
Round 3: Hard
1) Which of These Jets 1.0 Was Not From Sweden?
A: Thomas Steen
B: Fredrik Olausson
C: Teppo Numminen
D: Willy Lindstrom
Answer:
C: Teppo Numminen. The right-handed defenseman, who spent the first eight seasons of his career with the Jets, was born in Tampere, Finland (also the birthplace of current Jet, Patrik Laine.)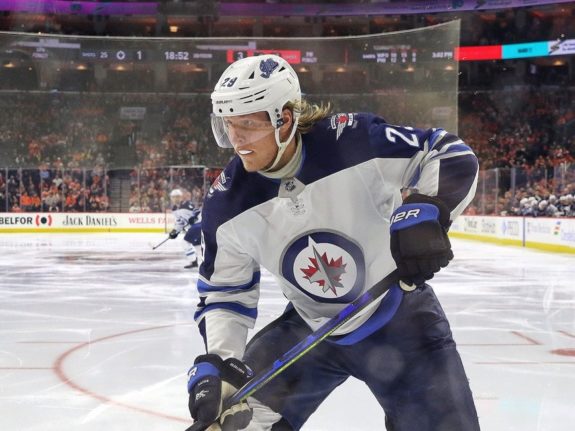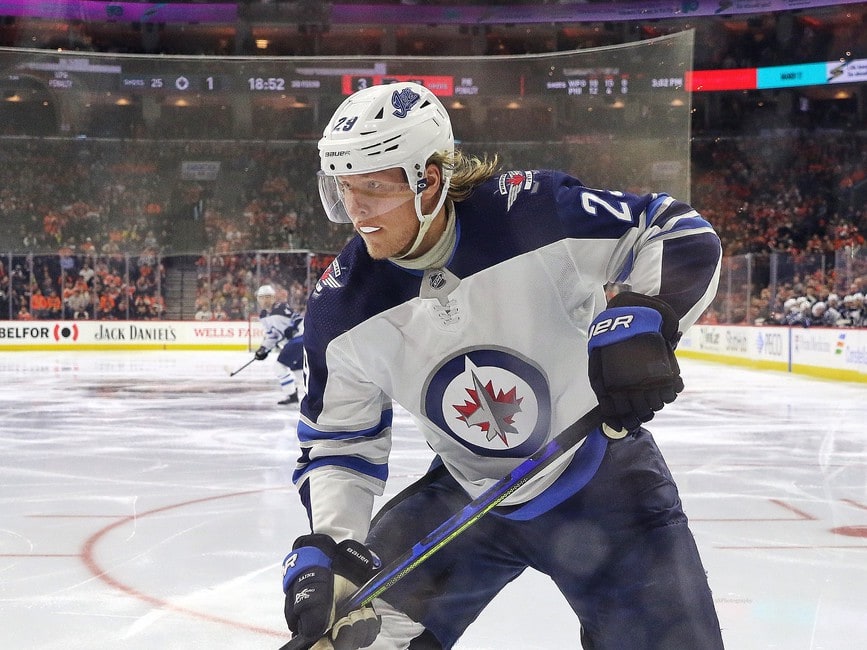 2) Why did GM John Ferguson Sr. Trade Dave Babych to the Hartford Whalers in 1985?
A: Babych scratched Ferguson Sr.'s car in the Winnipeg Arena parking lot
B: Ferguson Sr. thought Babych didn't play with enough meanness/intensity
C: Ferguson Sr. couldn't afford Babych's contract
D: Ferguson Sr. had a "no-facial hair" policy and Babych refused to shave his moustache
Answer:
B: Ferguson thought Babych didn't play with enough meanness/intensity. The defenseman Babych was a key figure in the Jets' progression as a franchise and was just entering his prime at age 24.
Despite being immensely popular with his teammates and fans alike, the second-overall pick had fallen out of favour with Ferguson Sr. Ferguson Sr. believed the blue liner was too passive and needed to play with more meanness and intensity, hence unceremoniously traded him to the Hartford Whalers in exchange for Manitoban forward Ray Neufeld on Nov. 21, 1985.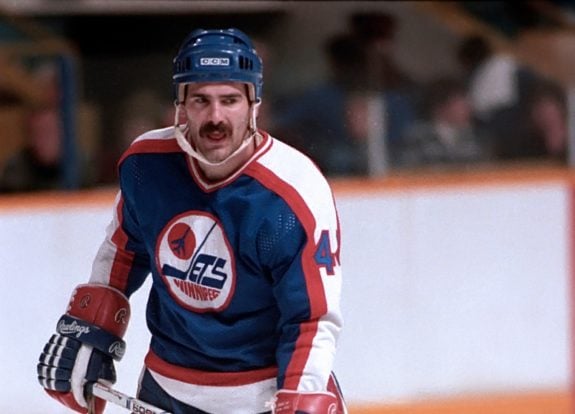 The trade was unilaterally panned and it left the Jets' d-corp depleted. The team was 8-9-2 when Babych was dealt but won just 18 more contests all season to finish 26-47-7, much worse than the season prior.
Related: Ones That Got Away: The Winnipeg Jets' Dave Babych
Babych went on to a long and successful career, while Neufeld didn't have a massive impact on the franchise at all and is fairly forgettable.
3) What Was Notable About Jets' Defenceman Jim Kyte?
A: He didn't start playing hockey until he was 18
B: He was also the team chef
C: He didn't make his NHL debut until he was 30 years old
D: He was legally deaf
Answer:
D: he was legally deaf, and is still the only NHLer ever to be.
Kyte was born with hearing, but when he was three years old, he was diagnosed with a hereditary condition that caused his audio nerve to degenerate.
But he refused to let his condition stop him from strapping on the skates. The big, tough defenseman played 399 games for the Jets after being drafted 12th overall in 1982 and wore hearing aids while on the ice, which required a special helmet to protect them.
"My dad always said, 'It may be a handicap, but it's not a disability,' " Kyte said of his deafness to The Hockey News in 2008. "You should be able to do anything you want to if you work hard enough at it and have the passion for it."
"I was a student of the game," he continued. "I knew the systems inside and out. I knew them just as well as the coaches did because I had to. I couldn't depend on players yelling my name, saying, 'I'm open!' as I understand some players can do, so I played a very positional game."
4) How Many Games Did the 1980-81 Jets Win?
A: 31
B: Six
C: Nine
D: 24
Answer:
C: Nine. The squad was abysmal in its early NHL days, as they had to give up most of their top scorers in a pretty unfair reclamation draft upon joining the league.
The worst season the Jets suffered through was 1980-81, where they captured only nine wins all season and set a dubious record by going thirty games without a win between Oct. 17 and Dec. 23 (23 losses and seven ties.) Some fans wore paper bags over their faces, but to their credit, they still showed up.
Related: Winless in Winnipeg: 1980-81 Jets Set Record Streak
The 9-57-14 season, while painful, had a huge silver lining. It led to the Jets being able to select Hawerchuk first overall, and the 18-year-old phenom's presence immediately turned the team into a contender.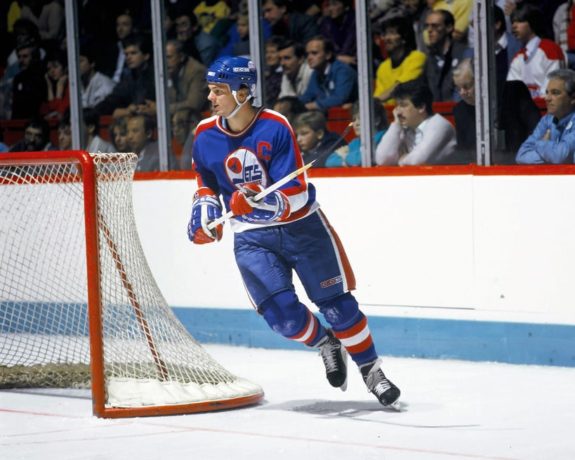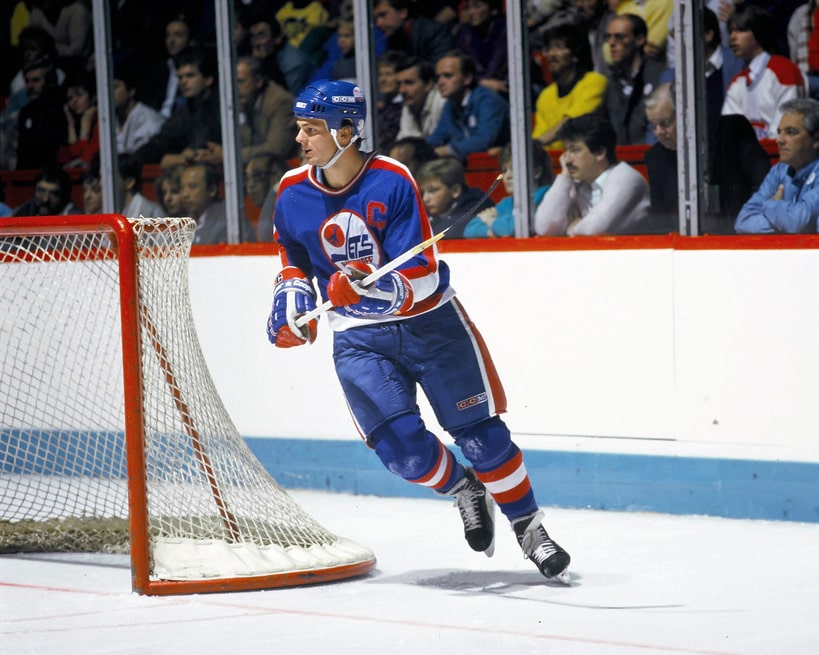 5) Who Scored The Last-Ever Jets' Regular Season Goal?
A: Eddie Olczyk
B: Darrin Shannon
C: Alexei Zhamnov
D: Mike Eastwood
Answer:
B: Darrin Shannon.
The goal was a pointless one, as it came with 12 seconds left in the third period of a 5-2 loss to the Mighty Ducks of Anaheim on April 14, 1996 at Arrowhead Pond.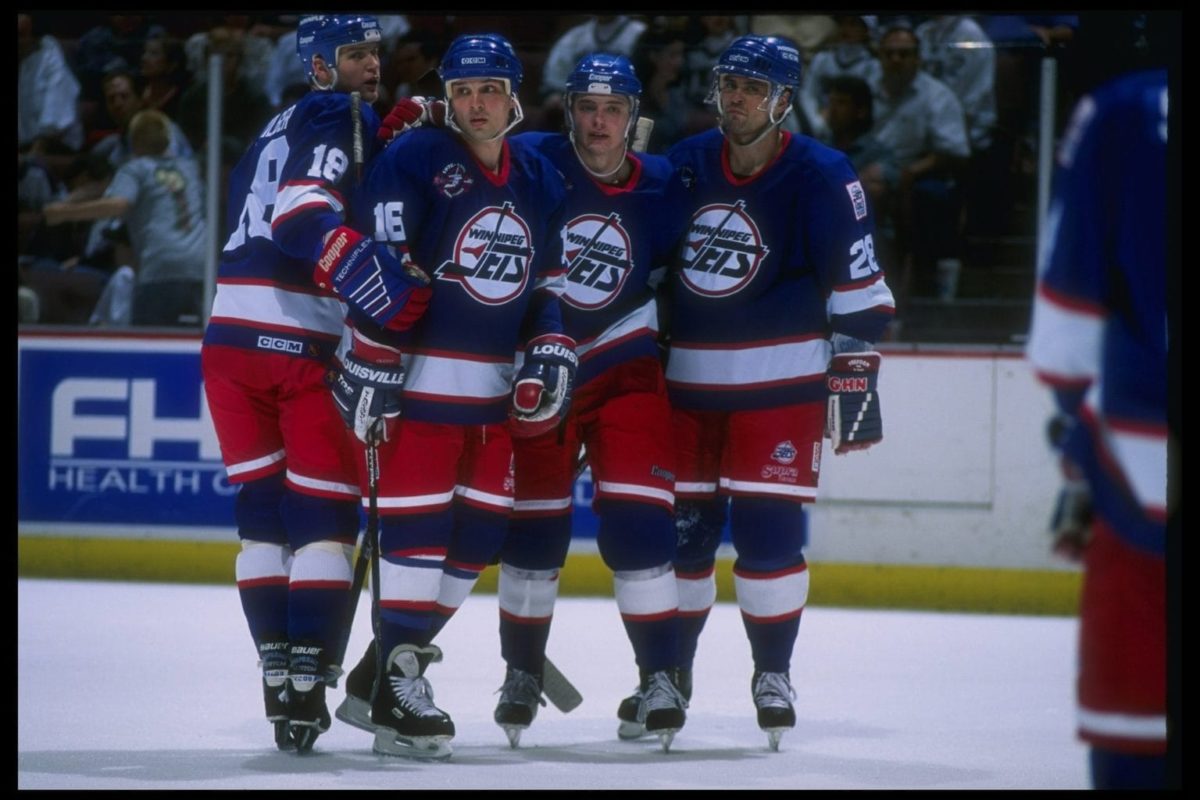 The loss represented a big missed opportunity. If the Jets would have won, they would have faced the Toronto Maple Leafs in the first round of the playoffs instead of the powerhouse Detroit Red Wings, who had gone a ridiculous 62-13-7 and featured Sergei Fedorov, Steve Yzerman, Paul Coffey, Nicklas Lidstrom, Chris Osgood, and others.
Related: The Original Winnipeg Jets' Last-Ever Regular Season Game
How did You Do?
Did you get most of them right? Did you know more or less about the Jets 1.0 than you thought? Regardless, we hope you had fun and learned a few things along the way.
---
---
The post Do You Know Your Jets 1.0 Trivia? appeared first on The Hockey Writers.
Sports League Management
Start using it today
It's FREE!
Start