Published on Saturday, September 12, 2020
32
Reads
0
Comments
Maple Leafs Can Add Forward Depth In Free Agency
We know the Toronto Maple Leafs top-six forward unit is one of the deepest in the league. They have incredible talent and skill that many teams would like to replicate. While you always look to your top players for offensive production, you still need to have support from the bottom six.
The Maple Leafs' bottom-six looked great at times, but also struggled to provide any sort of consistency throughout the regular season. Five of the team's six players who scored double-digit goals saw regular minutes in the top six. Kasperi Kapanen was the lone bottom-six forward to score more than 10 goals. Compared to the 2018-19 season, the Maple Leafs had four fewer players to score 10 or more goals.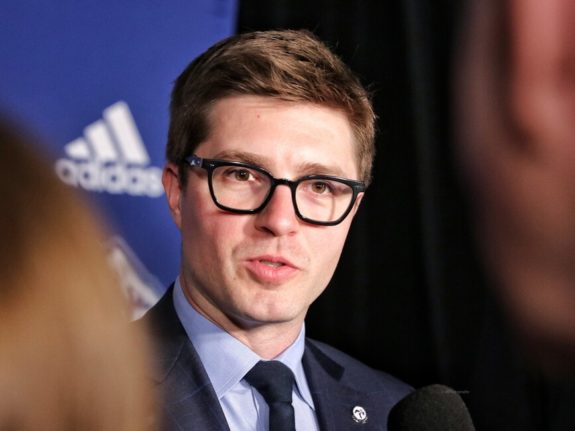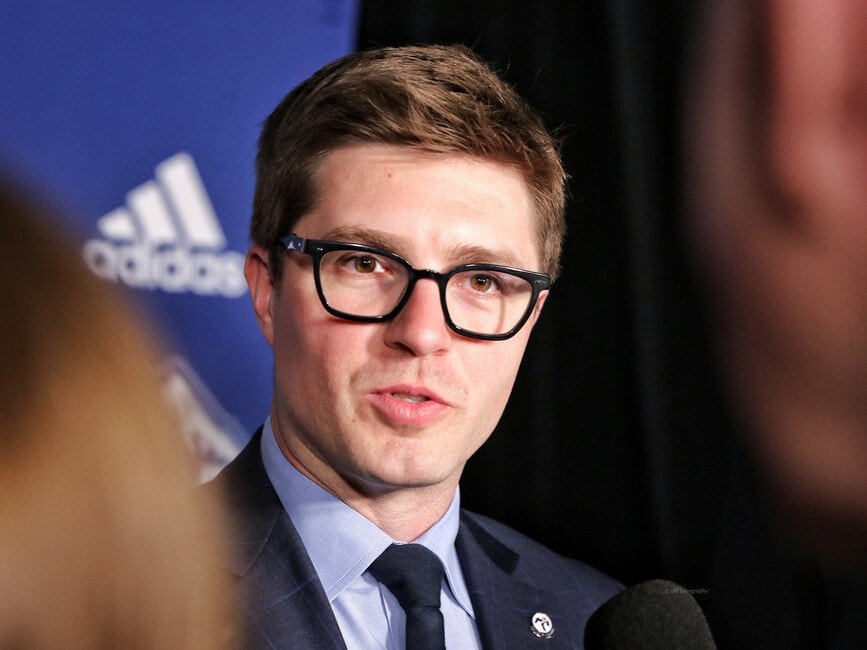 While having goalscoring in the bottom six helps, they were inconsistent throughout the regular season and playoffs in terms of effort and providing stability up front. After another disappointing postseason, it showed that there needed to be some retooling. While some movement needs to happen, there are plenty of names on the free-agent market that could benefit the team in those spots at cheap cap hits. Here are four names that the team could land to bolster their third and fourth lines:
Joe Thornton, C
2019-20 Cap Hit: $2 million
While his days as a top-line centre and top point-producer are behind him and his window at a championship is closing, the Maple Leafs could sure use the presence and playoff experience of Joe Thornton.
Related: Remembering Borje Salming: "King" of Maple Leafs' Defensemen
Like signing Jason Spezza, Thornton is probably going to prioritize winning and was frustrated that the San Jose Sharks failed to move him at the deadline to a contender. The Maple Leafs could probably sign him to a short-term deal at the league average to play in a fourth or potentially third-line role.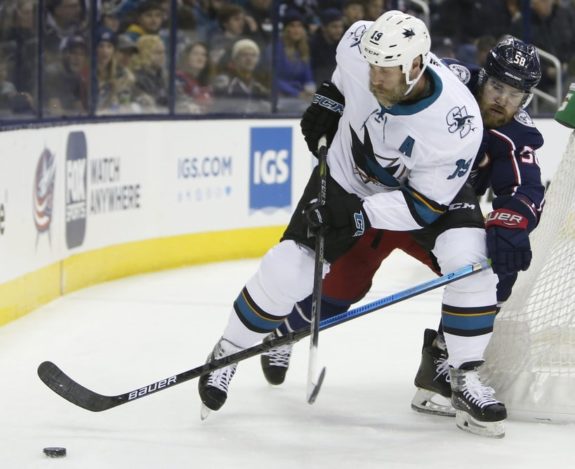 While he may not contribute 60, 70 or even 80 points a season, Thornton can still be a valuable point producer. Recently, he's managed to register a 50-point season as well as two 30-point seasons, while still playing in a top-six role for the Sharks. On a team like the Leafs, he knows what is expected. 
At 40 years old, he can still play and knows that he might be in a role where his ice time will drop, but like Spezza, the team won't let him change his style of play. They expect him to still be a big-bodied presence with the ability to be an excellent set-up man for his teammates. Closing in on 1,100 assists (sitting at 1,089), Thornton is still able to accomplish that. Depending on where he is in the lineup we can expect roughly 20 to 30 points and some size down the middle behind Auston Matthews and John Tavares. 
With Alexander Kerfoot's name being floated around in trade rumours as well, it wouldn't hurt to move on from him and add another experienced centre on your roster. Thornton would bring that consistency and effort every game.
Wayne Simmonds, RW/LW
2019-20 Cap Hit: $5 million
The love that Wayne Simmonds gets is absolutely amazing. What would be more exciting than another player from the GTA to sign with his hometown team?
Like Thornton, the Simmonds that was able to score 25 to 30 goals and 50 points is a thing of the past. He's not the same player as he was in his prime. He's not worth $5 million anymore. At 5-on-5, his goals for percentage has mostly been below 50 percent since 2016-17. All of this doesn't sound all that appealing as he struggled mightily since then.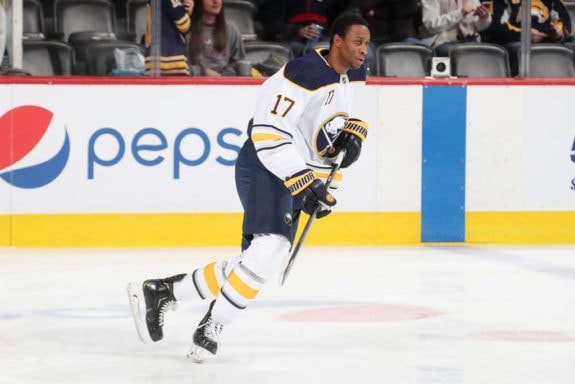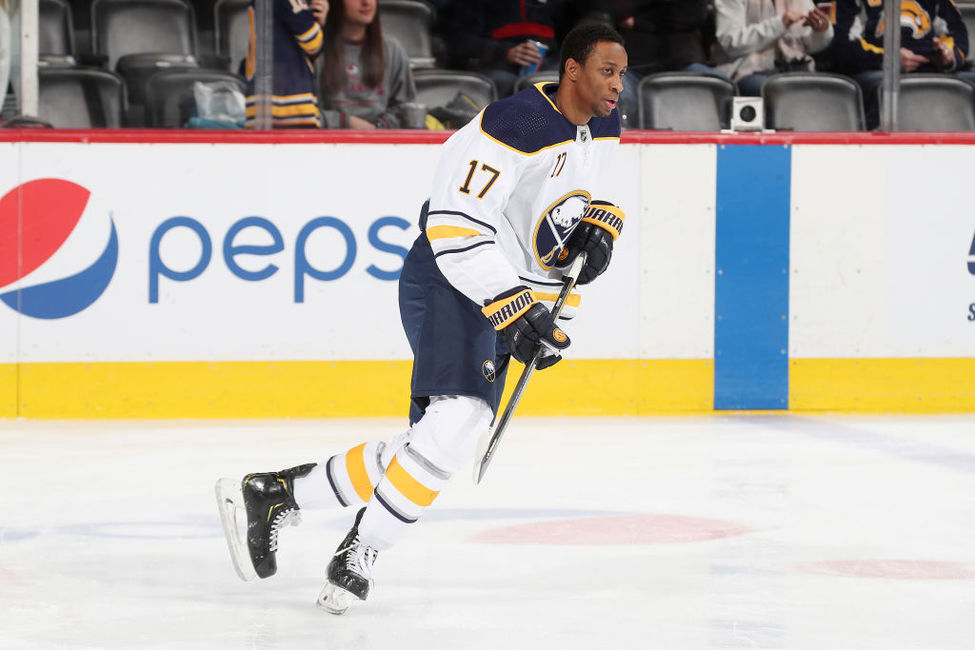 But Simmonds still brings the grit and physical element that the team lacks. This is what makes him successful. With Kyle Clifford possibly not returning, Simmonds could be that fourth-line, physical player that can throw the opposition off its game. Simmonds is even contemplating the opportunity to sign and play with the Maple Leafs, as THW's Jim Parsons writes. 
Whether or not Dubas sees Simmonds as a fit remains to be seen, but there are a lot of fans that would love to have him in the blue and white. The team needs grit and his energy is definitely something they can use. Could he be an option? Absolutely, and it's possible he could bounce back. But if they're looking for production as well, they may look somewhere else.
Craig Smith, RW/C
2019-20 Cap Hit: $4.25 million
At 31 years old, Craig Smith brings size, strength and the capability to battle for the puck, not to mention the scoring ability to contribute at least 20 goals, even in a bottom-six role. I don't think he gets the credit that he deserves. 
Seeing a lot of time on the third line with the Nashville Predators, Smith can also be effective on the second power-play unit. He averaged 2:18 of power-play time and always made an impact when the team had possession.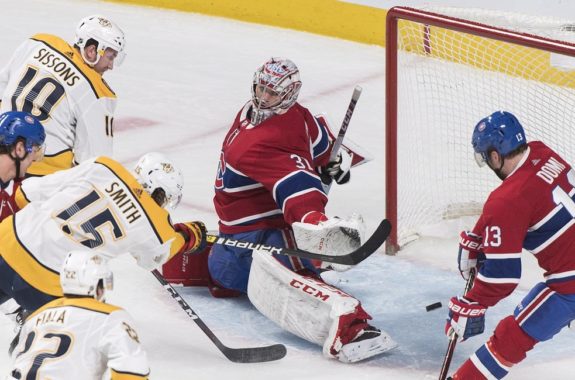 Last season, Smith had an individual expected goals-for of 12.32 and managed to score 14 at 5-on-5. In total, he recorded seven power-play points and four power-play goals. Not to mention, he ranked first on the team in Corsi for percentage (CF%) with 55.18, among those who played a minimum of 500 minutes. Smith even had a goals-for percentage of 67.65 percent, being on for 46 and 22 against.
Related: The Rise and Fall of Andrew Raycroft
Smith would be able to provide great secondary scoring depth on a Maple Leafs team where scoring depth tailed off at times during the season and the playoffs. Even in the event of an injury, Smith could be an option that moves up and contributes in a top-six role.
Should the Maple Leafs be looking for a forward capable of being a strong top-nine player and can move up in the lineup, Smith is definitely an intriguing player to target. While his current cap hit is reasonable, if they can try and get him to a lower value around $3 to $3.5 million, then this will be a great addition for the team's depth. 
Melker Karlsson, RW/C
2019-20 Cap Hit: $2 million
Thornton's teammate with the Sharks, Melker Karlsson can bring a lot to the Maple Leafs' bottom-six forward unit. Karlsson saw a lot of time on the third line and hasn't disappointed in that role.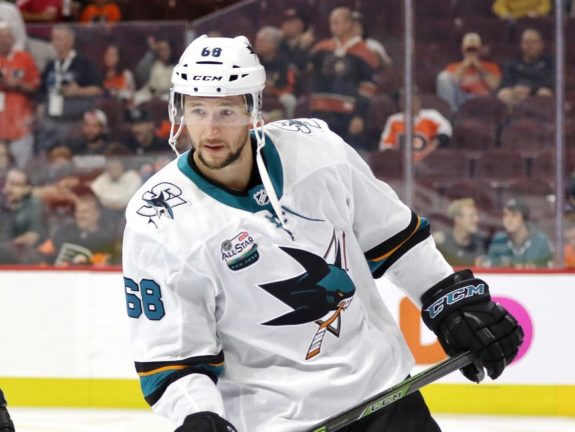 Karlsson brings a heavy game. He has the ability to get in and establish a forecheck. He never gives up on the play and is always in a constant battle for the puck. While he may not be as physical as Simmonds, he can play a gritty style battling along the boards and in front of the net. He finds himself on the penalty kill often, averaging 2:08 per game. He rarely gives up on a play even when he has the puck, as this goal shows. 
Among those who played a minimum of 30 games on the Sharks, Karlsson was among the top five on the team in terms of takeaways per 60 with 2.08. First on the list was Joe Thornton with 3.04. While signing Thornton would be great, having a player like Karlsson and his capability to retrieve the puck and move it up with speed would be valuable.
While his name may not come up as often for the Maple Leafs, the team could definitely use his services, especially if they're able to sign him at his current value.
There are many other names that could be potential targets for the Maple Leafs on cheap deals. Trevor Lewis (Los Angeles Kings), Jesper Fast (New York Rangers), Johan Larsson (Buffalo Sabres), Matt Nieto (Colorado Avalanche) and Connor Sheary (Pittsburgh Penguins) could be looked at as players that can bolster Toronto's depth.
Who do think would be a great fit as depth forwards for the Maple Leafs?
Statistics and numbers from Natural Stat Trick and NHL.
---
---
The post Maple Leafs Can Add Forward Depth In Free Agency appeared first on The Hockey Writers.
Sports League Management
Start using it today
It's FREE!
Start