Published on Wednesday, September 16, 2020
41
Reads
0
Comments
8 Blue Jackets All-Time Points-Per-Game Leaders
To win in today's NHL, a team needs to score goals. Not only does a team need players who shoot, it needs the playmakers who get the puck to the shooter. Consider this: in the modern history of the NHL, only twice has a player scored three goals in a game without any assists on those goals. One of those unassisted hat tricks was by the legendary Maurice "Rocket" Richard, after whom the league's annual goal-scoring trophy is named. The other was by then-Columbus Blue Jacket Rick Nash.
In the best of all worlds, your favorite team is filled with players who can both score and produce assists. The Blue Jackets, in their 20-year history, have not been blessed with such players. In fact, only eight players have averaged over 2/3 of a point-per-game (P/GP) while playing for Columbus. Two-thirds P/GP game in and game out equates to just under 55 points in an 82-game season.
Why write about Blue Jackets who scored 2/3 P/GP rather than, say, a full P/GP? Because that list would be very short. Make that "very, very short." Short as in "a list of one." Yes, only one player in the history of the Blue Jackets has managed to average a P/GP during his time in Columbus.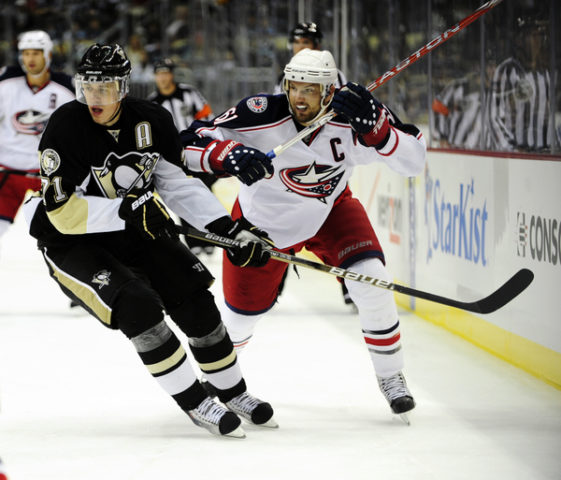 The number of players in the NHL averaging at least 2/3 P/GP over the past several years has ranged from a low of 65 in 2016-17 to a high of 93 the following year. (In 2016-17, 761 players skated at least one game in the NHL and 656 played in at least 20 games. For 2017-18, the numbers were 799 total and 680 with at least 20 games.)
8. Pierre-Luc Dubois – .6725 P/GP
The Blue Jackets' current top center has scored 158 points in his 234 regular season games with the team. In addition to being extremely durable — Dubois hasn't yet missed a regular season or playoff game due to injury or suspension — over the past two seasons his P/GP is .7237. If he continues to produce, the 22-year-old will soon be moving up on this list.
7. Andrew Cassels – .6861 P/GP
When Cassels joined the Blue Jackets in 2002, he was reunited with his old Hartford Whalers teammates Kevin Dineen and Geoff Sanderson. While Cassels and Sanderson didn't quite re-create their glory days, they did put up some points in their first season back together. The second season, not so much. Cassels played only 58 games (26 points), his last in Columbus, and Sanderson was sent to Vancouver for a third-round draft pick.
6. Jason Williams – .7436 P/GP
Even long-time Blue Jackets fans might not remember Williams, who played only 39 games for Columbus in 2008-09. In an NHL career that included 455 games (277 points), that wasn't even his shortest stay with a team — or his second shortest. (Pittsburgh Penguins: eight games, Dallas Stars: 27 games, and, a near miss, Atlanta Thrashers: 41 games.) The majority of his career was spread over three stints with the Detroit Red Wings.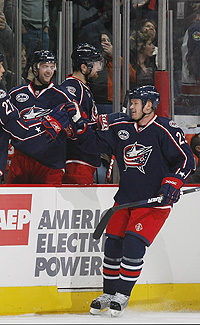 His time as a Blue Jacket was the most productive of his career, but the team elected not to re-sign him after the season. Although he bounced around the NHL, the American Hockey League (AHL), and finished his playing career overseas, he did okay for an undrafted, undersized right-handed center, earning at least $1.5 million in 4 of his 11 NHL seasons.
5. Kristian Huselius – .7513 P/GP
After two and a half productive seasons in Columbus, a torn chest muscle derailed Huselius' career. (Later he would claim that the club rushed him back onto the ice before he was completely recovered, effectively ending his days in the NHL.) With 142 points in 189 games, the winger was among the most productive Blue Jackets in his uninjured time with the team.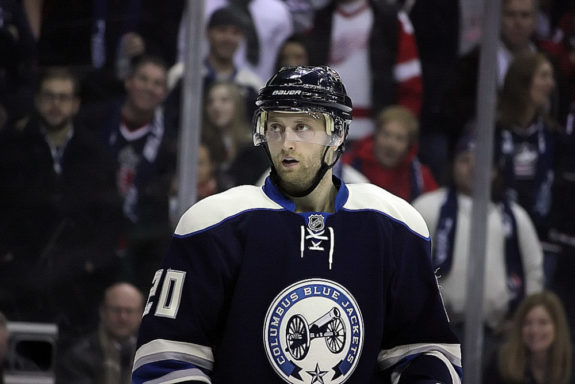 In 2008-09, he finished second on the team in scoring (behind Rick Nash), and was third the following season (behind Nash and Antoine Vermette, who played eight more games and scored two more points than Huselius).
4. Thomas Vanek – .7895 P/GP
A late-season rental for the Blue Jackets' 2018 playoff surge, he arrived from the Vancouver Canucks in exchange for Tyler Motte and Jussi Jokenin. His 15 points in only 19 games produced the second highest P/GP on the Blue Jackets that year (trailing only Artemi Panarin).
Related: The First Jeff Carter Trade Revisited
After acquiring Vanek, the Blue Jackets lost two games, then went on a 10-game winning streak (two in OT) to finish the regular season as the first Wild Card. The team lost in the first round of the playoffs to the eventual Stanley Cup Champion Washington Capitals. Vanek had only a single goal and an assist in the six-game series. That summer he signed with the Red Wings as a free agent and retired a year later.
3. Rick Nash – .8116 P/GP
No name quite epitomizes the Blue Jackets like "Rick Nash." To date, he is the team leader in goals, assists, points, games played, and is one of only four players to appear in at least nine seasons for the team. (Rostislav "Rusty" Klesla, the original Blue Jacket, played 10 seasons in Columbus, a record that could be tied in the coming season by Cam Atkinson and David Savard.) Nash left the Blue Jackets after the 2011-12 season in a trade with the New York Rangers, but after retiring as a player, he returned to the club in a management role.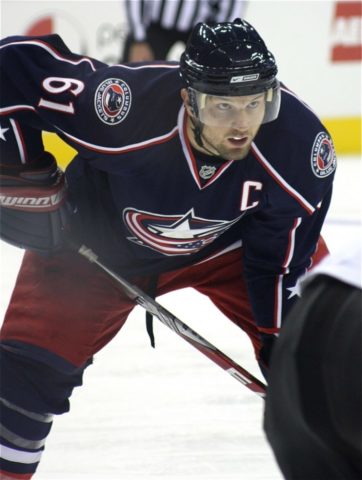 Twice in his career he scored at a P/GP rate, 2005-06 (54 points in 54 games) and 2008-09 (79 points in 78 games), both with the Blue Jackets. In five of his nine seasons with the team, he tallied more goals than assists. 
2. Ray Whitney – .9272 P/GP
It's almost hard to comprehend that the player known as "The Wizard" was once claimed off waivers and allowed to walk away as a free agent five times in his career. The first pick of the second round in the 1991 Entry Draft (#23, San Jose Sharks), he played for eight different NHL teams and yet was traded only once. He scored over 1,000 points in his 24-year NHL career and played in three All-Star Games, yet the only time he was part of trade occurred when he arrived in Columbus from the Florida Panthers in 2001.
Related: Overlooked and Underrated: Ray Whitney
Well-liked by both teammates and fans, Whitney racked up 140 points in 151 games for the Blue Jackets. He led the team in scoring both of his full seasons in Columbus (2001-02: 61 points in 67 games, 2002-03: 76 points in 81 games).
1. Artemi Panarin – 1.0563 P/GP
Known as more of a playmaker than a scorer, Panarin's 82 and 87-point seasons are the highest in team history. In 2017-18, he broke Nash's team record (79 points, 2008-09) with an 82-point season. That was 25 points more than the team's next leading scorer (Seth Jones). The following season, his 87 points were 18 more than the next Blue Jacket (Cam Atkinson).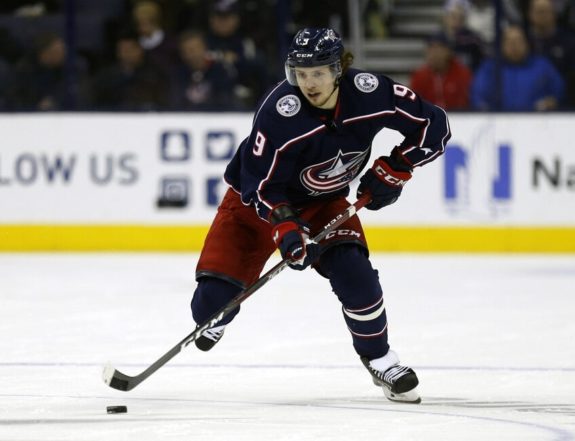 Panarin joined the Blue Jackets following a trade with the Chicago Blackhawks. He left Columbus as a free agent in the summer of 2019, signing a seven-year, $81.5 million dollar contract, with an average annual value of $11.642 million. (That's just about double the largest Blue Jacket contract for 2019-20.)
The Future in Columbus
While the Blue Jackets have a number of promising young players in a pipeline that's ranked only 27th best in the NHL, none look to be challenger's to Panarin's place in the club's history book. But with the flat salary cap raising havoc around the league, general manager Jarmo Kekalainen may be able to trade for a forward of that caliber.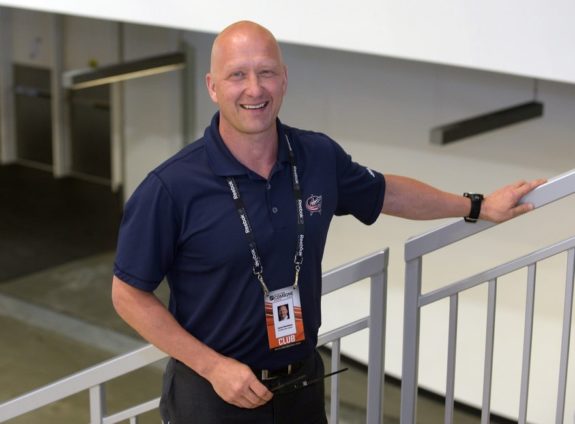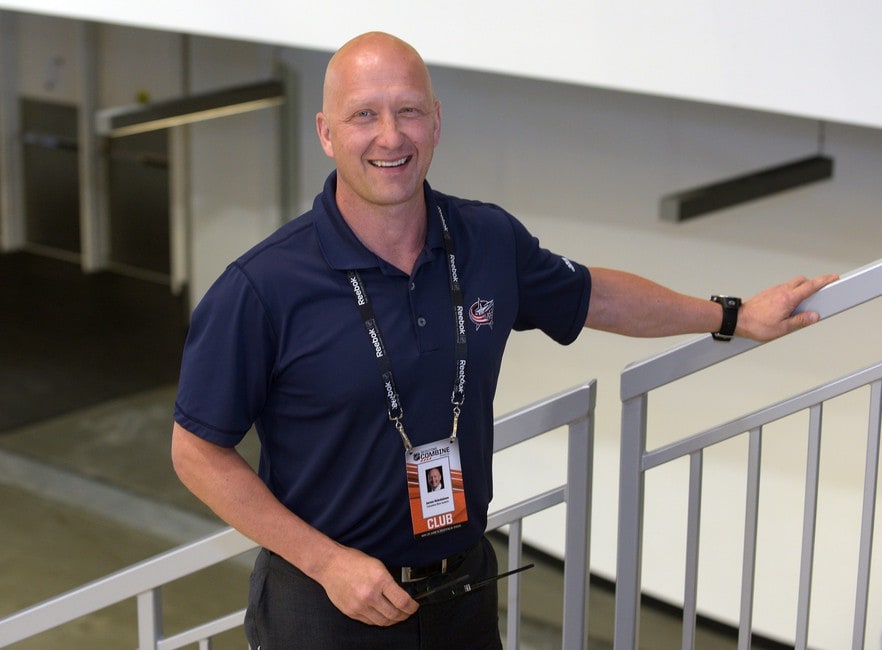 A point-per-gamer such as Panarin won't come cheap — and will be hard to fit under the Blue Jackets' salary cap. But if the Blue Jackets are to challenge for the Stanley Cup, sacrifices will need to be made.
Many statistics used in this article are from HockeyDB.com.
---
---
The post 8 Blue Jackets All-Time Points-Per-Game Leaders appeared first on The Hockey Writers.
Sports League Management
Start using it today
It's FREE!
Start