Published on Wednesday, February 10, 2021
77
Reads
0
Comments
Penguins' Young Players Key to Future
The future is coming fast for the Pittsburgh Penguins. Their veteran core has slowed down and is not putting up the production that has defined the Penguins for so long. Their young guns Pierre-Olivier Joseph, Kasperi Kapanen and Jake Guentzel have stepped up and been bright spots for Pittsburgh, who have been struggling to establish an identity. They are the key players to the Penguins' future.
Pierre-Olivier Joseph
Thanks to all the Penguins' defensive injuries early in the season, Joseph was pulled up from the taxi squad, and he hasn't looked back since. Fate has given him the chance to play, but he has earned his spot playing alongside Kris Letang. Joseph has five points in seven games, scoring his first goal against the Islanders Saturday night. His play has been so impressive that he earned a spot on the Penguins' second power play unit. Joseph has helped steady the decimated defense and has kept the Penguins competitive.
Joseph's exciting emergence has given the Penguins a glimpse at what a post-Letang unit will look like. He still has a lot to learn, but the Penguins now have a young defenseman who can step into that scoring role and build around. The team's front office should be focusing on finding players to complement Joseph. If one of the three veteran core members are leaving, the best bet is Letang, and Joseph should be well groomed in the next two seasons to replace him.
Kasperi Kapanen
Kapanen has made an impact since entering the lineup after missing the first three games due to COVID-19 quarantine protocols. He has two goals and four assists in eight games this season. He was originally supposed to be Sidney Crosby's linemate, but he's found chemistry with Evgeni Malkin. Since being paired with Kapanen, Malkin has four points in five games after having just two in the first six games of the season. The Finnish right winger's speed has given the Penguins many breakaway chances and odd-man rushes that their offense needs.
Related: Penguins Hire Hextall as GM, Brian Burke as President of Hockey Operations
Kapanen has been satisfied with his adjustment, "I'm getting a bigger role here and getting more responsibility in the offensive zone. That's something I feel like every player enjoys. So far, I think I've played well and my linemates have been helping me out." (from 'Penguins beat Ranger in OT, but lose Kris Letang,' Pittsburgh Tribune-Review, 01/30/2021)
A diverse player, the Penguins can easily move Kapanen up to the first line in the future. He has barely scratched the surface of his potential at 24 years old. Learning from two future Hall of Fame centers is not a bad gig, either. He is in the perfect position to take the next step and produce a 20-goal season as he did in 2018-19 with the Maple Leafs, and the hope is he develops into that kind of steady goal scorer. His speed is an asset the Penguins need to build on if they want to stay relevant in the league. Adding younger, faster players to complement Kapanen is the direction they must go.
Jake Guentzel
Guentzel emerged at the perfect time for the Penguins in 2017, helping them win their second straight Stanley Cup. At 26, he might be considered a veteran in NHL terms, but he is just entering his prime.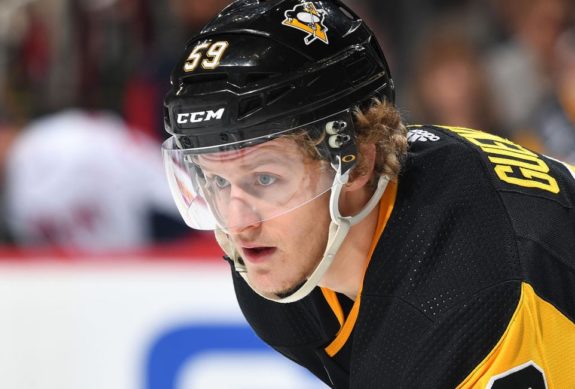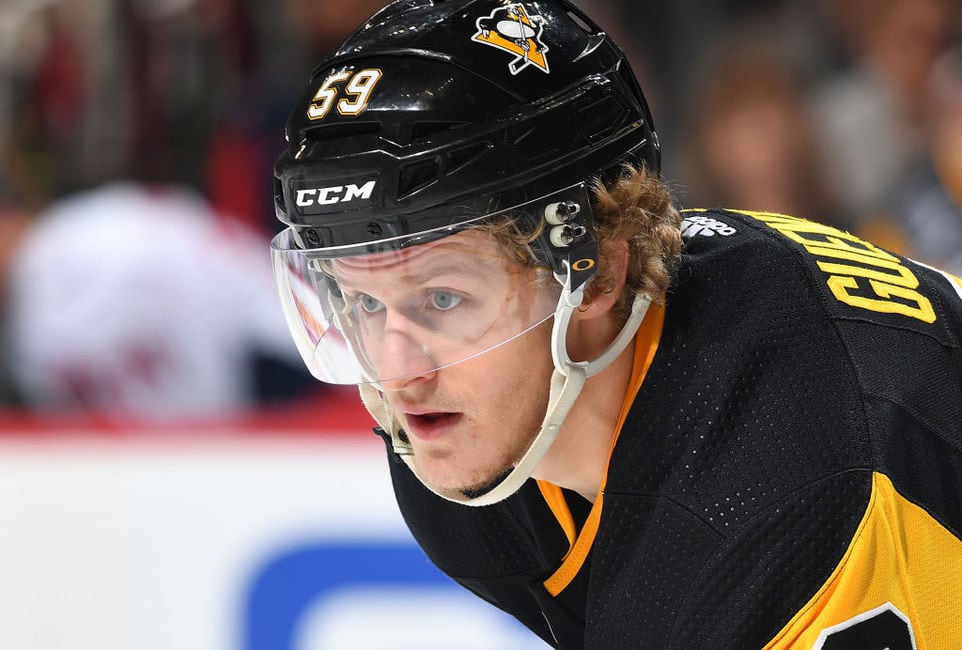 Guentzel has been solid this season, with four goals and four assists. His eight points tie him at second on the team with Bryan Rust and is just one point behind Crosby's nine, some encouraging production after not playing a single game in 2020 due to a shoulder injury.
Related: Penguins Lack Talent to Win Now
As Crosby has "slowed" down by his standards, Guentzel has been able to produce similar numbers justifying his position as the top winger on the team. Crosby will be Guentzel's center for the rest of his deal, as he is under contract until the 2023-24 season, while Crosby's deal runs until 2024-25 season. Playing with Crosby has helped develop him into a consistent winger who became the tenth fastest player to reach 100 career goals in Penguins history. The veteran core can do the same for the development of Joseph and Kapanen, who will eventually take the keys of the franchise.
---
---
The post Penguins' Young Players Key to Future appeared first on The Hockey Writers.
Sports League Management
Start using it today
It's FREE!
Start