Published on Thursday, February 25, 2021
61
Reads
0
Comments
5 Golden Knights With Disappointing Starts to the Season
The NHL is nearly a third of the way through the 2020-21 campaign. This season has been unlike any other due to its structure, division realignment and postponement of games. Despite the uncertainty that came with this season, the Vegas Golden Knights find themselves in their usual position on top of the Honda West Divison. Their results have come from the usual suspects, but shockingly not all of the Golden Knights are sharing in this year's current success. Players such as Alex Pietrangelo, Robin Lehner and the fourth-line have not been producing like Vegas fans might expect them to.
Alex Pietrangelo
Pietrangelo was one of the biggest names to jump ship to another team during the free agency period. His 7-year, $61.6 million contract forced the Golden Knights to dump some salary in order to stay cap compliant. His skill set and ability to produce at high rates as a defenseman made the large contract justified. However, since the season began, he has not produced how he was expected to.
Through his first 13 games as a Golden Knight, Pietrangelo has only recorded six points with one goal. This is shocking to see as, in the previous season, he ranked sixth in scoring among all defensemen. Another aspect of his game that has been lacking is power play production. One of the main draws of bringing him to Vegas was his ability to produce and create chances playing with a man-up. So far in the 2020-21 season, Alec Martinez has more power play points than him, and the Vegas power play is producing at a lower rate than in years past.
There could be a few factors as to why Pietrangelo got off a slow start. The first is that he is still adjusting to his new team and their style of hockey. Before coming to Vegas, he spent his entire career with the St. Louis Blues, which created a scenario of having to adjust to a different organizational structure. Secondly, he was placed on the COVID-19 protocol list and missed three games. Not being able to workout or skate while on the list could have halted his production, as he had his momentum stopped. Lastly, it could be the case that Vegas has too much star power. The top-six forwards of the Golden Knights produce a lot of points and create a lot of chances by themselves, causing them to not need the defense as much when in the offensive zone.
Robin Lehner
Similar to Pietrangelo, Lehner got a brand new contract during the offseason as well. His deal (5 years, $25 million) came with some pretty lofty expectations. Lehner was expected to be the main fixture in the Vegas net for this season and the future, but it has not started that way.
During this season, Lehner has been inconsistent despite having a winning record — he has played five games with a 3-1-1 record. Even though he has helped Vegas get 70% of the points available while in net, it can largely be credited to the Golden Knights' offense. The stat that jumps out to explain his level of play is his save percentage (SV%). Currently, he has a .890 SV%, and this has resulted in a goals against average (GAA) of 2.96. Both of these are significantly worse when compared to his playoff run during the 2020 Playoffs. In the playoff bubble, he posted a 9-7 record with a .917 SV% and a 1.99 GAA.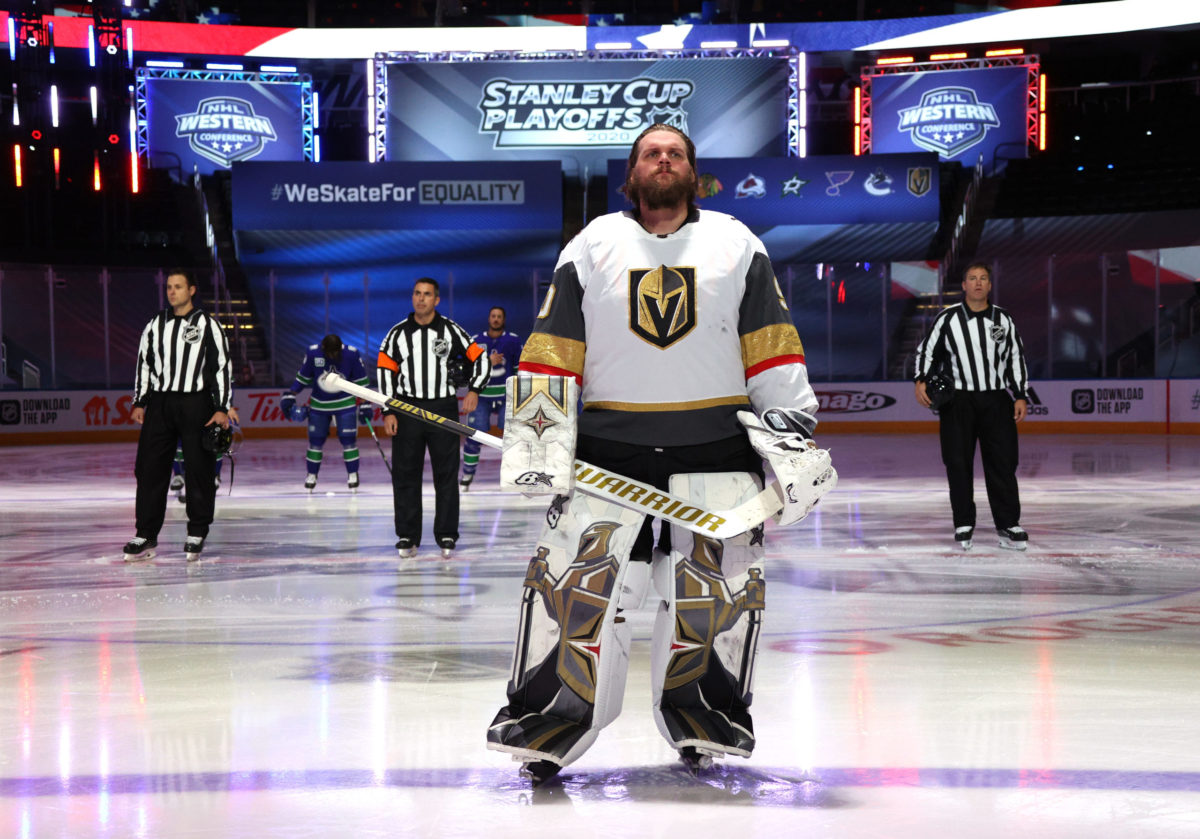 It's hard to tell why Lehner has been struggling during this season, but there could be some reasons. For starters, he's only played 23 total games in a Golden Knights uniform. This, matched with new defensemen going in and out of the lineup, could account for a lack of chemistry between them. Next, the goalie split that head coach Pete DeBoer decided on before the start of the season could have affected his momentum. By only playing one game at a time, Lehner is not able to build any momentum by putting quality starts together. Lastly, he has missed time due to an upper-body injury suffered during a morning skate on Feb. 11. He did have offseason shoulder surgery to repair an injury suffered during the Western Conference Final. There is a possibility that this could be affecting his play to start this season.
The Meat Grinders Line
The fourth line, also known as the "Meat Grinders Line," has been a staple of DeBoer's strategy since he took over behind the bench. This line consisting of Ryan Reaves, Tomas Nosek and William Carrier often started games to get the opposing team on their heels and help the Golden Knights start in the offensive zone. Their impact during the 2020 Playoffs was heavily noticed and was a large part of the Golden Knights' playoff run.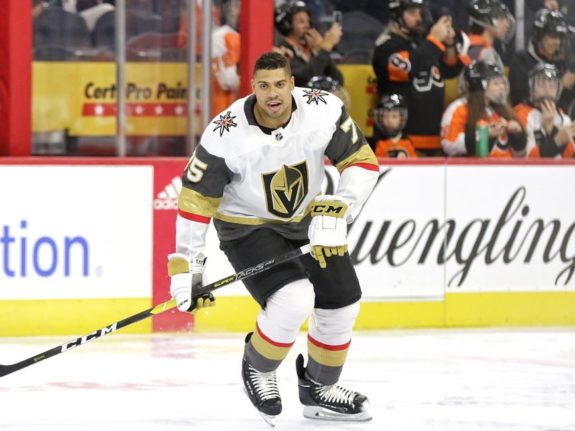 Another interesting stat about this line is their difference in Corsi-for percentage. Each player on the Meat Grinders Line has seen their CF% drop this season. For example, Reaves had a CF% of 53.5% in 2019-20, and it has dropped to 46.8% this season. This drop of nearly seven points shows that this line has been hemmed in their defensive zone more than they would like.
Sticking with Corsi, the biggest fall in this category belongs to Carrier. During the 2020 playoffs, he had a CF% of 57.6%. While in the playoff bubble, Carrier was one of the best players on Vegas in regards to having consistent pressure in the offensive zone. However, in the 2020-21 season, his CF% has dropped to 44.6%.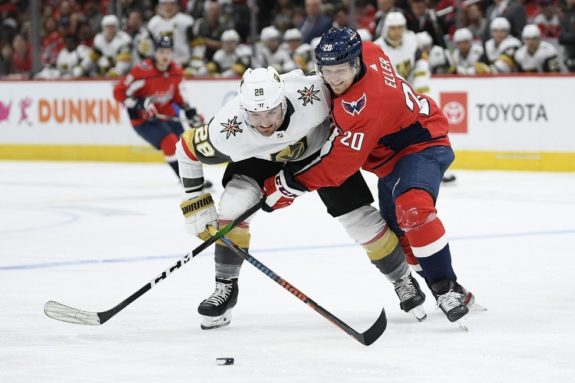 As a direct result of their lower CF%, this line has been less effective defensively. They have a combined plus/minus rating of minus-8 on the season. This is already larger than their combined total from the 2019-20 season, which was minus-7. With only a small sample size, this is clearly a concerning stat, as this line has trended in the wrong direction since their dominance in the 2020 Playoffs.
Their struggles are quite shocking due to their high intensity and work rate, but COVID-19 and different linemates could be a reason why. Recently, Nosek was placed on the COVID Protocol list and was forced out of the lineup. This left Reaves and Carrier with multiple different centers. This could be a reason why Nosek's CF% is higher than his linemates by at least 3 percentage points. It could be that a lack of familiarity with the other players' styles could be hurting the Meat Grinders.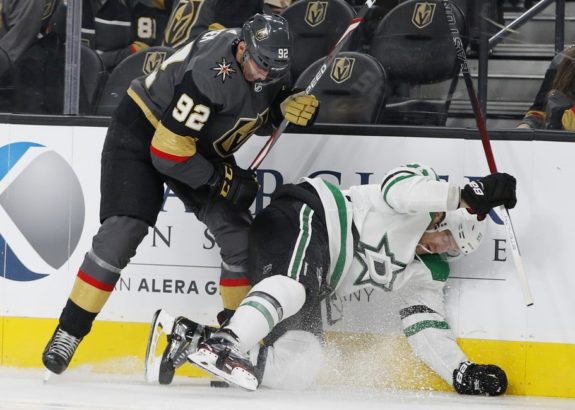 These five individuals have struggled to start the 2020-21 season, but the good news for the Golden Knights is that there is still plenty of hockey to be played. They have only played 17 out of a possible 56 games, so these players still have time to rebound and finish the season strong. Also, Vegas currently sits on top of the Honda West division, so they can afford to let these players find their footing again instead of looking to make drastic changes to their roster.
---
---
The post 5 Golden Knights With Disappointing Starts to the Season appeared first on The Hockey Writers.
Sports League Management
Start using it today
It's FREE!
Start