Published on Friday, February 26, 2021
39
Reads
0
Comments
4 Takeaways From Blackhawks' Series Win Over Blue Jackets
The Chicago Blackhawks are still riding high. They went into Columbus, Ohio on a bit of a sour note, as their three-game winning streak was previously snapped by the Carolina Hurricanes on Feb. 19. But as it turns out, the following two-game series against the Columbus Blue Jackets was just what the doctor ordered. During the first game of the series, on Feb. 23, they won 6-5 in a shootout.
On Feb. 25, they won 2-0. The month of February is coming to a close and out of the 11 games that the team has played this month, they have only lost three. This series with the Jackets was interesting because a lot of it was ugly on Chicago's end, but they still came out with four points. Here are some takeaways from the series.
1. Kane Shines On
Forward Patrick Kane has been outstanding this season. He has 31 points in 21 games. He leads the Blackhawks in points and ranks fourth in the NHL in scoring. He has given nightmares to every opponent faced this season, but I think there is no one he has liked facing more than the Blue Jackets. During the series, he had two goals and five points. This season versus Columbus, in total, he has four goals, 13 points, and is a plus-7 in six games played.
Every year, you can't imagine how he could possibly get any better than he is already. He is the driving force behind this team and I agree with those who think that he should be in the discussion for the Hart Trophy. The award is given out every year to the NHL's MVP. There are 35 games left of the regular season, so for him, he is just getting started.
2. Hagel's First Goal
22-year-old rookie forward, Brandon Hagel, is a name that has been mentioned a lot recently. He is a player that has been noticeable every night for the little things; the forecheck, backcheck, skating ability. It seemed to be clicking in every aspect for him except the scoresheet. Eventually, after 17 games, his hard work paid off. He got his first NHL goal on Feb. 23 in the second period. His goal gave the Blackhawks a 3-2 lead and it was assisted by none other than Kane. What a sequence that was.
Hagel had some really good chances in the following matchup too. I think this will be the first of many goals that we will see from him. He does a good job of creating scoring chances not only for himself but his teammates as well. It was a fun moment that was made even better by a win. Congratulations to him!
3. Goalies Stand Strong
During this matchup, there was a split in goaltending. Kevin Lankinen started the first game and Malcolm Subban started the second game. Lankinen had a bit of a shaky start in his game on Feb. 23. He allowed five goals on 30 shots and had a save percentage (SV%) of .833. The stats don't make it look pretty, but he bounced back nicely. He stopped a few scoring chances as the third period was winding down, stopped the Jackets on two different breakaways in overtime, and stopped all three attempts in the shootout to give the Blackhawks the win. Although it wasn't his finest outing, he held strong and gave the team a chance to win when it mattered most.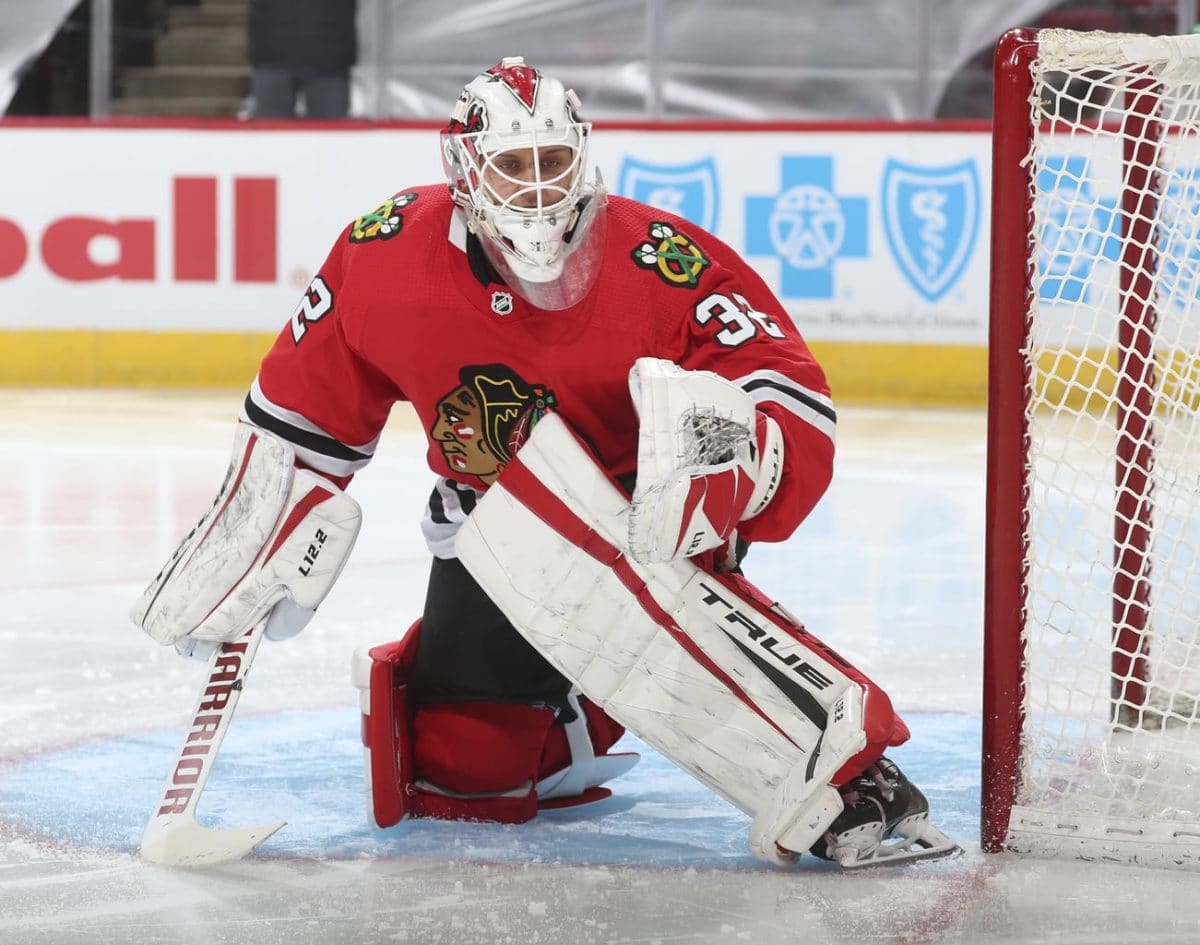 When it comes to Subban, he has been on a hot streak too. In his last four starts, he had a 3-0-1 record, 1.44 goals-against average, and a .952 SV%. During his game on Feb. 25, he recorded the second shutout of his career by stopping all of Columbus' 26 shots. His first shutout was back in March 2019, when he was with the Vegas Golden Knights. He has been solid in net after he had a bad start to the season. It was a great moment to see him get rewarded for that. Goaltending was questionable coming into the season and Lankinen and Subban have proved that goaltending is not their weakness. Their continuation of strong debuts has kept this team competitive.
4. Penalty Kill Woes
The Blackhawks' special teams have been special. Their powerplay is ranked second in the league with a 32.8% success rate. Their penalty kill has been just as good as of late and has the seventh-best penalty kill save percentage at .900. However, they experienced a setback with the Jackets. On Feb. 23, they went 1/4 on the penalty kill. It was questionable considering the fact that the Jackets are ranked at 21 in the league on the powerplay with a 19.2% success rate. Chicago bounced back nicely the following game going 2/2 on the penalty kill. But seeing them look that disorganized against a bad powerplay was concerning. Let's hope that it was just a bad night and that they aren't headed towards regression in that department.
Final Thoughts
As stated in the beginning, the series wasn't pretty. The Hawks gave up two, two-goal leads in the first game and couldn't generate much of anything in the second game. But it doesn't matter how you start, it matters how you finish. Like Chicago Bears' quarterback, Nick Foles stated recently, "Would you rather lose pretty or win ugly?" You take the latter all day. They're getting points no matter the circumstance, which is exactly what they should be doing. With these two wins, Chicago's record stands at 11-6-4. Let's keep the good times rolling!
Looking for more Blackhawks' content? Make sure you like, follow, and subscribe to our Youtube Channel and Facebook so you never miss an episode of our weekly show, 'Blackhawks Banter'. We talk about everything related to the team. Here is our latest show.
---
---
Sports League Management
Start using it today
It's FREE!
Start