Published on Wednesday, October 1, 2014
31
Reads
0
Comments
5 Blue Jackets Key To Avoiding Early Season Slump
The Blue Jackets are a completely different team than they were three short years ago. Columbus missed the 2013 Playoffs by a tiebreaker and followed it up with a rousing series against the hated Penguins in Round One of last year's postseason. The Blue Jackets sudden rise to relevance has electrified a fan base and transformed Nationwide Arena into one of the toughest venues to play in down the stretch.
Despite recent success, the Blue Jackets remain inept early in the season. In both 2013 and 2013-14 Columbus posted sub-500 records through the first two months of the season. The rest of the season then became an uphill struggle to make up precious points lost in Columbus' annual stumble out of the gate. If the Blue Jackets are to become a serious contender they must avoid another damning start.
The buzz around the Blue Jackets has died down substantially in training camp primarily due to the loss of their entire first line. Nathan Horton is out indefinitely, if not permanently, with a degenerative back issue, Boone Jenner will sit out a month with a broken hand, and Ryan Johansen is caught in the middle of a war of principles between the Columbus brass and notorious agent Kurt Overhardt.
As of today, #CBJ could very well be without their entire first line — Jenner – Johansen – Horton — when season opens Oct. 9.

— Aaron Portzline (@Aportzline) September 29, 2014
That's a lot for the Blue Jackets to overcome, but they've got the depth and personnel to survive these devastating blows if the right guys step up. Here are five players Columbus needs to take their game to the next level to save the Blue Jackets from another disastrous first quarter of the season.
*************
CAM ATKINSON
Cam has shown flashes of brilliance throughout his young career, but not the consistency you'd like to see in a top-six forward. At times Atkinson dazzles with his natural playmaking ability and touch. Then there are stretches where Atkinson falls off the map, failing to make for an impact on consecutive shifts or even games at a time.
Cam has shown significant improvement this preseason. If Atkinson can translate the fire he's brought to every shift of this preseason into the regular season he's poised for a breakout campaign. With Horton, Jenner, and Johansen all potentially out for the opening month of the season; Columbus is in desperate need of goal scorers. Atkinson has 30-plus goal-scoring potential and Columbus needs 2014-15 to be the year he turns that potential into a reality.
MATT CALVERT
Matty Hustle earned a permanent place in the hearts of Blue Jackets fans for his double-overtime winner to even the series in Pittsburgh back in April. (Oh, and it gave the Blue Jackets their first playoff win in team history.) Calvert is an ideal fit in Todd Richards aggressive two-way system, making plays out of nothing with pure speed.
If Calvert can remain healthy, he's another candidate for breakout Blue Jacket of the year. Like Atkinson, consistency has been an issue for Calvert. The speedy 24 year-old could be especially dangerous paired with fellow tenacious youngers like Atkinson, Kerby Rychel, or Marko Dano.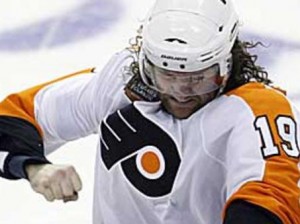 SCOTT HARTNELL
The Blue Jackets brought in Hartnell to provide veteran leadership, toughness, and goal production. The former Predator tormented Columbus during the most lopsided days of the old Central Division rivalry and remained a thorn in the team's side terrorizing the front of the net as a Flyer. Now Hartnell brings his gritty play to Columbus and they'll need him to acclimate to his new surroundings quickly in the absence of veteran power forward Nathan Horton.
Hartnell will need to take control on the top line for Columbus until injuries and contract disputes are resolved. Hartnell and Dubinsky should prove to be a dynamic combination and help Columbus knock more pucks into the net from the tough areas. Hartnell's game isn't always pretty, hell it's downright ugly much of the time, but when you're fighting serious roster setbacks it's the kind of game this team needs to play in order to keep pace through October and November.
SERGEI BOBROVSKY
It seems unfair to place more burden on the shoulders of Bobrovsky, but, frankly, he would be the key to success even if every player was healthy and accessible. Bobrovsky has been the centerpiece of the Blue Jackets renaissance, but he too has struggled early in the season. If Bob can steal a few games for a Blue Jackets team with a depleted offense early on, when this team gets to full strength they'll be primed to make a run at a top-four seed in the East down the stretch.
KERBY RYCHEL, ALEX WENNBERG, or MARKO DANO
Who will step up and be this year's Boone Jenner? The Blue Jackets have some tough calls to make regarding their roster, but it's becoming more and more clear one the trio of 2013 first round picks will crack the opening day roster with a chance to stick around for the long haul. Whoever earns the spot, Columbus will be looking for them to contribute right away in the absence of the first line.
#CBJ coach Todd Richards really liked the play of Wennberg/Rychel/Dano tonight: "They were all very good tonight…they truly were."

— Rob Mixer (@RobMixer) September 30, 2014
My money is on Kerby Rychel. He plays a similar game to Jenner and could fill that role fairly seamlessly. Alexander Wennberg has earned rave reviews for his smart play and superior vision on the ice this preseason, including the club's victory at the Traverse City Prospect Tournament. Marko Dano is the dark horse, but his experience in the KHL and physicality could catapult him into a substantial role in Todd Richards' offense.
Whoever of these promising prospects is called upon, the Blue Jackets will need them to get up to speed as quickly as Boone did a year ago. If they fail to acclimate to the NHL game, it will be a glaring weak spot on the roster prime for exploitation at the hands of savvy veterans.
*************
Despite the setbacks, Columbus enters 2014-15 with their deepest roster yet. If they can pick up where they left off and build on a solid playoff series against the Pens, the Blue Jackets will be top tier contenders in the Eastern Conference.
Of course, contending will be all that much easier once a certain top line center puts pen to paper. Indeed, Kurt Overhardt may turn out to be the nastiest opponent the Blue Jackets must face in the opening month of the season. While that battle rages off-ice, the rest of the Blue Jackets must elevate their game to endure.
Author information
This article was originally published at The Hockey Writers
Sports League Management
Start using it today
It's FREE!
Start