Published on Tuesday, December 19, 2017
49
Reads
0
Comments
Une transaction mineure survient entre les Penguins et les Coyotes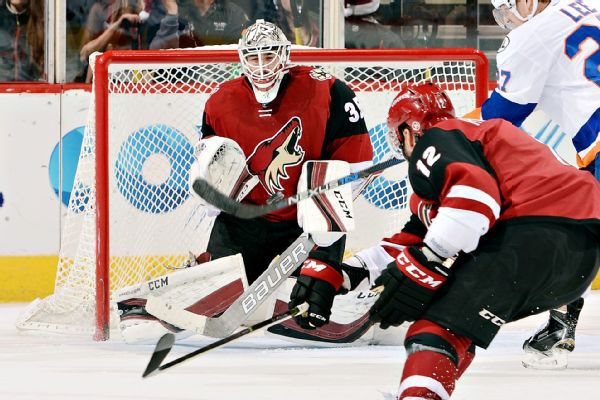 Simon Laporte - Fanadiens.com
Cet après-midi, une transaction a été annoncé juste avant le gel des transactions prévu pour 23h59 ce soir. Il s'agit d'une transaction mineure entre les Penguins et les Coyotes.
Les Penguins de Pittsburgh acquièrent le gardien Michael Leighton et un choix de 4e ronde en 2019.
En retour, les Coyotes de l'Arizona mettent la main sur Josh Archibald, le gardien Sean Maguire et un choix de 6e ronde en 2019.
TRADE ALERT!

Joining Pittsburgh: Goaltender Michael Leighton and a 2019 fourth-round draft pick.

Joining Arizona: Forward Josh Archibald, goaltender Sean Maguire, and a 2019 sixth-round draft pick.

Read more: https://t.co/DJGbXt3xLs pic.twitter.com/8EeCLNKlY2

— Pittsburgh Penguins (@penguins) 19 décembre 2017
Il s'agit d'une transaction mineure et pour déterminer le gagnant de la transaction, il faut analyser les joueurs et les choix!
Commençons avec ce que les Penguins reçoivent :
Michael Leighton est un gardien de 36 ans. Il joue le rôle de 2e gardien dans la Ligue américaine et peut dépanner dans la LNH avec des statistiques avoisinant les 0,870 en taux d'efficacité.
Le choix de 4e ronde permettra peut-être de mettre la main sur une perle rare, qui sait ?
Pour les Coyotes :
Josh Archibald est un ailier droit de 25 ans qui n'a pas trouvé sa place au niveau de l'attaque des Penguins et qui produit de façon respectable dans leur club-école. Un changement d'air pourrait lui être bénéfique. Cela reste à suivre.
Sean Maguire est un gardien de 25 ans qui n'a jamais disputé un match dans la LNH. Cette saison, il a fait des aller-retours entre la Ligue américaine et la ECHL, affichant de meilleures statistiques dans la LAH avec un pourcentage d'arrêts de 0,924.
Le choix de 6e ronde pourrait rapporter gros si l'équipe a la main heureuse.
Avec cette petite analyse, je pense que les Coyotes gagnent l'échange, mais, comme il s'agit d'une transaction mineure, l'impact risque d'être léger.
Crédit photo: ESPN.com
Sports League Management
Start using it today
It's FREE!
Start