Published on Tuesday, April 14, 2020
42
Reads
0
Comments
Top 10 Dirtiest NHL Players
Hockey is played hard and fast. Athletes will hook, trip, face wash and pester to gain a winning edge. Like all sports, hockey has official rules and unwritten rules. It also has a code of respect. And there are many players that blur the lines between the two. Or cross them entirely. They can be downright dirty.
These dirty, unsportsmanlike, and sometimes dishonorable players take every liberty they can on vulnerable players. They're seemingly incapable of delivering clean body checks on a regular basis. They take cheap shots, run smaller players and blindside unsuspecting peers. And they ignite an intense and impassioned hatred. In short, they have earned their spots on our list of the most hated players in the NHL.
Related: The Best Nicknames in Hockey
Fan bases develop a deep hatred for a certain player, usually stemming from a particular incident. However, there are many NHL players that are universally reviled because of their on-ice antics and behavior.
To get on this list, it's not about being hated, but despised. It's more than Philadelphia Flyer fans hating their nemesis, Sidney Crosby of the Pittsburgh Penguins. These are players that are despised for the way they play the game – reckless and dirty. They're villains. And their dishonorable decisions don't belong in the league.
Dirty Players… the Dishonorable Mentions
Unfortunately, there are more than ten dirty players worthy of the list. Here are a few that are notable, but did not crack the top ten.
Brendan Lemieux
New York Rangers, Winger
It's true… the apple doesn't fall far from the tree. Brendan Lemieux, son of Claude Lemieux is no stranger to blurring the lines of proper play. Lemieux plays the game like a thug and has a history of sitting in the penalty box.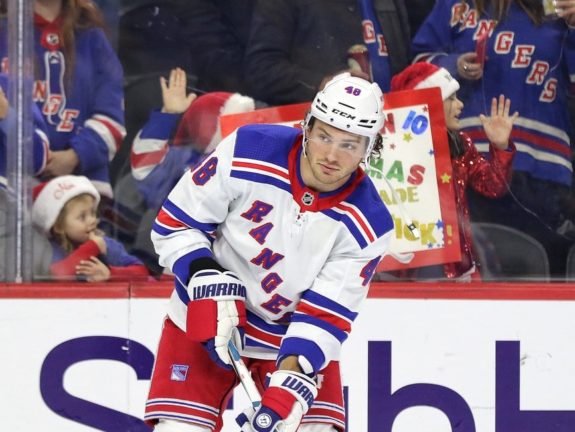 In 2017-18, while with the Manitoba Moose, Winnipeg's AHL affiliate, he had 170 penalty minutes in 51 games. His headhunting play has been suspended several times in the OHL, while playing for the Barrie Colts.
He landed a blatant head shot on Vincent Trocheck last season when the NHL played in Finland as part of their Global Series. The 23-year-old has 138 penalty minutes in 77 NHL games.
David Backes
Boston Bruins, Forward
Backes has bit of a reputation for delivering some dangerous hits. The power forward absolutely drilled Washington Capitals defenseman Karl Alzner a few years ago, boarding him face-first while staring at the numbers on the back of his jersey.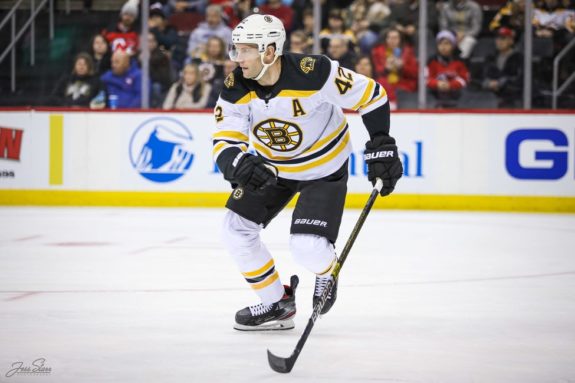 Backes has also had some lethal flying elbows to the back of the head of Chicago Blackhawks' Niklas Hjalmarsson and Florida Panthers' Vincent Trocheck.
Auston Watson
Nashville Predators, Left Wing
Watson, a fearless heavy hitter, received a 5-minute major and a game misconduct for his brutal hit on Colorado Avalanche forward Dominic Toninato. It was charging, boarding, interference, and from behind. He was suspended two games by the NHL Department of Player Safety. His time in the sin bin peaked in 2017-18 when he called for 123 minutes.
Alexander Ovechkin
Washington Capitals, Forward
Being one of the league's most talented players doesn't give you a free pass from this list. Ovechkin, arguably one of the most electric players in the NHL, has been a player with dirty tendencies in the past. He delivers hard hits but regularly takes them too far. His blindside hits, knee-on-knee hits and hits from behind have led some to dub him a cheap shot artist.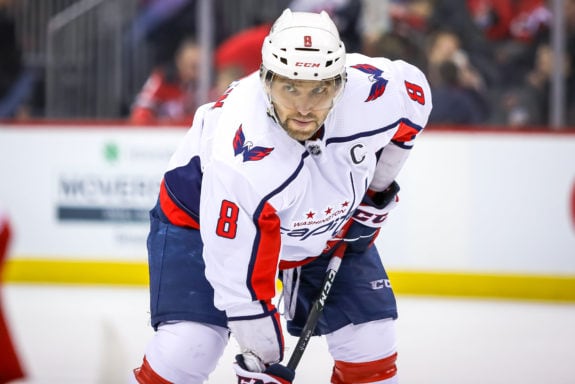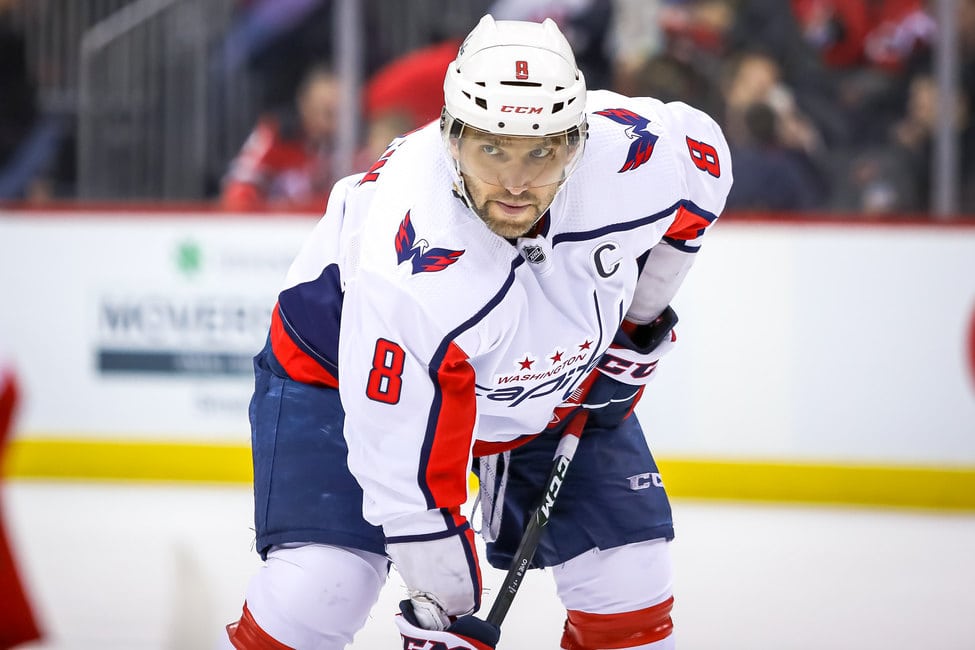 The elite Russian talent has been ejected for boarding majors and for kneeing, and he's been suspended multiple times in his career. The most notorious offense was a cheap shot in 2010 that sent a defenseless Brian Campbell crashing into the boards, leaving him with a broken collarbone. He was also suspended three games by the NHL Department of Player Safety for charging Pittsburgh Penguins defenseman Zbynek Michalek.
Sidney Crosby
Pittsburgh Penguins, Center
Crosby is one of the best players in today's NHL. Early in his career, he got manhandled, injured and concussed. And the league officiating, being what it is, let much of it go. So, over the last three-quarters of his career, Crosby has been upping his game on the nasty side — and gotten away with it because he's a superstar. Now, it's time we get over Crosby's supposed squeaky clean image and call him what he is: a dirty player.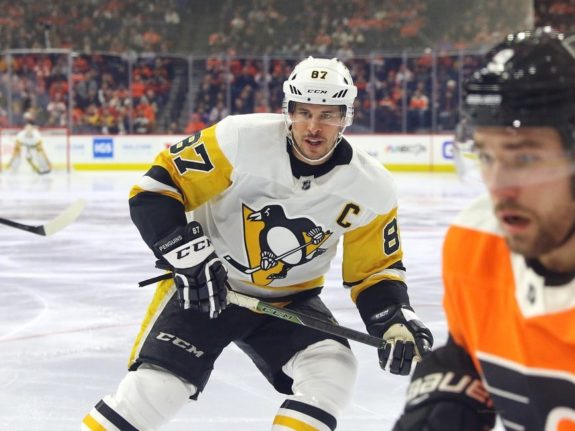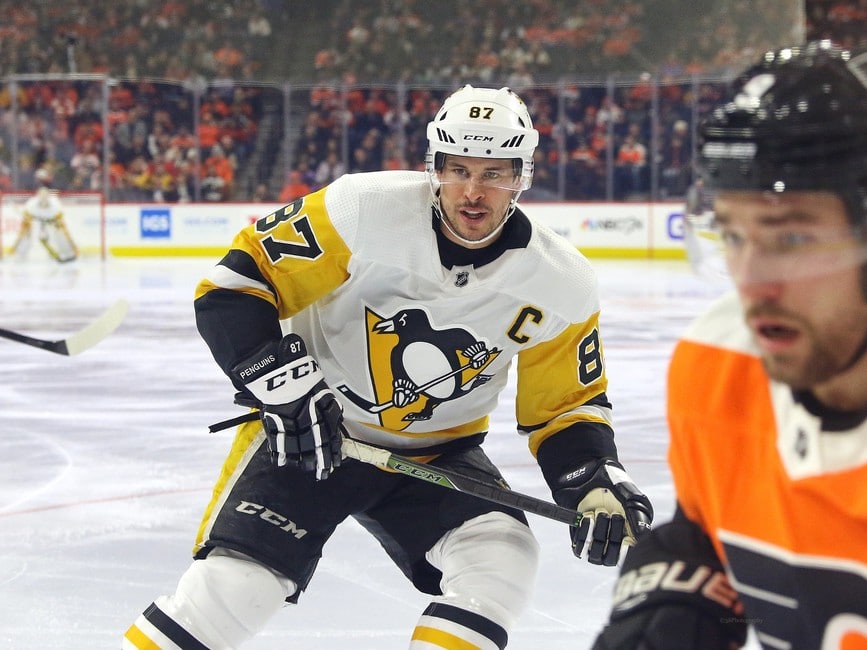 As one of the best players in the league, Crosby is a target for opponents every night. That doesn't justify his reckless behavior. Over the years, he's performed CPR on P.K. Subban's head, he's chop-sueyed off Ottawa Senator's Marc Methot finger, he's sucker punched Atlanta Thrasher defenseman Boris Valabik (with gloves on), and he's used his stick in places it shouldn't be.
Crosby dishes out all kinds of slewfoots, brutal slashes and crosschecks. Those that are anti-Crosby, say he whines and dives and gets special treatment. Those that are pro-Crosby argue that he takes way more abuse than normal players in the NHL. The truth is…both are positions are valid.
Corey Perry
Dallas Stars, Wing
Playing against Perry is like being a mole in a 'Whack-A-Mole' arcade game. The 2003 first-round pick plays an aggressive style with a penchant for some nasty stick work, hacking and whacking opponents whenever he can. He also riles opponents by running his mouth, delivering late and low hits, and has a flare for selling penalties like a manic street preacher.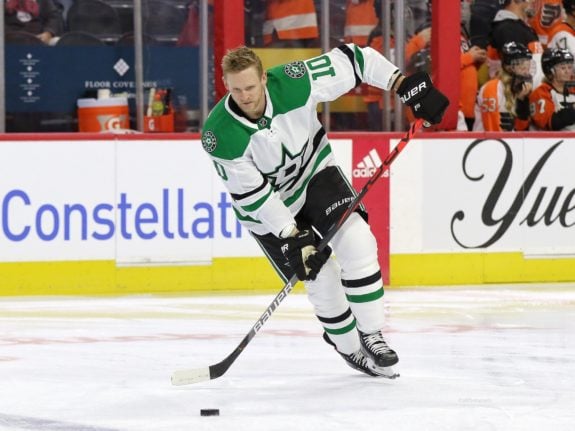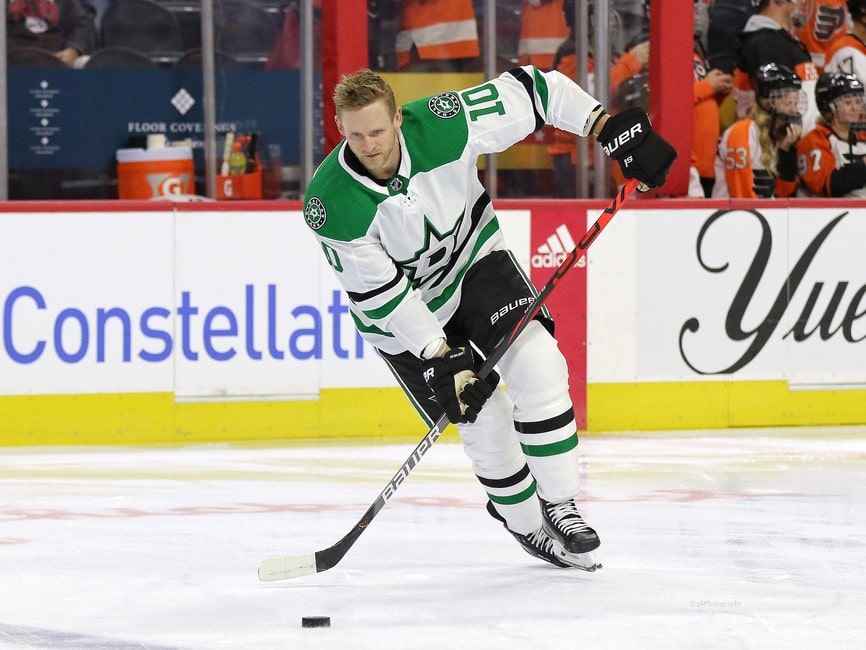 The flip side of this is that Perry was once a highly skilled offensively-minded player who can come up big in key moments for the Anaheim Ducks. He's had success on every stage–Stanley Cup, Memorial Cup, OHL Championship, Olympics, World Championship, World Cup and World Junior. He's not half the player he was, with only 23 combined goals in the last two years when he once was a 50-goal scorer.
Drew Doughty
Los Angeles Kings, Defense
Doughty plays with an aggressive edge. Sometimes it borders on arrogance. He loves to run his trash-talking mouth and isn't afraid to use his stick to bring players to their knees. He has a long-running feud with fellow antagonist Matthew Tkachuk of the Calgary Flames.
Doughty was fined $2,500 in 2011 hit on T.J. Oshie. His only other run-in with the law was a one-game suspension in a 2018 Wester Conference quarterfinal series after decking Vegas Golden Knights' forward Will Carrier with an illegal check to the head.
James Neal
Edmonton Oilers, Wing
Neal signed a five-year, $28.75 million contract in July 2018 with the Flames. He's dangerous and a threat every time he's on the ice. This past July, he was flipped for Milan Lucic and a draft pick. Neal is playing on his sixth NHL team in his 11-year career, having previously played for the Stars, Penguins, Predators, Golden Knights and the Calgary Flames.
While Neal is lighting the red light with regularity to start the 2019-20 season, he's every bit as likely to set tempers on fire with his blurred-line play.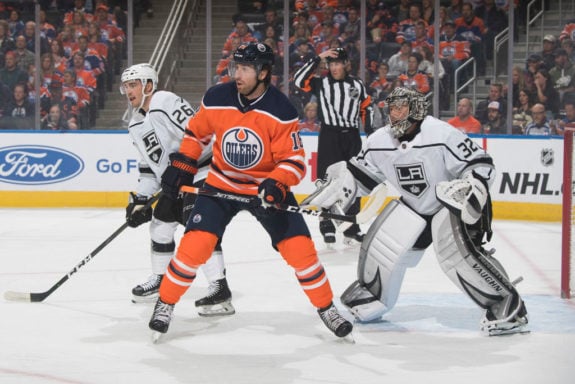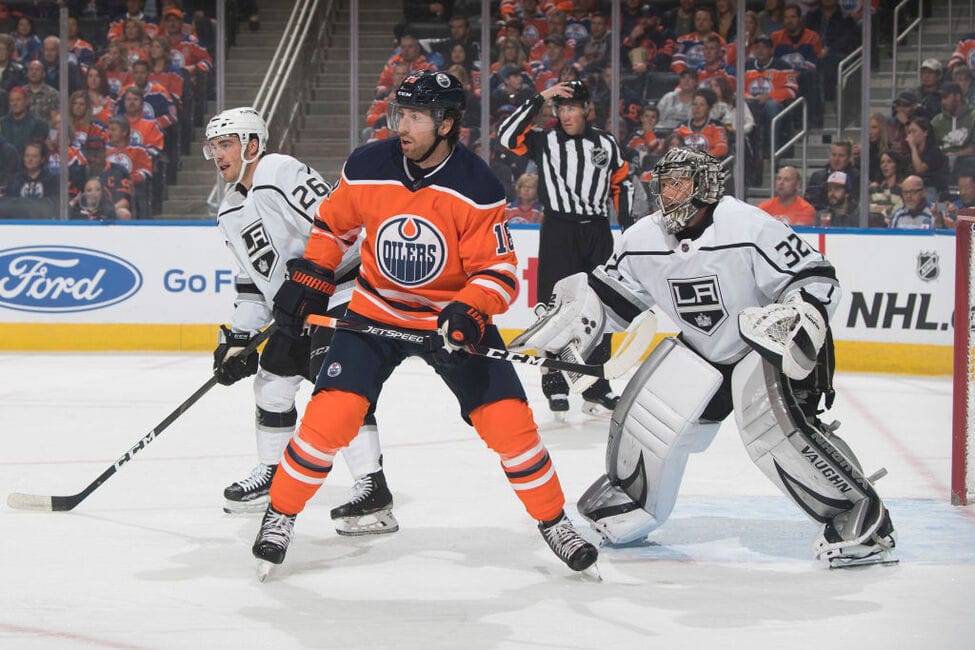 Like others on this list, the 32-year-old from Whitby, Ontario native is miserable to play against. He plays with a recklessness — throwing his elbows and targeting knee-on-knee and even knee-on-head hits. For his on-ice antics, he's earned himself a significant rap sheet with the NHL's Department of Player Safety. He has three suspensions totaling eight games (including one playoff game) and three separate fines.
Dustin Brown
Los Angeles Kings, Wing
Brown is known for his controversial, dangerous hits, especially ones aimed at taking out his opposition's knees. In 2013, he took out San Jose Shark, Tomas Hertl, and injured him badly. Though he was handed a major penalty and a game misconduct for his knee-on-knee contact, he was fortunate to escape suspension.
The gritty forward was ejected twice in the span of a month in early 2018. The first was for a two-handed cross check from behind to Penguins defenseman Justin Schultz, slamming his face into the boards in January. He received a $10,000 fine and no suspension. Then after delivering a dangerous run at Mikhail Sergachev of the Tampa Bay Lightning back February.
Though his penalty minute total has never exceeded 80 minutes per season in the NHL, Brown is simply reckless. He's a hard hitter with who often crosses the line.
The Top 10 Dirtiest Players in the NHL Today
Matthew Tkachuk
Calgary Flames, Wing
Though only 21 years old and only four seasons into his career, Tkachuk is widely hated by fans and his peers, especially Los Angeles Kings defenseman Drew Doughty. The two are far from best friends.
"I'm pretty sure he might be [the most hated player in the league]," said Doughty. "I have lots of friends on other teams and they don't love him either. But whatever, that's how he plays. All it does is fire guys up and guys take over games when that happens."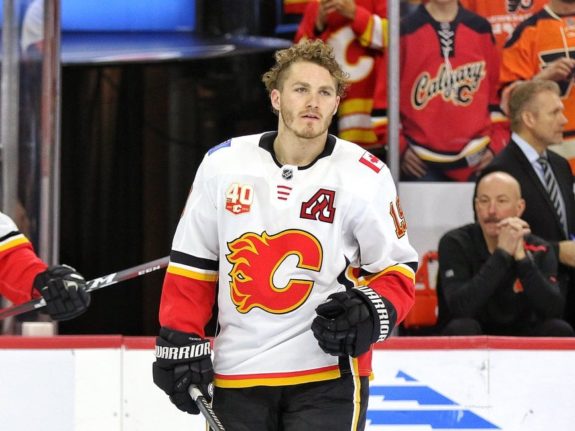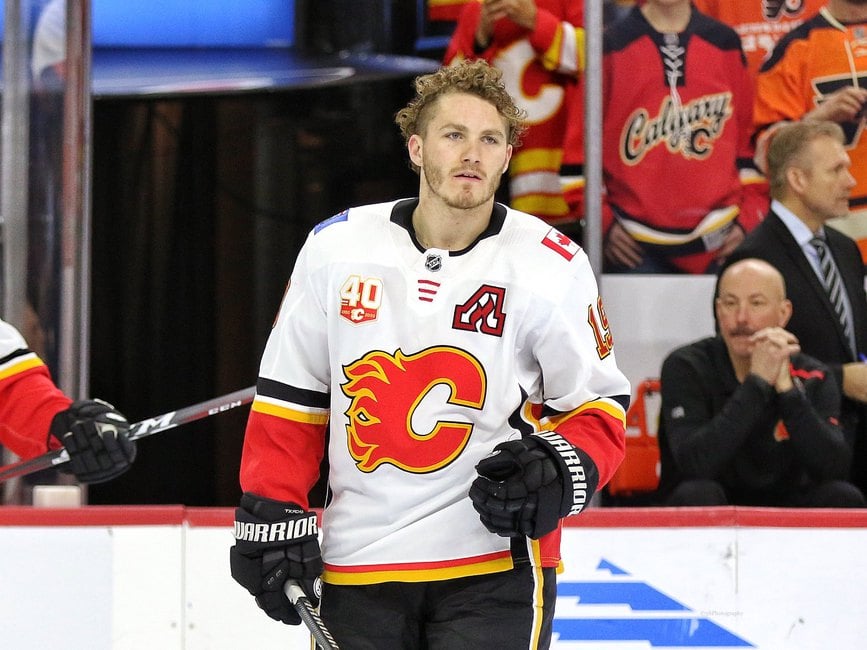 Tkachuk's rap sheet is growing. He speared Matt Martin while on the bench last year. In addition to earning a two-game suspension for giving a vicious elbow to Doughty's face, he was suspended one game for unsportsmanlike conduct during a matchup against the Detroit Red Wings when he slashed a player when leaving the ice, inciting a brawl.
Andrew Shaw
Chicago Blackhawks, Forward
Shaw, a fifth-round draft pick in 2011, plays much larger than his 5-foot-10, 180-pound frame. He's both fearless and relentless on the ice: battling along the boards, crashing the net and taking on opponents of any size. Even goalies. He's also dirty, reckless and dangerous with multiple suspensions to his resume.
Before making the jump to the NHL, Shaw served a six-game suspension for leaving the bench to jump Patrick Bordeleau while playing for the Rockford Ice Hogs. The agitator's slewfooting, boarding and blind side cheap shots repeatedly cross the line of what's acceptable. Plus, he's a hothead extraordinaire, known to blow a gasket over calls that don't go his way. Shaw's mouth can be as dirty as his play. He even got a one-game suspension following a homophobic slur directed at a referee.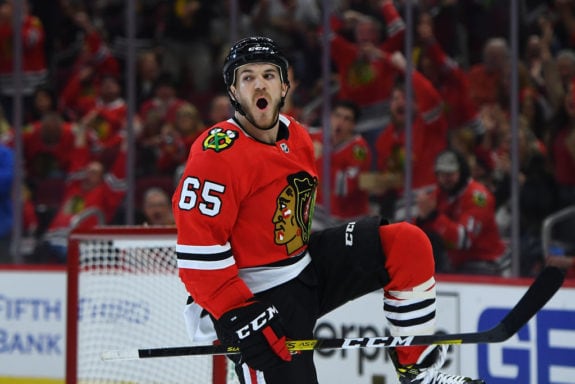 Shaw's energy and ability to get under an opponents' skin, create havoc and score a dirty goal are all reasons why he's become a valued player. With marginal pro skills, it seems that he needs to play at 110% while on the edge of the law in order for his game to be effective, a quality that propelled him to the NHL.
Ryan Kesler
Anaheim Ducks, Forward
Kesler is among the league's most effective irritants, with the ability to provoke any opponent. He's a constant chirper and has built up a lot of hate around the league. The Michigan native's bulldozing shoulder hits that target opponent's head are part of his game.
He's not a fun guy to play against. Even if he is your friend, you still want to kill him. –Kevin Bieksa speaking about Ryan Kesler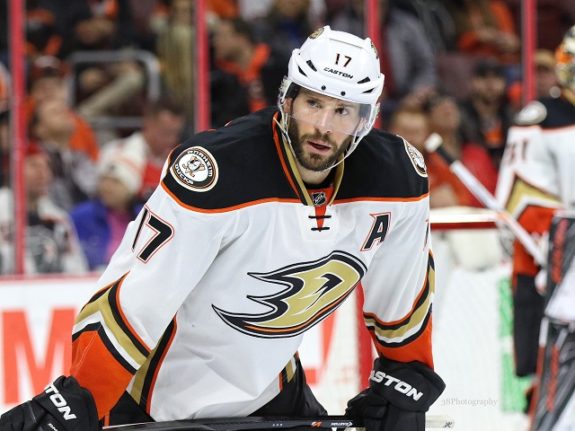 "If he loses a face-off, he either crosschecks the guy or slashes him or stares him down," said former Ducks defenseman Kevin Bieksa.
While sidelined for the season, Kelser is still under contract through the 2021-22 season, so he stays on this list. It's very possible that he could spend the remainder of that deal on long-term injured reserve, though he did not entirely rule out trying to make a comeback at some point after undergoing hip resurfacing surgery in May.
Radko Gudas
Washington Capitals, Defense
Born in Prague, Czech Republic, Gudas was drafted in the third round of the 2010 NHL Entry Draft by the Tampa Bay Lightning. After a few years with the Lightning, he was acquired by the Philadelphia Flyers in 2014-15, then joined the Capitals this season.
Gudas has been suspended several times for controversial, late and questionable hits. Though he's vowed to play a cleaner, more fundamental game, it hasn't happened.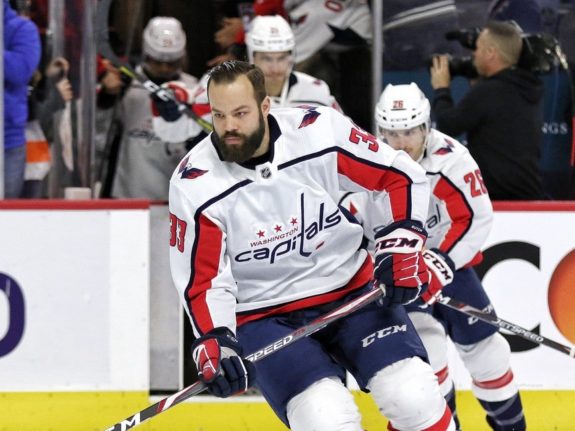 On Nov. 19, 2017, the Flyers defenseman sat out 10 games earlier for slashing Winnipeg's Mathieu Perreault across the back of the head. It warranted the sixth match penalty in his six-season NHL career and third suspension in a Flyers uniform. Each has doubled in length. He's lost more than $400,000 in wages due to his dirty play.
Zac Rinaldo
Calgary Flames, Forward
Rinaldo has always been an instigator even going back to his days in Junior. In the Ontario Hockey League, he was suspended six times in three years.
These days he's considered one of hockey's dirtiest players and is a relentless chirper. The reputation comes earned, as he's been dealt multiple suspensions in his NHL career. The worst may have been for boarding Kris Letang of the Pittsburgh Penguins hard into the boards and injuring him. In 2010-11 playing in the NHL, Rinaldo had three goals and four suspensions.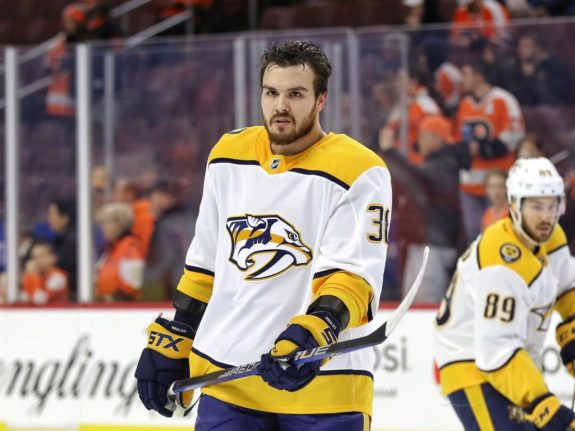 The pesky player got a five-game vacation for an illegal hit delivered to Tampa Bay Lightning forward Cedric Paquette. Then, after being sent down to the Providence Bruins of the AHL, he was suspended five games for targeting the head and for intent to injure Bridgeport defenseman Kane Lafranchise.
On December 23, 2017, while playing with the Arizona Coyotes and playing his first full season since 2015, Rinaldo sucker-punched Colorado defenseman Samuel Girard and was suspended for six games. He's since played for the Nashville Predators and then signed a one-year, $700,000 deal to play for the Calgary Flames.
Rinaldo has earned his place on this list. He is who he is… a trouble-making instigator with numerous suspensions for awful hits.
Milan Lucic
Calgary Flames, Wing
The 6-foot-3 power forward is one of those players that seems to love to dish out heavy hits, but the second the tables are turned he will whine and complain like he's the NHL's version of a choir boy. He's known for laying down the body, is happy to throw a few haymakers, and plays outside the rules regularly.
Although he typically stands up for teammates, Lucic is also known for crossing into dirty territory, which has earned him a few suspensions and haters along the way. He wields his stick as a weapon, having speared Danny DeKeyser, Brandon Manning and Pavel Datsyuk in their privates. Everyone is fair game, even goaltenders – just ask Ryan Miller.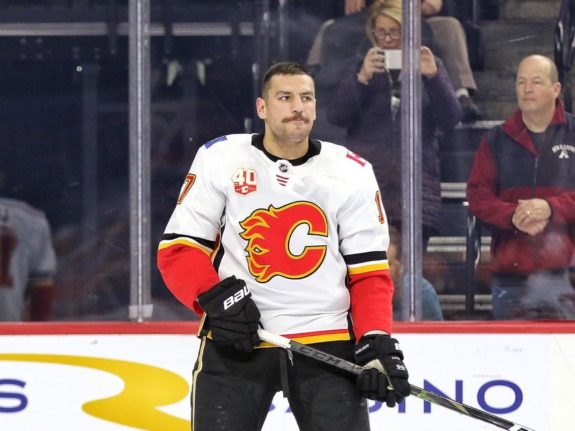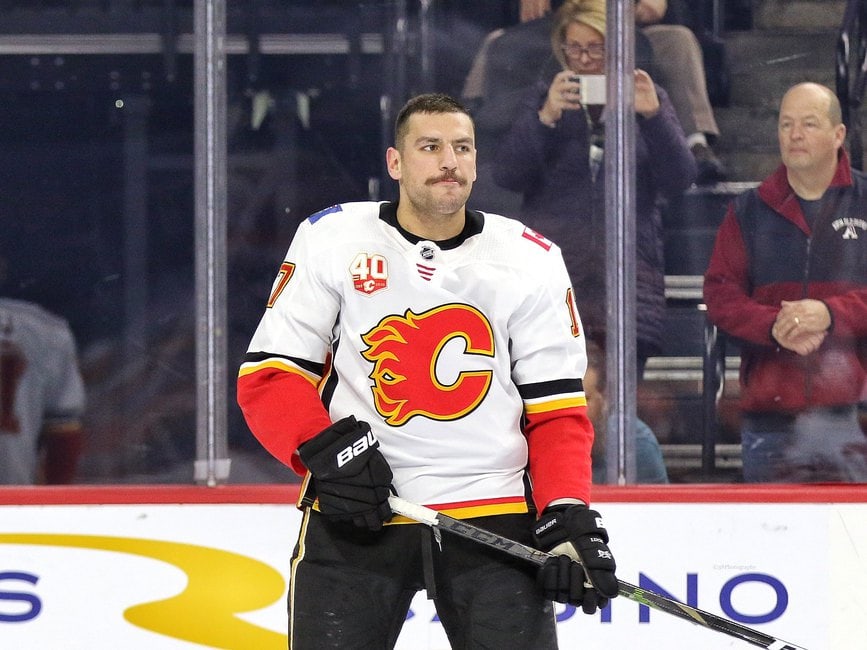 After the Canadiens eliminated the Boston Bruins, Lucic completely disrespected one of the NHL's most time-honored traditions as he used the handshake line at the end of a playoff series to make threats to Dale Weise. Lucic has been suspended for a game for sucker punching Kevin Connaughton. In his first game back, he even delivered a sucker punch to an official in a scrum.
Early on in his first season with the Los Angeles Kings, Lucic took a hard open-ice hit from San Jose Sharks forward, Logan Couture as he was leaving the penalty box, he quickly got up and charged him as he retaliated and took a penalty with his team down 5-1 in the third.
A five-time 20-goal scorer, Lucic scored only 16 goals over the past two seasons combined. He'll never be accused of being a classy player.
Antoine Roussel
Vancouver Canucks, Left Wing
Late in the 2014-15 season, the rugged Roussel delivered a nasty crosscheck to the neck of Adam McQuaid in retaliation for a good hit. That play alone puts the French Canadian on this list. It was a dangerous play that earned him a two-game suspension but could have resulted in a very serious injury.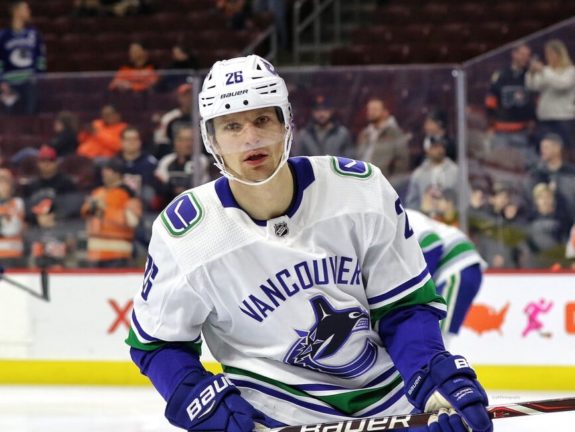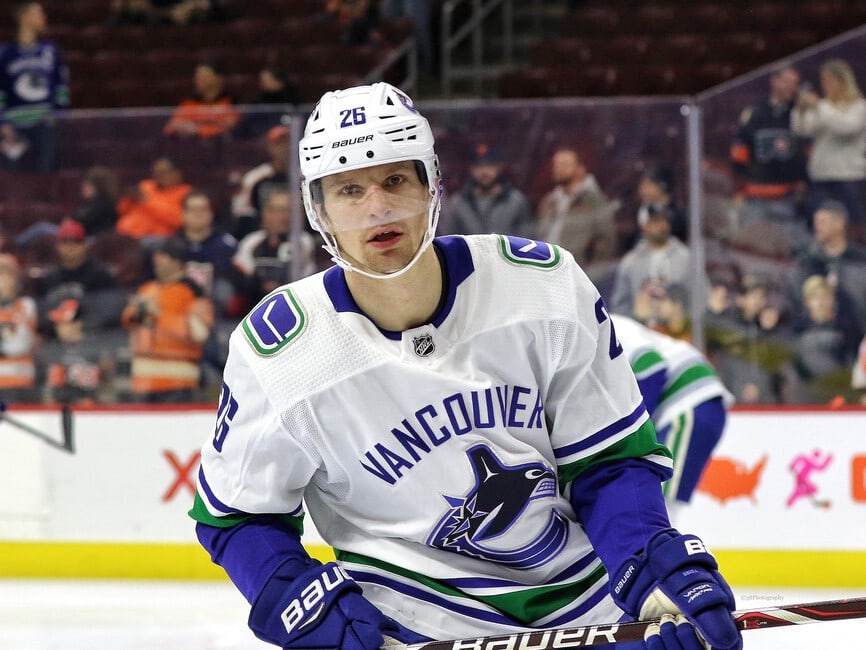 One of the most loathed players in the NHL, Roussel stooped to an even lower low when he punched Ryan Getzlaf on his injured chin in 2014. He's also known to slew foot regularly.
Roussel, who recently signed a four-year, $12 million contract with the Canucks, averages roughly 10 fights per season, drawing the ire of many and cementing his place on this list.
Tom Wilson
Washington Capitals, Right Wing
Wilson is another example of a player you'd rather have on your team than play against. Through the years, he's broken jaws and sidelined opponents with concussions while earning multiple suspensions. The polarizing repeat offender has built a career with a controversial playing style that's targeted opponents' heads and delivered late hits. He always seems to put himself in situations worthy of scrutiny.
"Every time you make a body check, you're making a split-second decision," said Wilson in Sept. 2017, following his suspension over the hit on Robert Thomas, per NBC Sports. "I take pride in the physical nature of my game. I take pride in my body checks. This is my fifth season, and I've made a lot of body checks — very clean, hard hits. So I trust myself. Maybe it was a second late or whatever, but I'm going to learn from it and I'm going to continue to play my game, my hard-natured hockey."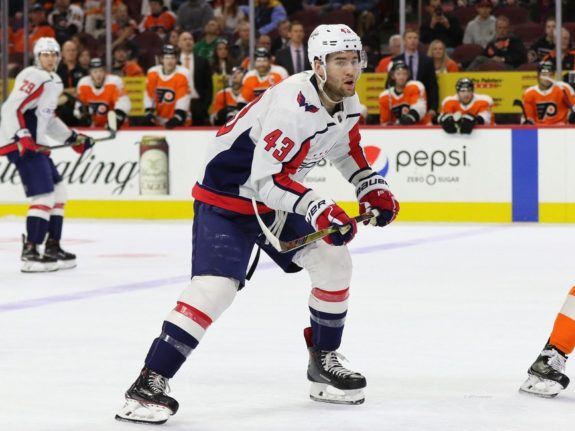 The 6-foot-4, 200-pound Wilson easily leads all NHL players in regular season penalty minutes since he entered the league in 2013. He's always straddled the line between being physical and reckless.
"We could have easily hit a lot of guys like that too, but we stay within the rules and play the game the right way," Islanders captain John Tavares told reporters.
Related: Wilson Proves He Doesn't Belong in the NHL
More to the point was then-teammate Kyle Okposo, "He's an idiot. That guy runs around, he hits reckless. He jumps, leaves his feet. There's no place for that."
Nazem Kadri
Colorado Avalanche, Center
The former seventh overall pick in 2009 is no stranger to controversial hit after controversial hit. He steamrolled goaltender Niklas Backstrom with a nasty elbow. He'll go headhunting, land a dirty knee and take out an opponent's knees. His careless elbows and aggressive style of play has earned him a steady, growing trend of penalty minutes up until last year. The 27-year-old physical menace has a thirst for poor decision making while fighting for every inch of ice.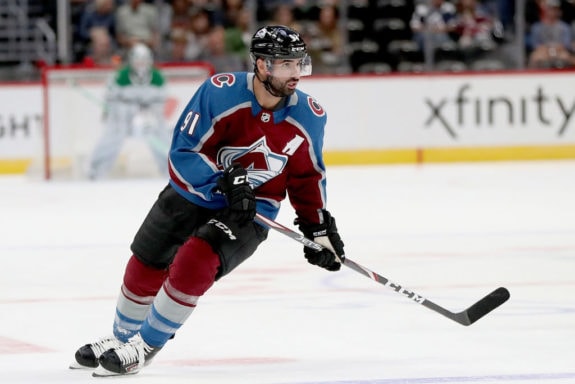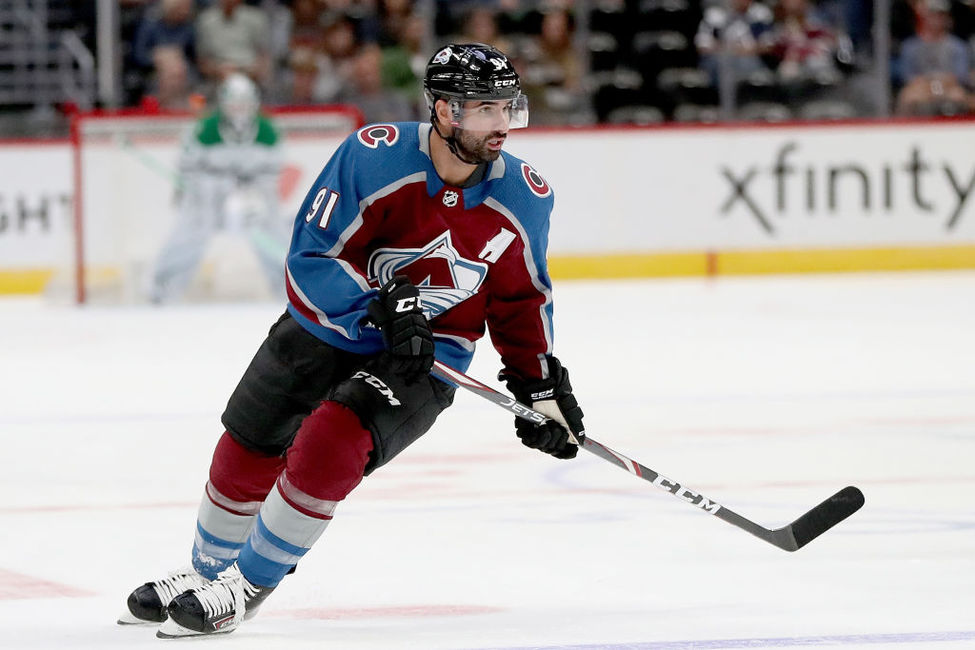 Kadri's barbaric hit on Tommy Wingels on April 12, 2018 added onto a lengthy rap sheet that grows longer every year. It was the type of hit that could've ended a career and created serious damage. Even if Wingels did catch Marner will an elbow, it did not appear to be intentional. Kadri's response was way over the line.
Kadri hasn't learned his lesson. He laid a similarly dangerous hit that destroyed Jake DeBrusk in April of 2019 that earned him a three-game suspension.
All told, the trash-talking Kadri has been suspended four times for a total of 14 games, each time for a blatant shot to an opposing player's head. As Travis Yost of TSN detailed a few years ago, Kadri is no fun to play against, but he has been a source of hope for Toronto fans in recent seasons. That false hope was dealt in a multi-player deal with the Avalanche in July.
Brad Marchand
Boston Bruins, Left Winger
Though the original "Rat" is Ken Linseman, Brad Marchand's dirty style has also earned the moniker. He's so dirty that his own team's fan base often has trouble defending his actions. The undersized forward plays on the edge with borderline hits, unorthodox behavior, and a mouth that never stops yapping and a tongue that likes to lick. On top of that, he's a frequent diver which irks players as much as fans. He's even prompted an "I hate Brad Marchand of the Boston Bruins" Facebook page that has nearly 2,000 followers.
Related: League Reprimanding Marchand: Click Bait or Lick Bait?
Clipping. Slew-footing. Elbowing. Spearing. That's the "Little Ball of Hate." At 5-foot-9 forward, he has more despicable on-ice antics per pound than any player in the history of the NHL. Players admit, you love him on your team but feel the opposite if playing against him.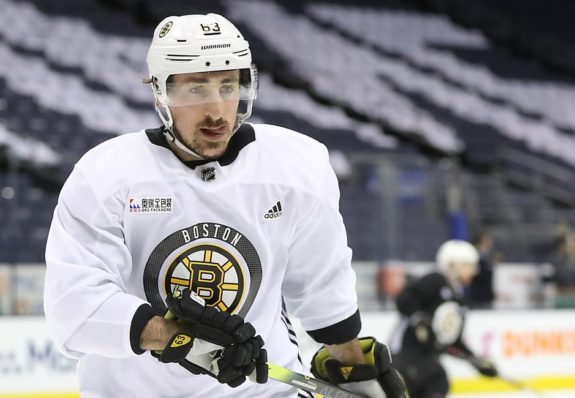 All that said, he's developed into a first line player and valuable piece of the Bruins roster. It's a shame he feels the instinctual need to be so unsportsmanlike and have such little remorse for his wrongdoings.
Marchand's rap sheet of supplemental discipline is impressive. Including his $5,000 fine for cross checking Flyers defenseman Andrew MacDonald on April 3, 2018, the former third-round pick has been fined or suspended nine times since the Department of Player Safety was put in place in 2011-12. No other player has had more than seven fines or suspensions. The only other player with more than five is Zac Rinaldo.
Marchand tops our list for dirtiest player in the NHL.
The post Top 10 Dirtiest NHL Players appeared first on The Hockey Writers.
Sports League Management
Start using it today
It's FREE!
Start